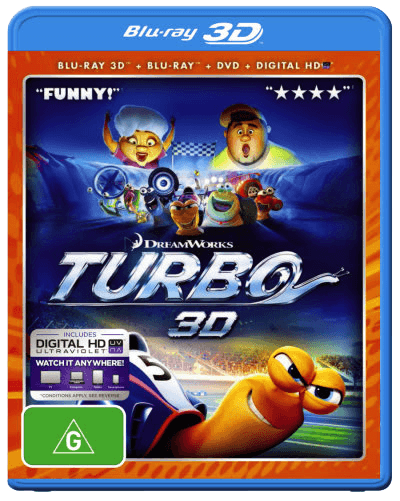 Turbo
Studio: Dreamworks
Publisher: 20th Century Fox
Format: Blu-ray (reviewed), Blu-ray 3D, DVD
Release Date: 12/03/2014
Price: $43.95 (AU) – Available Here
Overview
Turbo is one of the latest 3D animated films from Dreamworks Animation and tells the story of a day dreaming snail with a huge passion for racing who finds himself with the power to travel faster than an F1 car. From the makers of Madagascar and Kung Fu Panda, Turbo features an all star voice cast with an interesting premise, but is this enough for Turbo to speed into our hearts? Read on for the review.
Story
Turbo focuses on the character of Theo, a young ambitious snail looking who loves Formula 1 racing who desperately longs to break out of his monotonous lifestyle where his small snail community wants for nothing more out of life than to simply survive. Through some sort of magic involving a street race, a supercharger and some NOS, Turbo acquires some strange car related abilities such as his eyes becoming headlights, a crazy radio that acts up at the worst of times and most importantly, the ability to reach speeds capable of matching an F1 race car. A large, Mexican taco salesman named Tico finds Turbo and his brother one day and brings him home to a snail racing rink, home to a crew of racing wannabes that all have dreams of going fast. From there the story gets a little crazy as Tico wants to enter Turbo into the Indianapolis 500 (the largest F1 race in the world) to help promote his brother's taco stand after a bunch of failed experiments (taco's and monkeys anyone?).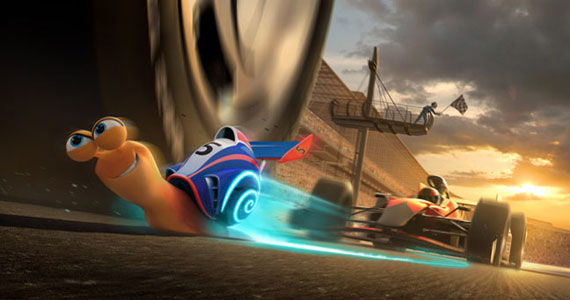 The story is a fun time but the plot is rather predictable. The movie is very much aimed at the 'kids' audience rather than being for the entire family but adults should still have a good time with it. Turbo, and his human counterpart Tito, have this infectious, relatable ambition and as the viewer it's hard not to get behind them and want to see them succeed and live their dreams against a world that wants to supress them. This kind of mirror of personalities between Turbo and Tito (and also between Turbo's brother Chet and Tito's brother) is one of the highlights of the story. Turbo features a rather large cast of secondary characters who won't have you rolling on the floor but are a good for a small laugh. From the hard talking Whiplash to the oblivious White Shadow, Turbo's tag along snail friends provide some smiles for the audience and support for Turbo.
This isn't really a spoiler as it didn't really change the course of the movie at all and was forseeable early on in the movie (but by all means skip to the next paragraph if you want to avoid spolers at all cost), but one thing that I didn't appreciate at all was that one character (who is Turbo's inspiration for the entire first half of the movie), later reveals himself to be an evil, self involved villian.  The movie didn't seem to need this kind of obvious 'bad guy' and this could of been a large point of difference in the story to seperate it from the many other kids movies out there. The character makes alot of fantastic inspirational comments that were actually great and prety inspiring, and when he turned out to be a simple archtype villian it kind of ruined all that. I would of much rather seen Turbo race against a respectable opponent he admired than some cliched jerk opponent he now just wants to beat because of a new found grudge.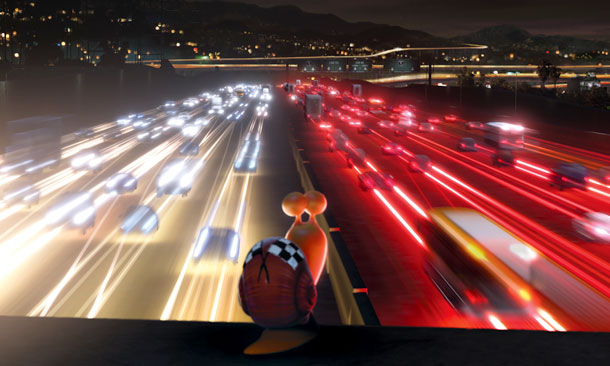 Visuals
As expected from an animation power house such as Dreamworks, Turbo looks amazing. The characters, both humans and snails, look great with a simple visual style while the world around them is incredibly full and detailed. Turbo and he's friends sometimes enter these dream sequences where the characters are taken out of their normal environment and into some crazy, fast moving vortex which looks really psychedelic and is filled with tons of interesting imagery such as race cars turning into tomatoes. Seeing Turbo speed past an F1 car leaving a blue trail of nitros oxide behind is awesome and the whole film is bright, colourful and vibrant. All these qualities shine through excellently and with great clarity on the Blu-ray disc and the menus are also nicely personalised to fit into the Turbo universe.
Audio
Not much can be said about the sound in Turbo except that the world sounds as good as it looks, with everything sounding clear, sharp and matching with what you see on screen. The soundtrack of Turbo is mostly filled with catchy R&B and hip hop songs (no surprise as Snoop Dogg provided the theme to the film), with the song playing at the time always fitting the mood correctly. The highlight of the soundtrack is the auto-tuned 'That Snail is Fast', which is a parody of all those autotuned YouTube songs based around someone saying something funny on the news.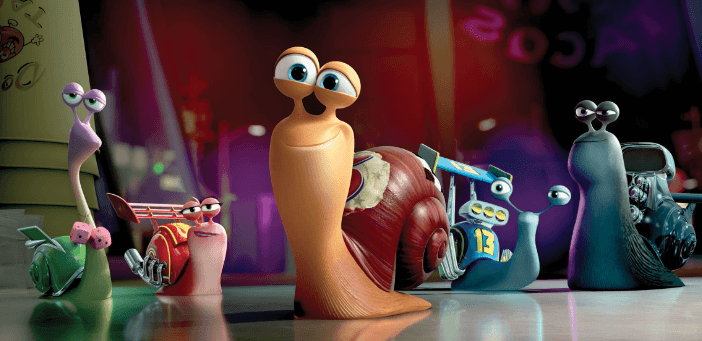 The voice cast features a rather large all star voice cast including Ryan Reynolds, Paul Giamatti, Luis Guzman, Samuel L. Jackson, Maya Rudolph and more. All the voice acting is done well and it's nice to see that the characters looks have been somewhat influenced by their voice actor, such as Snoop Dogg's and Samuel L. Jacksons snails. Ryan Reynolds does a great job as the lead snail, especially considering this is one of his first roles as a lead voice actor in an animated film.
Extras
Turbo features a large dose of extras that really help add to the package. There is the standard theatrical trailer and one deleted scene that shows an alternate introduction to the character of Tito (in animated storyboard form) with a small introduction from the director about why it was cut. There is also a storyboard of the scene where Turbo get's his powers that is played alongside the scene in the movie to show just how unchanged the storyboard went all the way through the production of the movie. Champions Corner features a real life interview with Turbo set up to look like an official F1 piece and also contains a bonus commercial for Adrenalode, the movie's made up energy drink, that pokes fun at how rediculous energy drink ads normally are.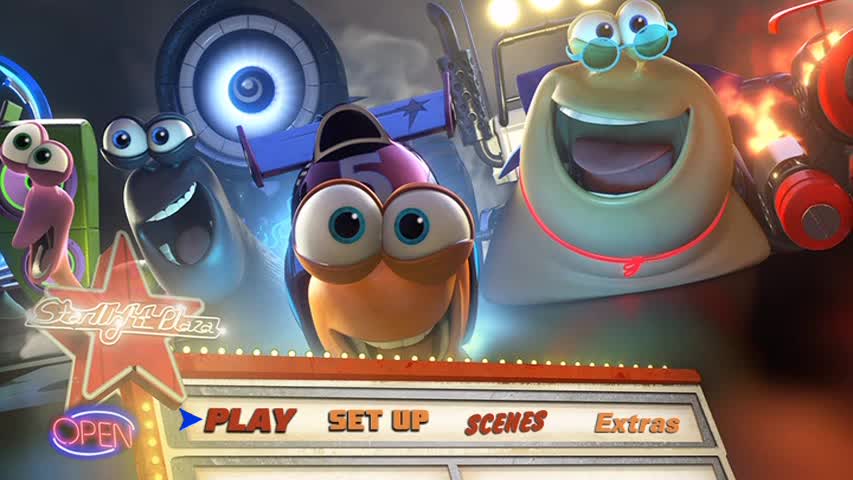 Other special features include Smoove Move's Music Maker, that lets you relive the songs in the movie with beatmatched music videos, Team Turbo Tricked Out, that takes us through the details of each snails visual look including the update they get at the end of the movie and Be An Artist, which explains step-by-step how to easily draw the characters from the movie along with a description of certain drawing techniques. Apart from all these video featurettes there is also the interactive Shell Creator that let's you take a main snail from the movie, customise their colour, shell decal, spoiler, engine and background to create your own savable picture. One strange ommitted bonus feature that is normally included with these kinds of movies is a 'making of' featurette, but what is here is more than enough extra content to keep you satisfied.
Overall
Turbo is a welcome addition to the Dreamworks lineup. Turbo's cute, yet predictable adventure provides an inspiring story as well as a few laughs and is accompanied by stunning visuals and a fun soundtrack. While Turbo seems to ignore adults more than family movies tend to do these days, it's hard to not get behind the lovable characters of Turbo and Tito as they try to break free of the supression the world places on them. The Blu-ray features a healthy amount of extras and it's not long before you'll have the menu song 'That Snail is Fast' stuck in your head. Turbo is a great movie to entertain the kids, and to a lesser extent, any adults that want to sit down and enjoy a fun story of a snail against the world.

Capsule Computers review guidelines can be found here.