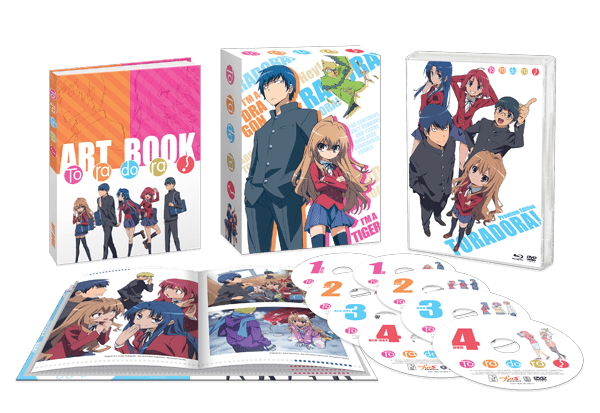 Toradora! Complete Series Premium Edition
Studio: J.C. Staff
Publisher: NIS America
Format: Blu-ray
Release Date: July 1, 2014
Price: $103.99 – Available Here
Overview
Four years ago NIS America surprised anime fans in North America by announcing that the company would start releasing English subtitled anime series in the region. The first series that the company released happened to be Toradora! and now NIS America has revisited that release by doing something they have never done before, release an English dub for an anime. With this new English dub and an upgrade to Blu-ray, the company has released the entire series in one complete premium edition. How does NIS America's first foray into English dubbed anime turn out? Let's find out.
Story
Ryuji Takasu is a self-sufficient second year high-schooler who helps take care of his mother and is a bit of a neat freak. Despite being a good guy at heart, the eyes he inherited from his long-departed father gives him the outward appearance of a delinquent, causing many to fear him. Despite this he is best friends with Yusaku Kitamura, the vice president of the student council, and has developed a crush on fellow classmate Minori Kushieda.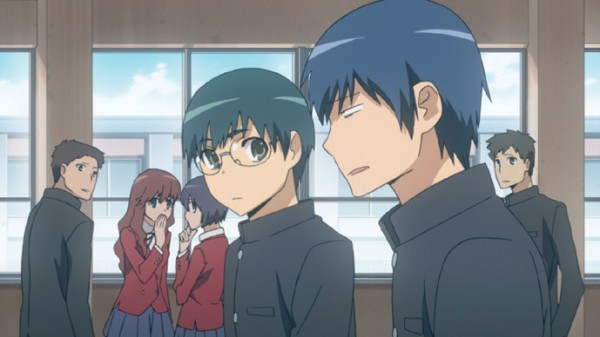 On the start of his second year of school, everything seems on the up and up until Ryuji encounters Taiga Aisaka, a diminutive high schooler whose reputation for having a temper as short as she is has earned her the reputation of the palm top tiger. After Taiga makes a fated mistake of slipping a confession letter, sans letter, into Ryuji's bag the two learn that they each happen to have a crush on the others' best friend.
With Taiga trying to ask out Ryuji's friend Yusaku after a failed confession from him a year prior, she enlists the help of Ryuji to help her get close to him and also overcome her bouts of shyness whenever he is near. Along with his help comes Taiga's influence with the always confident and highly athletic Minori, Ryuji's crush. Since Taiga and Minori are the best of friends, the more time he spends helping Taiga the better he thinks he will look in Minori's eyes. As such the two begin to work together to help one another, becoming allies of love in a rather interesting fashion.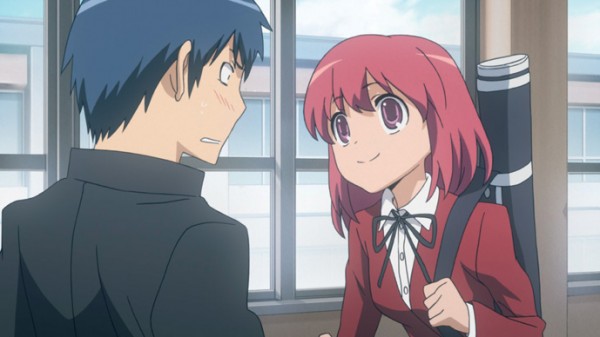 Now there are many types of romantic comedies out there and while there are formats that are tried and true there are also those that step outside the box and become something great and Toradora! is the latter. Having characters that play off one another well is a must and Toradora! has that in spades thanks to the classic tsundere nature of Taiga, who has trouble taking care of herself sometimes, being paired with her ambitious and capable best friend Minori and assisted by the reliable and good-hearted Ryuji. Add in Yusaku's knowledge and calm attitude as well as his childhood friend Ami, an ex-model with an attitude, and you have a great core cast.
What really matters though are the emotions these characters can draw out of the viewer as they go through the various issues that arise in the series outside of the romantic hijinks. In the first half of the series the drama is limited, though we see how Taiga's family life is harsh thanks to issues with her father, a trait shared by Ryuji, and it only comes to a head halfway through the series as he begins to try and enter Taiga's life once again, forcing conflict on the group who have conflicting opinions on what Taiga should do.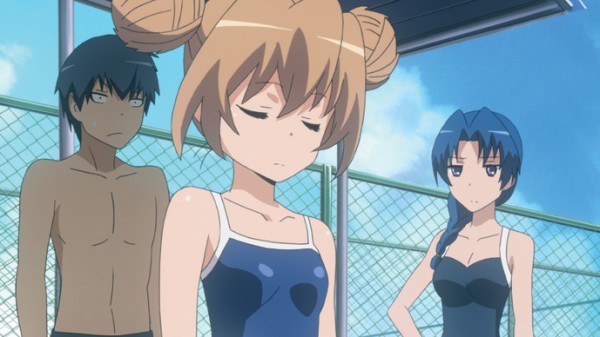 There is a lot of emotion on display throughout the second half of the series as all of the emotional and romantic developments that have been occurring throughout the series begin to culminate as some characters realize that their feelings may cross with the feelings of their friends and conflict will surely come to the forefront if any of them try to make a move to upset the status quo. The way that Toradora! handles the emotional aspect of the love these characters feel is the best I have seen as it all feels realistic and has a lasting impact on the viewer. Even though some things are handled a bit haphazardly in the last couple of episodes, the series ends with a satisfying, albeit a bit rough, conclusion.
Visuals
Despite being produced back in 2008, Toradora! has held up pretty well for its age with some memorable character designs for its colorful cast. Whether it is Ryuji's facial expressions or the way that Taiga acts, there is a lot of charm in the artwork of the series. The backgrounds are fairly standard for a series set mostly in a high school, but the mundane nature of these backgrounds is changed up thanks to numerous clothing changes throughout the anime.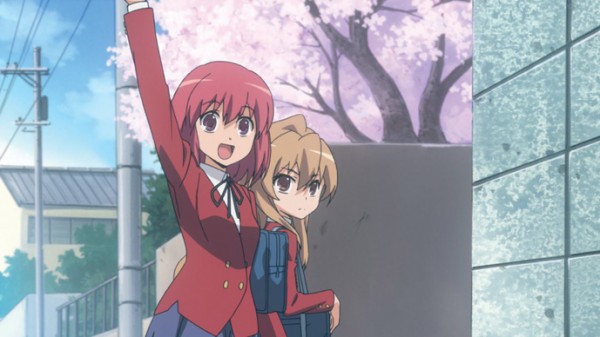 That being said, there are still occasional slumps in the character artwork, with some odd looking faces and expressions appearing from time to time. There is a noticeable jump in quality thanks to the Blu-ray treatment that Toradora! has been given for this release, with every color having a bit of extra pop and each character design looking crisper than what is found on the DVDs included in the release, making it a worthwhile visual upgrade for those who might have picked up the series before.
Audio
Now one of the key aspects with this new Toradora! release is the fact that NIS America has actually provided an English dub with the series, their first ever. That being said, they sure have done an amazing job with the English voice cast. Finding a voice actress that can match Rie Kugimiya's tsundere voice work is a hard task to accomplish but Cassandra Lee Morris has done an excellent job filling her shoes by replicating the character perfectly in English.
Along those same lines, the rest of the main voice cast is handled impressively well with the entire English dub working very well with the series as a whole. While some may still choose to stick with the Japanese voice track, they will be missing out on the chance to hear these characters in English. It is worth noting, and also for the best, that the Christmas song in episode 19 is still presented in the original Japanese.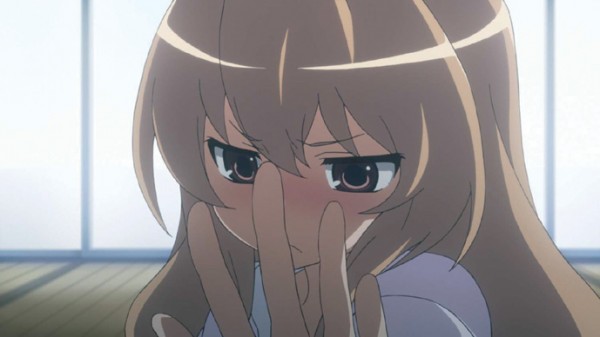 The rest of the music in Toradora! is strictly background music which works well for the most part but doesn't stand out very much. Both opening themes "Pre-Parade" which is sung by the Japanese voice actresses of Taiga, Ami, and Minori, and "silky heart" by Minori's voice actress, are incredible opening themes while the endings "Vanilla Salt" and "Orange" serve as suitable closing themes and are again performed by the Japanese cast of the series.
Extras
With this release of Toradora! NIS America has done something a bit different from their standard premium edition. Instead of the oversized chipboard slipcase, the release is contained in a smaller slightly-larger than a DVD style sized slipcase of the same material where the large disc set and hardcover art book are contained. The on-disc features include clean versions of the opening and ending themes, four Toradora! SOS! bonus shorts that have been given English voicetracks, promo material, Ami's Impersonations, and an OVA that takes place somewhere in the middle of the series.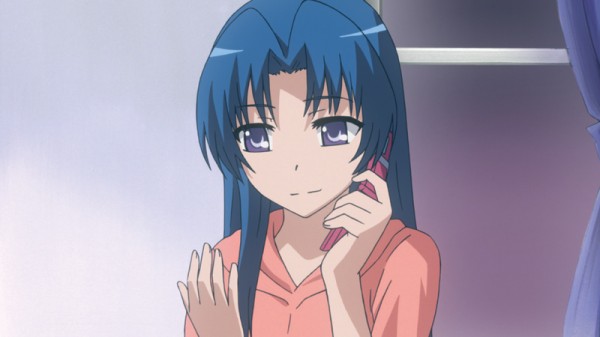 The art book is sixty eight pages and an interesting thing to note is that inside cover features fuzzy tiger stripes. The majority of the art book is an "Art Gallery" featuring full page illustrations of the characters in various situations. The other features include a few interviews with the original cast, an episode rundown for the bonus OVA, and character details including an extra look at some of their outfits.
Overall
It isn't often that you will hear me say that an anime is a must watch… but ToraDora! is a must see for those who have any interest in romantic comedies or even anime in general. This series takes its fun cast of characters and delivers a memorable and lasting experience full of humor and emotion. With this upgrade to Blu-ray and accompanied by a superb sounding English dub, Toradora!'s new English release is a must have.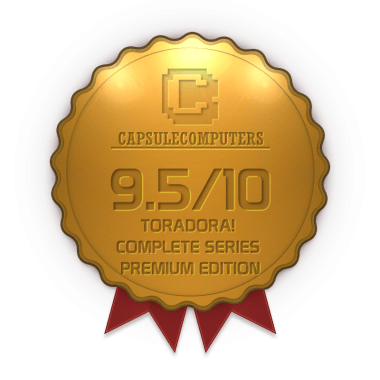 Capsule Computers review guidelines can be found here.