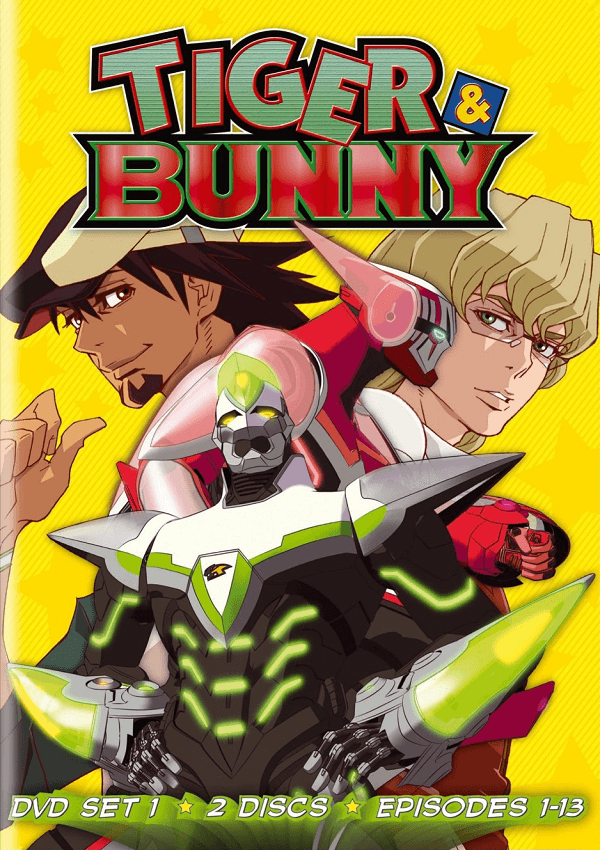 Tiger & Bunny Set 1
Studio: Sunrise
Publisher: Viz Media
Format: Blu-ray, DVD (Reviewed)
Release Date: February 19, 2013
Price: $44.82 – Available Here
Overview:
Advertisements and game shows are everywhere nowadays. Even television channels which used to provide quality entertainment have begun showing reality TV instead of proper programming. Things have gone so far that reality television is commonplace and advertisements and product placement is everywhere. If our world happened to have heroes, would they end up becoming a marketing scheme as well? Possibly, but in the world of Tiger & Bunny that has already happened but is it simply a small sacrifice for the greater good? Now that Viz Media has brought the first half of Tiger & Bunny overseas to North America, is it worth picking up?
Story:
Tiger & Bunny is set in a world where certain humans have undergone a genetic mutation that has given them various superpowers. Those who have been given such powers have been called NEXT and while some try to hide their abilities, others use their powers for evil. Though for every evil there is a good and because of this, many NEXT users have become heroes to try and keep the citizens of Sternbild City safe from danger.
However heroes simply can't just run around on their own without funding or regulation and because of this, a special television network has made superheroes a part of everyday life. Hero TV has been created to showcase the seven main heroes that put a stop to crimes and save citizens from dangers. Heroes are given "hero points" for defeating bad guys, rescuing civilians, capturing criminals and more and at the end of every season the hero with the most points is crowned the "King of the Heroes."
Because of the popularity of heroes, each superhero's costume is emblazoned with corporate logos of real corporations (Pepsi to name one) and each one is sponsored by a wealthy fictional company hoping to get their name on television.  Because of this, a hero's ranking and popularity directly affect the amount of money a company makes from their sponsorship and after a horrible season, the aging hero Wild Tiger, real name Kotetsu Kaburagi, has found his company shutting down right after a new hero debuts and steals his last chance at the spotlight.
However Kotetsu's time as a hero is not at an end. Instead he is transferred to a brand new company where he learns that he will become part of the first ever superhero team. Unfortunately for him, the hero that he will be teaming up with just happens to be Barnaby Brooks, the same man who debuted the day before and embarrassed Kotetsu. To make matters worse, Barnaby shares the same super power that made Kotetsu a wrecking machine in the hero industry.
With Kotetsu's habit of jumping in at the slightest hint of danger, often resulting in the destruction of property and him making a fool of himself simply to save lives and Barnaby's tendency to wait for the best time to appear in the spotlight and habit of analyzing the situation first, the two immediately find themselves at odds. Will this odd-couple of a fresh-faced hero concerned about popularity and a hero that is said to be "past his prime" but set in his ways of saving lives over anything else work?
Tiger & Bunny Set 1 covers the first thirteen episodes of the series and because of this the series falls heavily into the whole "buddy cop" genre. Considering it is the start of the series, roughly half of the first set is devoted to showing off the cast and placing Kotetsu and Barnaby, or Bunny as Kotetsu has nicknamed him due to the design of his suit, in various situations where the two have to reluctantly work together. This works well for the most part because while the focus of Tiger & Bunny is obviously focused on the two characters in the title, it expands the personality of the other heroes beyond simply being in the background and providing them extra personality and a bit of growth.
Despite focusing on character development and much of Set 1 being a "criminal of the week" type affair, a deeper plot begins to reveal itself over time as more of Barnaby's past is revealed. By expanding more upon why Barnaby has chosen to reveal his true identity right from the start and is so devoted to his hero duties, he comes off less as a man simply aiming to please the sponsors and more like a man out for revenge.
All in all, the first half of Tiger & Bunny contained in this release actually ends with little to no cliffhanger. However because of this, throughout this first half of the series most of the criminals encountered by Kotetsu and the rest of the heroes are rather run-of-the-mill and the few main criminals that aren't cookie-cutter are barely explained or expanded upon in any way. While this may leave a rather bland taste in the viewer's mouth, this does mean that since the first major story arc is wrapped up in Tiger & Bunny Set 1 that the second set will focus not only on new enemies but also expand upon previously introduced ones, including a NEXT believing himself to be above the law.
In the end, Tiger & Bunny Set 1 offers plenty of comedy as Kotetsu and Barnaby's personalities clash and the heroes are placed in humorous situations usually just because their sponsors want them to do certain things. Of the group, Kotetsu's personality shines the brightest as the veteran hero who is seen as a "has-been"  and must try to remain relevant amongst the new heroes and try to work with his unwilling partner. With things leaving off as they did with Set 1 and the time devoted to expanding most of the heroes' personalities, viewers should find themselves looking forward to Set 2 and more odd-pairing/buddy-cop antics.
Visuals:
Tiger & Bunny is an visually interesting series in a number of ways. First of all, the animators at Sunrise chose to use standard animation techniques paired with CGI that actually works very well. Whenever the heroes are in costume nearly every single one of them has had their suit created in CGI. Fire Emblem, Sky High, Rock Bison and Origami Cyclone's entire outfits and body structure are created with CGI and inserted amazingly well with the rest of the standard animation.
Tiger and Barnaby's suits are also created via CGI and whenever the two open up their face masks or take off their helmets, their faces are animated using standard animation which actually creates an impressive contrast between the two styles that works well for the series. Interestingly enough, only the two female heroes, Dragon Kid and Blue Rose, have had their suits designed strictly with normal animation techniques. It is worth noting that there are a few hiccups with the CGI animation looking off or improperly inserted though these instances are not only rare but they are difficult to notice as well.
Throughout Set 1 viewers are presented with a thriving city that is finely detailed and provides a great backdrop to all of the events that take place, especially the impressive action sequences that take place every episode. Along those same lines, the characters themselves are well designed and it is certainly interesting to see the real life sponsor logos emblazoned on the hero suits. It is also worth noting that the animators took special care to make certain sequences feel like they are being seen through an older television model to demonstrate the Hero TV aspect and this certainly helps sell the whole idea of a televised hero competition.
Audio:
As one should expect, Tiger & Bunny Set 1 features both the original Japanese voice track as well as the brand new English dub recorded by Viz Media. One thing that viewers will immediately notice is that, despite Kotetsu being roughly in his late thirties or so, the voice provided by Wally Wingert sounds a little too young. However while the voice work is a little young sounding, it does match Kotetsu's playful attitude. As for the rest of the cast, they are all handled very well with Yuri Lowenthal's Barnaby sounding spot-on and the rest of the cast similarly well performed.
As far as the series' sound effects go, they are handled quite well with plenty of explosions and gunfire while the background music is mostly standard fair that can be forgotten rather quickly. The opening for Tiger & Bunny Set 1 is "Orion wo Nazoru" by Unison Square Garden works well for the theme of the series while the ending theme "Hoshi no Sumika" by Aobozu is a bit slow-paced and dramatic for a series which often results in a comedic or satisfying ending to each episode with only a few cliffhangers throughout Set 1.
Extras:
As far as bonus features go, this DVD release of Tiger & Bunny is rather lacking. Unlike the Blu-ray version which comes with a twenty-four minute long "Making of Tiger & Bunny" feature, the DVD release only comes with a clean opening and ending sequence, a Japanese trailer, an advertisement for other Viz products and finally twenty pieces of Production Art which feature various character sketches of the heroes and the notable villains.
Outside of that, the release comes with no other special features, and it is worth noting that the packaging for Tiger & Bunny Set 1 is rather bland, lacking a slip-case of any kind and the inside of the case features only a small Neon Alley pamphlet and since the case itself is solid black, there is no extra information or artwork inside of the case itself, though the back does feature various information and a brief summary of the show.
Overall:
Tiger & Bunny Set 1 successfully introduces viewers to a world where criminals and super powered villains terrorize the populace and only the heroes can put a stop to it. The odd-couple of Kotetsu and Barnaby may feel a bit cliché but thanks to their well-developed personalities the pairing works. To make things even better, by expanding the character development to the other heroes of Hero TV the series opens itself up more than simply focusing on the title characters.
To make this great premise and story even better, Tiger & Bunny Set 1's amazing visual design is not only fresh but quite memorable. It is unfortunate though that Set 1 is dragged down a bit by basic criminals and barely explained plot-points, plus the voice work for Kotetsu feels off and the DVD release comes with barely any extra features worth noting. That being said, Tiger & Bunny Set 1 offers a great start to a memorable series that will be near-impossible to pass up.
Capsule Computers review guidelines can be found here.