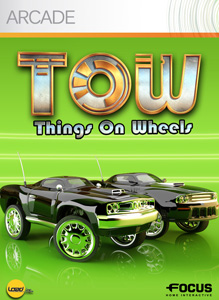 Game Name: Things on Wheels
Platforms: Xbox 360
Publisher(s): Focus Home Interactive
Developer(s): Load Inc.
Genre(s): Racing Games
Release Date: 5/12/2010
ESRB Rating: E (Everyone)
Price: 800MSP ($10)
Demo: Add the Demo to your Xbox Download Queue
Story
"Things on Wheels™ (ToW) is a fun and fast remote-controlled car racing game playable in single or multiplayer (with up to four players)! Drive miniature racers with various features–the agile Vintages, the powerful Muscles or the fast Sports cars–and compete in dozens of crazy races. The tracks are completely insane, loaded with shortcuts, ramps, loops and other surprises. Count on a lot of items to pick up to spice up the races even more and upset the final rankings!" [Xbox.com]
Things on Wheels is a kart racing game. You control RC cars through tracks that are designed around a giant house. The story is based around a series of in game blog posts that you unlock as you progress through the game. The basic story is about a kid who is racing in the grand prix, and a female character that creates emotional tension within the story. The story is poorly implemented, and I highly doubt anyone has actually read through every single one of the blog posts.
Gameplay
Things on Wheels is a tightly packaged kart racing game. There are a multitude of tracks a few scattered racing modes and a handful of powerups. While the combination is nice, the driving physics and the extremely easy AI ruin the overall fun of the game.
Tracks are all based around one giant house. You will travel all around the house and the backyard as well.  When you start a race, the track will be laid out in front of you and you will race a bunch of AI or try beating a certain time on a time trial. Luckily if you just feel like driving around aimlessly there is a sandbox mode for that specific purpose. Sandbox mode lets you explore the entire house without worrying about racing anyone, or staying in designated tracks. Sandbox mode is actually quite nice, and is a neat addition to this kart racer.
There are a few different racing modes ranging from time trials, elimination, team, and normal races. Time trials, elimination, and normal races are pretty self explanatory for anyone who plays racing games. Team racing is a little different in this game. Rather than getting a cumulative placement score based on everyone's position in the race, this game gives the win to whichever team gets one of their members across the finish line first.
There are only a few powerups in this game, and sadly they only target people in front of you. There are powerups that impair your opponents and then powerups that aid you. Lighting and Ice impair your opponents by slowing them down. Shield puts up a barrier while also pushing everyone and everything away from you. Boost gives you a speed boost and cancels out the lightning's slow down. While the powerups are nice, there isn't much strategy to them. The computers and players just pick them up and use them instantly since there is no aiming needed.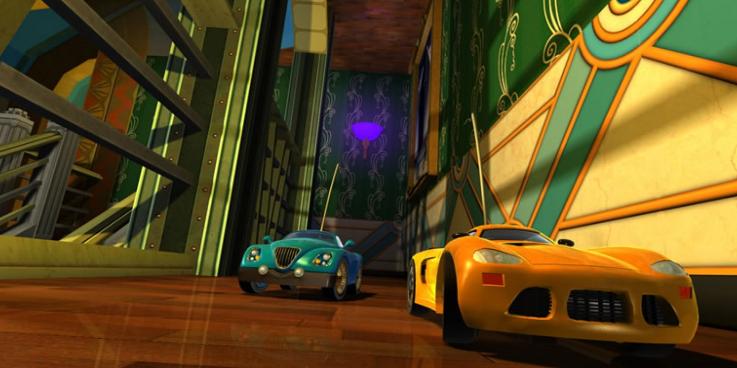 Audio & Graphics
At first the soundtrack is catchy, but it quickly becomes annoying as you hear the same songs over and over again. The cars are muffled and sound odd as RC cars, it is almost like the developers wanted to make the RC cars sound realistic but stopped too soon. The most annoying sound is the honking. It's like nails on a chalkboard whenever one of the CPUs decide to honk at you, I don't know what the developers were thinking with that one.
The graphics in Things on Wheels aren't that good. There are a bunch of cars, and you can customize the color but that is as far as customization goes. The house is design in art décor which doesn't look like a normal house. Add to the fact that certain things aren't proportional and you get a weird mixture of areas and items filling those areas.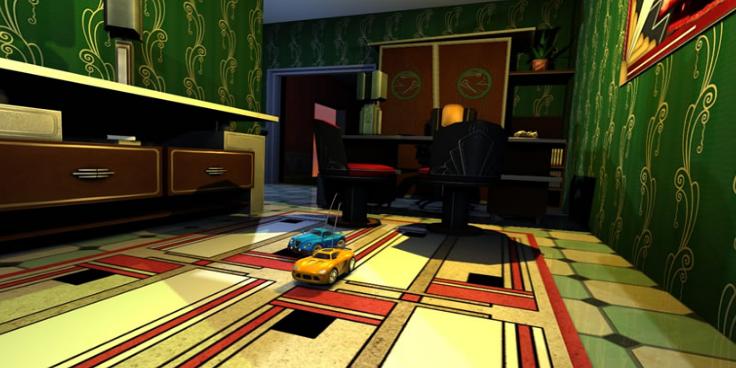 Achievements
The achievements in Things on Wheels are pretty varied. There is that one freebie achievement for just finishing a race, and then ToW Champ and ToW Day for beating the game. The rest require you to do miscellaneous tasks throughout the game which aren't really that hard. The hardest by far is ToW star and that is only because driving fast and without crashing into anything isn't easy in this game. The rest can be achieved pretty easily, and makes this game a good 160g without much hassle.
The Achievement List Is:

ToW Go – 5 – Finish any race, any place, any rule. Yep, pretty much a given achievement!
ToW Champ – 15 – You must win the last race of the Citrus Cup.
ToW Day – 10 – Read the last page of the blog.
ToW Tunes – 15 – Run into the jukebox to turn it on in 'Get first or die trying'.
Mad Crash – 15 – Find the Mad Tracks car in 'World of Wheels' and ram it.
ToW fall – 15 – Race 'Shake your body', drive in the bidet and finish the race.
ToW Hero – 20 – Race 'Wheel master' (3 laps) and win against 5 hard AI 4 times consecutively. Race rule!
ToW Star – 40 – Beat 58 seconds on one single lap of 'Gran ToWrismo'. Solo race rules!
ToW off – 20 – Rank in the top 10 of any 'against the clock' leaderboard.
ToW Gether – 10 – Play a co-op race with a human player online or split screen.
ToW Less – 20 – Win race 'RosWheel' without picking up any bonus.
ToW for life – 15 – Complete 50 races lifetime.
Overview
Overall the game is a little racing game that is decent for little kids. They can explore the house in sandbox mode, or race really easy AI in the main game. There are many modes and quite a few tracks built around the house for them to play in as well. Sadly the physics, graphics and the dead community makes this racing game less desirable. Add on the fact that the entire game took me less than 2 hours to beat and a story that consists of a whole bunch of in game blog posts, we come out with a pretty small game. The game is cheap and is a nice little package for what it has to offer, but overall it isn't that good.
I give Things on Wheels


Pros
Multiple cars in different classes

Many Modes

Sandbox mode
Cons
Wonky Driving Physics

Short

Dead Online Community