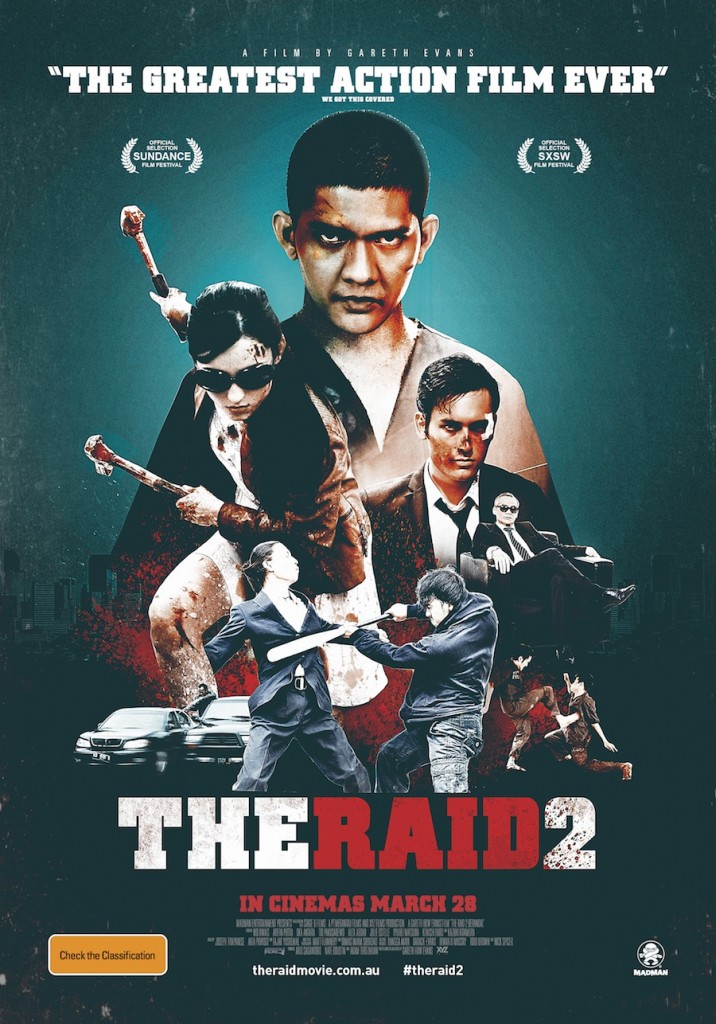 The Raid 2
Studio: Merantau Films, XYZ Films
Publisher: Madman
Formats: Cinema
Release Date: March 28, 2014
Overview
The Raid 2 is Gareth Evans' sequel to 2012's The Raid: Redemption, the Welsh-born director's highly acclaimed Indonesian action bloodbath. Expanding the scope from a drug lord's apartment block, to the corrupt streets of Jakarta, The Raid 2 has already received much praise, having its worldwide premiere at the 2014 Sundance Film Festival in January. The finished product is a reworking of an old idea from Evans and executive producer Rangga Maya Barack-Evans, one that was planned by the duo for production in between Merantau (2009) and The Raid: Redemption, but was too ambitious and costly at the time. Modifying the script to fit within the "Raid franchise", and with the profits and success The Raid: Redemption had, the team was finally able to realise their complicated vision. While scheduled for wide release on March 28, we were able to watch the Sundance version of the film – with some incomplete sound effects – at a recent screening courtesy of Madman and NIX Co. So, was our disturbingly strong blood-lust quenched? Read on to find out.
Story
Nary a film bold enough to begin with a point-blank shotgun blast to the head; The Raid 2 doesn't pull any punches. As the title card crashes to black, we are reintroduced to Rama (Iko Uwais) not long after the events of The Raid: Redemption. Thinking he was done, much like a Mafia tale, they pull him right back in. A policeman named Bunawar (Cok Simbara) recruits Rama for his undercover team, focused on bringing down a controlling crime syndicate run by a man named Bangun (Tio Pakusadewo) – the basic equivalent of a Don of the most powerful family in Jakarta. Rama declines, but is swayed after discovering his brother has been murdered at the hands of Bejo (Alex Abbad), another gang leader. He accepts, but not without a further price, for his specific task will require that he be imprisoned in order to befriend Bangun's jailed son Uco (Arifin Putra) and spend that period away from his wife and young son Angga. Beating up a benefactor of Bejo, and son of a politician, Rama assumes the identity of Yuda and enters prison, immediately making himself known by dismantling 15 men in a bathroom brawl.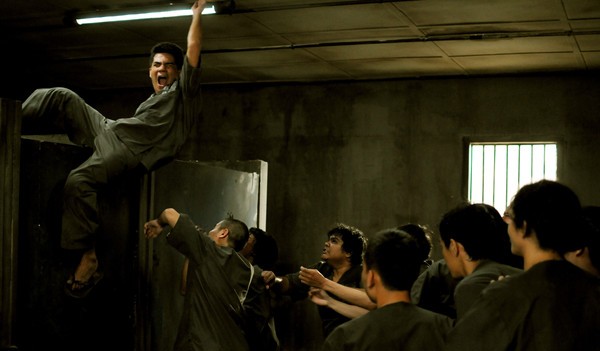 Confronted by an arrogant Uco in the cafeteria, Rama fails to be intimidated. Later, in a massive prison yard fight, Rama saves Uco's life. As repayment, Bangun gets him a decreased sentence and eventually welcomes him into the "family", so to speak. From this point, Rama must play along, gathering intel on the Indonesian-Japanese relations and whether or not Bangun has a crooked cop in Reza in his pocket. Shadowing Uco, he quickly learns of the young man's urge to take over his father's empire, which is the foundation for most major conflict as the film progresses. There are twists and turns in the story that are both surprising and typical of the genre. Fans of the original may initially be confused by the reappearance of Yahan Ruhian – who played Mad Dog in the first movie and died at its conclusion – as he returns to inhabit a completely different person in Bangun's family friend Prakoso. The film heavily reminds of The Godfather in theme and certain storyline elements, which is no surprise considering Evans' 'treated the classic as his bible' during development. Personally, it also screams of Quentin Tarantino's Kill Bill, mostly due to the cinematography, but also two characters in particular – Hammer Girl and Baseball Bat Man. That's exactly how they are referred to. The movie is definitely not for the squeamish, as its graphic depictions of blunt force trauma can understandably be quite disturbing to some. But for those who loved the prior instalment, you'll feel right at home… your sick, blood-soaked home.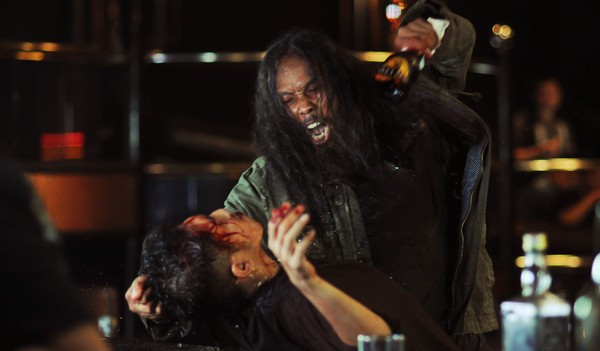 Visuals & Audio
The Raid 2 is both visually similar to, and strikingly more colourful than The Raid: Redemption. The photography and cinematography crew utilised a deeper range of colours, some of which would represent a particular character. Tonally, the beginning act is very familiar, but as Rama delves deeper into the criminal organization run by Bangun, the movie becomes vividly hued. A major difference between the two films is that The Raid 2 offers a much wider-screen experience, being shot in cinemascope. It looks clean and crisp, with its enlarged budget evident by virtue of the visual quality. This being Evans' first opportunity to shoot a car-chase sequence, there was a lot to learn in regards to directing and logistics. I'm happy to say that Evans proves he is more than adept at shooting such difficult scenes, having multiple angles even within the confined space of a car's interior that frame the extremely close-quarters fight that ensues therein. He particularly makes great use of the overhead shot in these instances. The high-speed nature of these scenes – where highways had to be blocked off for production and everything was done legitimately, without CGI – makes what Evans was able to capture all the more impressive.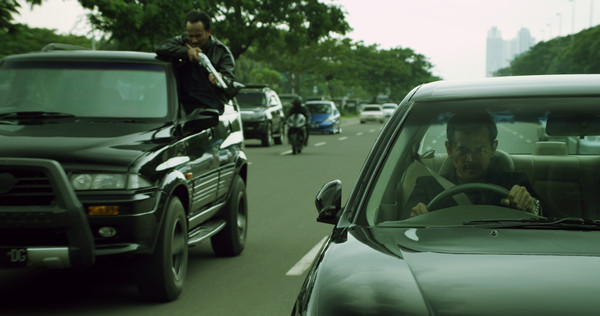 In general, Evans has always displayed an uncanny directorial instinct, augmenting the action with brilliant camera choices that often results in a somehow more visceral and heightened response from the audience. Case in point for this film is a moment where Rama throws a criminal through a window into the room next door. Evans chooses to shoot the fall – which is short being on floor level, mind you – upside down, making the impact seem significantly greater to the eye. In another scene, Topan (porn den operator) is running toward camera before suddenly jumping through a glass window adjacent to him, with Evans following, panning right and tilting the camera as the felon goes from a vertical footing to a hard, horizontal landing. I sincerely do not believe there is a better action director out there today. Audio-wise, the post-production foley and final mixing – as mentioned – were not final, but have since been completed by Skywalker Sound. Aria Prayogi and Fajar Yuskemal, who created the score for the domestic cut of The Raid: Redemption, and Joe Trapanese, who worked with Mike Shinoda on the international score, all returned to create a sound that connected the two entries, and a rhythm that mimicked the action on-screen. In that sense, the music of The Raid 2 fits like a glove.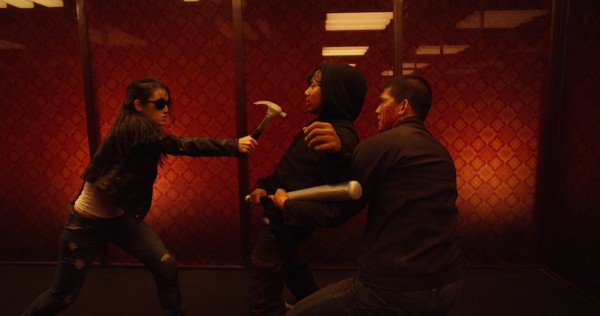 Overall
The Raid 2's Jakarta-wide backdrop really allowed Evans to explore the potential for more varied and dynamic set-pieces, as opposed to the limiting setting of The Raid: Redemption's dinghy apartment building. He, alongside stars Uwais and Ruhian – also acting as fight choreographers for the shoot, and both of whom laid out the action choreography for the original 2010 script – managed to develop some extremely creative moments in combat which don't let up on the brutality, the bar for which the previous film set so high. And with forty-seven extra minutes of runtime to play with (compared to its predecessor), Evans decided to tell a much more complex and large-scale story, with sub-plots and real character development. That being said, it is safe to assume that those who are interested in the series are so because of the extreme violence and expertly crafted action sequences, and while The Raid 2 may not be as concentrated an assault as many might have expected, it is a better film on the whole than the first. If not for Uwais' laughably over-the-top acting, and a couple continuity errors, I would call The Raid 2 the perfect action movie.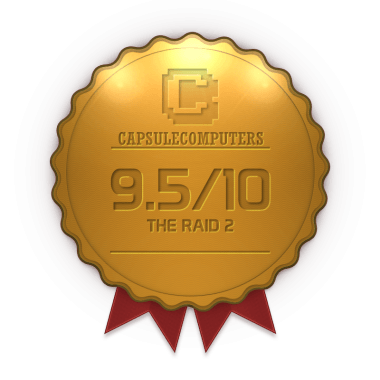 Capsule Computers review guidelines can be found here.