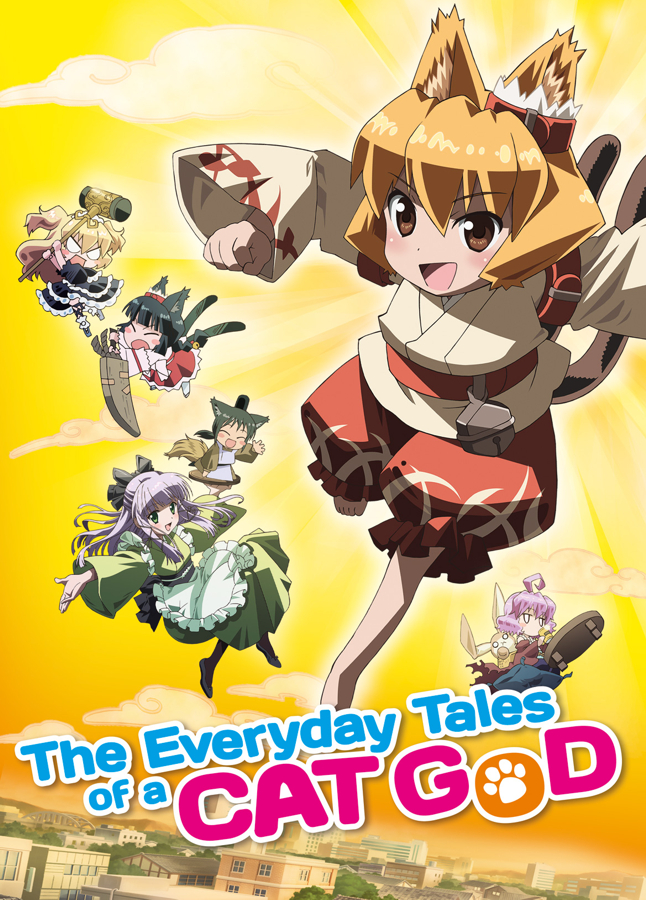 The Everyday Tales of a Cat God Premium Edition
Studio: AIC Plus+
Publisher: NIS America
Format: Blu-ray
Release Date: June 4, 2013
Price: $64.99 – Available Here
Overview
Every year over a hundred different anime titles are created in Japan and aired to the public. Over the last few years anime licensing for Western release has increased drastically but even then a number of enjoyable anime series still slip through the cracks. Back in 2011 one of these anime series happened to be Nekogami Yaoyorozu, but now two years later NIS America has brought the series over to North America under the name of The Everyday Tales of a Cat God. Should this series have remained untouched or is this a hidden gem that has only now been uncovered?
Story
There are numerous deities talked about in Japanese legend and many of these deities still have shrines throughout the countryside. However what if all of those deities were real? That is what the world of The Everyday Tales of a Cat God is like. One such deity is named Mayu who happens to be a Cat God, but a troublesome one. Thanks to her gambling problems and constant misbehaving, her family has removed nearly all of her divine powers and banished her from the realm of the Gods, Takamagahara, to Earth in an effort to punish her.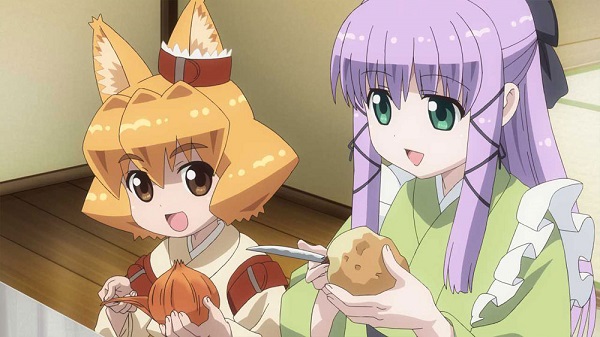 Viewers join Mayu a few years after this punishment has been enacted and now she is living a lazy life with a human girl named Yuzu who runs a Japanese antique shop called Antiques Unlimited. Thanks to the many deities operating in Japan and Mayu's reputation, numerous gods, including gods of poverty, destruction, other cat gods, fox gods and more. Of course being lazier than even the laziest cat around, Mayu simply wants to sit around and play video games and go with the flow.
As such, The Everyday Tales of a Cat God is a very apt title for this anime because that is ultimately exactly what the series is about. Thanks to an overabundance of side characters and the nature of the show, there is pretty much no storyline besides the circumstances that each of the characters have to deal with and their initial introduction episode.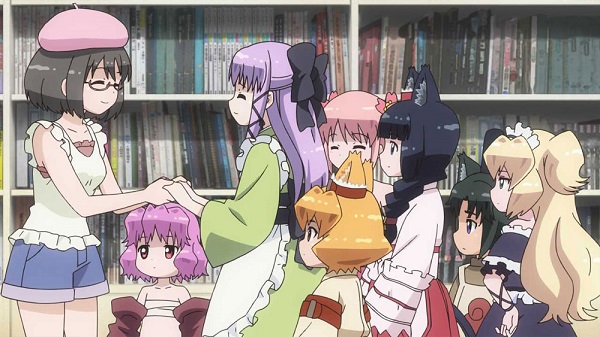 Because of the slice-of-life nature of the anime, it is almost entirely comedy based so in lieu of a continuous storyline, viewers are treated to the numerous supernatural antics that these gods get themselves into which usually involves Mayu getting the group into trouble through her laziness or inaction. The comedy in Everyday Tales of a Cat God can be very hit and miss but as someone who has seen quite a lot of anime I found myself chucking more often than not at the series' scattershot humor.
I say scattershot because the series prides itself on having numerous running jokes such as a character's scaredy-cat nature or their laziness, monotone voice, innocence, perverse mind or something else. This anime isn't all laughs however, as Yuzu's personal struggles with her sad past are often brought up via flashbacks and we can only see her acting as strong as she does thanks to the support of Mayu and those around her.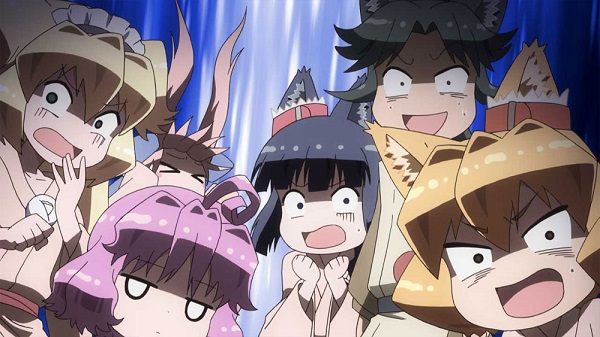 In the end however, there isn't a lot of depth to be found in Cat God except for Yuzu's backstory and growth but considering her story is only told via flashback and her vulnerability is only displayed once, it isn't a driving factor to the series. Being a comedy slice of life series, the character interactions are the high point of the series and although they are all pretty formulaic the whole deity aspect puts a nice spin on things. The entire series has a rather carefree aspect to it which demands little from its viewer and offers an enjoyable little series that can easily be overlooked due to its simplicity.
Visuals
Almost every aspect of Everyday Tales of a Cat God, from the characters to the environment itself, is brightly colored. Each of the characters have a rather basic character design which matches their deity classification. For example, Shamo, a god of poverty, wears cheap falling apart clothing while Yoshino, a Sakura Flower god, wears pink and even has sakura flowers in her hair. Despite being set in modern times, nearly all of the characters, including one of the few humans, Yuzu, wear clothing similar to the types found in feudal Japan.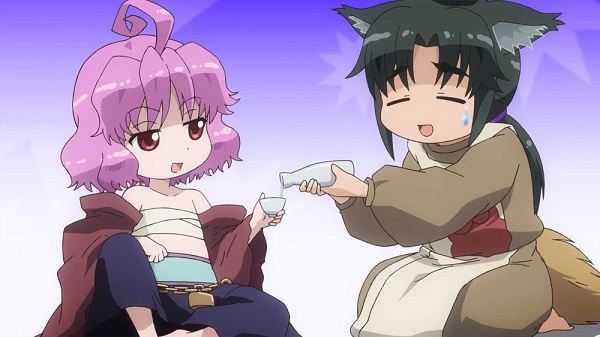 One of the many comedic elements that Cat God has at its disposal is the way that the art style often shifts a character's expression into a chibi expression either by overacting or simply going completely white eyed and staring. This means that while everything can be rather basic at heart and only sees a few exceptionally well done scenes, the brightly colored world and characters fit the nature of the show perfectly.
Audio
Being an NIS America release, it is worth noting that only the original Japanese voice track is being provided with this release. This isn't much of an issue however as the original Japanese cast handles the characters and their personality types quite well. Some of the more memorable performances are of course Mayu's voice actress Haruka Tomatsu and Yoshino's Mako Sakurai.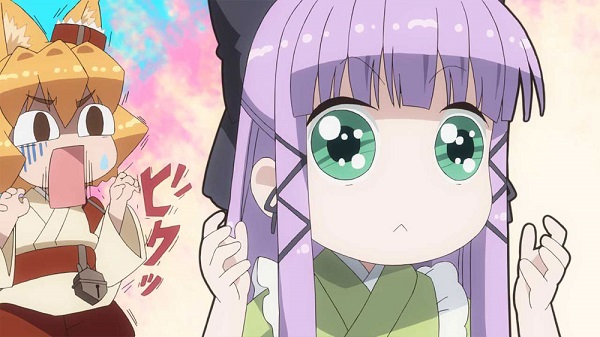 As far as background music goes, the series has a number of memorable tunes that play throughout the series, though they do tend to be re-used often making one wonder if the background music budget was limited. Anyways, the opening theme is "Kami-sama to Issho" which is sung by Mayu's and Yuzu's voice actresses and it is a nice up-beat song that leads into each episode while the main ending theme "Oh My God" is handled by Mayu's voice actress as well and is more somber in its tone, which reflects how despite being a comedy, there is still drama to be found in the series.
Extras
As usual with one of NIS America's first release of an anime, The Everyday Tales of a Cat God has been given a premium edition release which means that it has been given a collectable hardcover slipcase as well as a full color art book. The chipboard slipcase features a glossy covering and the main cast on both the front and back of the board, with the back illustration featuring a softer toned image.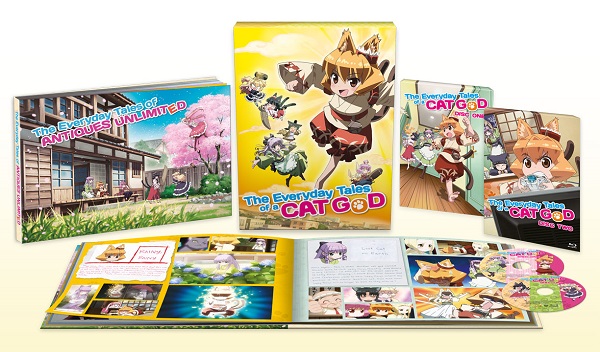 Before we get into the art book, it is worth noting that there are a number of on-disc bonuses with this release. Not only has the OVA episode "Cherry Blossom Viewing Ghost Busters" been included but the bonus short episodes of the "Cyber Wanderers" have also been bundled with the release. The OVA episode seems to occur after the final episode of the series itself which works well enough thanks to the slice of life nature of the series while the Cyber Wanderers see Mayu being transported into a video game and each of the cast trying to rescue her by controlling her as she tries to clear a game, usually to fail.
Now the art book this time is styled similar to a scrapbook and NIS America has decided to spice things up a little bit by having various characters discuss episodes. This means that the simple episode guide is included is given details by the various characters in the show, usually the one being introduced or discussed in said episode. Following this are a number of pages featuring the character designs and sketches with Mayu's various notes accompanying said characters before closing out on additional character sketches and full page promotional art.
Overall
The Everyday Tales of a Cat God is a very simple series at heart. Take a slice of life set-up; add in a large helping of comedy, a pinch of drama and mix with a large helping of Japanese deities and you have a colorful and humorous anime series that doesn't offend in any way and simply offers a good time. While it may not be for everyone, the overabundance of humor and antics of Mayu and her fellow gods create an enjoyable anime that could have easily been forgotten but thankfully made the journey overseas.
Capsule Computers review guidelines can be found here.