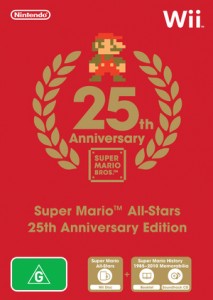 Super Mario All-Stars – 25th Anniversary Edition
Platform: Wii
Developer: Nintendo
Publisher: Nintendo
Genre: Platformer/Collectors' Edition
Released: 3 December
Price: (US)$30, £23, $39.99 AU
It's Mario's 25th Anniversary, which means one thing: memorabilia. However, we're not talking about tacky tea towels, nor mugs with Mario's face on it. Although this sort of memorabilia to celebrate this milestone occasion has been released, in the form of slightly more appealing sticker pads and the like, the tribute Mario deserves is finally here. Super Mario All-Stars – 25th Anniversary Edition has arrived, boasting 4 NES games, complete with redone SNES-style graphics and sound, all packaged under one heading. However, that isn't all you get in the package. It wouldn't be a true tribute to the videogame plumber on his 25th anniversary without a Mario soundtrack CD and a history booklet to detail his legendary adventures.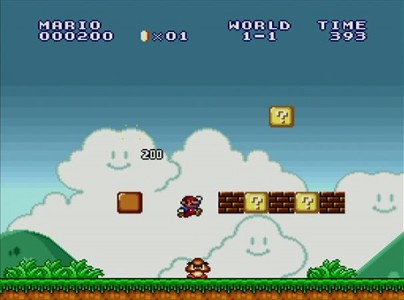 The package is made up of two parts, both of which are grouped in a small red cardboard box 'shell' indicating this isn't your normal shop release, but, in fact, a special collectors' edition-style game. The first of which is the Super Mario All-Stars disc, the actual 'videogame' part of the bundle, which for those of you who don't know, was originally released on SNES and comprises the Mario NES titles with reworked sound, graphics and in-game features to utilise the improved capabilities of the SNES. These were; Super Mario Bros.; the expansion pack known as 'Super Mario Bros: The Lost Levels'; Super Mario Bros. 2; and finally Super Mario Bros. 3. At the time on the SNES, this was the first time Super Mario Bros: The Lost Levels was made available to a Western audience. Before then, it had been exclusive to Japan so as you can imagine, it was a fairly big deal when it was released because all these secret levels previously only available in Japan could now be played by buyers of Super Mario All-Stars. Since then, The Lost Levels has been made available on the Virtual Console, so combined with the fact that it was already made available to SNES owners many years earlier, the excitement around The Lost Levels being released in this particular instance has faded considerably.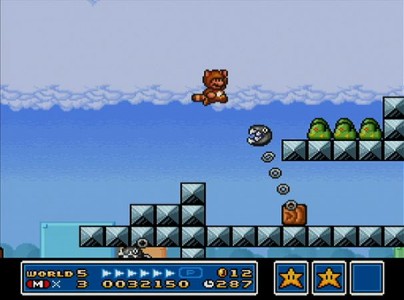 Essentially, the disc-part and, arguably, the main part of Super Mario All-Stars – 25th Anniversary Edition is just a SNES game. Fortunately, it is one of the best SNES games available which offered absolutely excellent value for money, much like this re-released package now. The improved features that come as a result of the jump from 8-bit to 16-bit include completely redone graphics and sound to match the visual style of Super Mario World. While some may not appreciate the departure from the presentation of the originals, it doesn't do a great deal of harm, and in some cases, people may prefer the step up into a more detailed game-world. Another change which may be seen as slightly more harmful, is the reworking of the NES classics' game physics to be just like that of Super Mario World on the SNES. Fans of the original may see this as completely destroying the appeal of the classics, but they remain great games, with or without edited in-game physics, and it won't be a huge deal for most. The gameplay is still good old-fashioned, 2-D side-scrolling fun, despite the changes.
Other new features included for the better in Super Mario All-Stars are the menu features. All the games now have save systems put in place, a great development. Instead of having to complete each game in one sitting, it now records the world you get up to (providing you select 'Save and Quit' before exiting). This a great feature which lends it nicely to players of the current day, whom have grown used to the ability to save their progress. Upon starting up the disc, you are then greeted by a menu to scroll through and select one of the four titles. Four different save slots pop up for each game preventing arguments breaking out over who gets to make the only save data.
The second part of Super Mario All-Stars – 25th Anniversary Edition is the memorabilia section of the package: the Mario soundtrack CD and History of Mario booklet. Both of which are novelty additions but it wouldn't be an anniversary edition without them as they commemorate the occasion quite fittingly. The soundtrack CD offers a compilation of game music from the series, with a selection of instantly recognisable sound effects to boot. Although it is hardly something you would listen to on a regular basis, unless of course your taste in music is in-game music and sound effects, it is worth a run through at least once to reminisce whilst listening to the iconic tunes. The history booklet is the more interesting of the two extras, giving you access to unseen art work and planning documents of Super Mario, as well as some input from the famous faces behind Nintendo. It doesn't really go in-depth as much as I would have wanted, preferring to generalise and look at things from a glance, but still, it is interesting enough seeing previously unreleased original drawings and notes.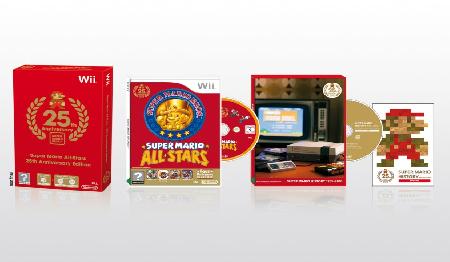 In actual fact, Super Mario All-Stars – 25th Anniversary Edition is little more than a SNES title of the same name, thrown together on disc with a couple of anniversary celebrations bundled in. However, the SNES title in question happens to be one of the best titles available on SNES, offering great value for money at the time with four-games-in-one. And the extras aren't just some old tat, either. They are intricately put together, and although it is unlikely you will come back to them very frequently, the are well made and worth a look, even if it is only just the one look each. Combine all this with the fact that this anniversary package is going for around half the price of a normal retail release, especially considering the fact that buying all the originals via the Virtual Console would cost you more, and you've got a near essential purchase.
Pros
Brilliant value for money
Old-school platforming goodness
Vastly improved save features
Interesting CD and history booklet
Cons
Reworkings of original versions may not be to everyones tastes