Ranma ½ Set 2 Special Edition
Studio: Studio Deen
Publisher: Viz Media
Format: DVD, Blu-ray (Reviewed)
Release Date: June 24, 2014
Price: $54.97 – Available Here
Overview
Whenever a company says that they are going to re-release a classic series in an updated format, fans of that series are generally wary of the results. For good reason too, since there have been occasions where trying to make an old series look HD it actually damaged the original product. Viz proved that they knew how to do it properly back when they released Ranma ½ Set 1 and while we were able to check out the series on DVD last time, how does Ranma ½ Set 2 look on Blu-ray?
Story
As one would expect jumping into a series at Set 2, there are some potential spoilers for the first set but not quite as many as one would think considering the long running nature of Ranma ½. For those who may be unfamiliar with how the series began, Ranma ½ revolves around Ranma, a practitioner of the Anything Goes Style of martial arts, who has been promised to marry Akane, the daughter of his father's best friend.
There are a few problems with this however, as not only are Akane and Ranma unwilling to follow through with this plan, but both Ranma and his father Genma have been cursed thanks to falling into springs in the Chinese training ground of Junsenkyo. Now whenever cold water is splashed on them, Ranma changes into a girl while Genma becomes a panda and the only way to turn the back is with hot water.
Not only did Ranma come back from China with a curse, he also brought with him an amazon girl named Shampoo who wanted to kill his girl half and marry his male half. When Set 1 finished Ranma had received a strange package from China with a cat inside of it and this second set continues on with that story as it is revealed that Shampoo has fallen victim to the curse of Jusenkyo as well and now she has brought her Grandmother, the leader of the Amazons, with to help bring Ranma back as her bride.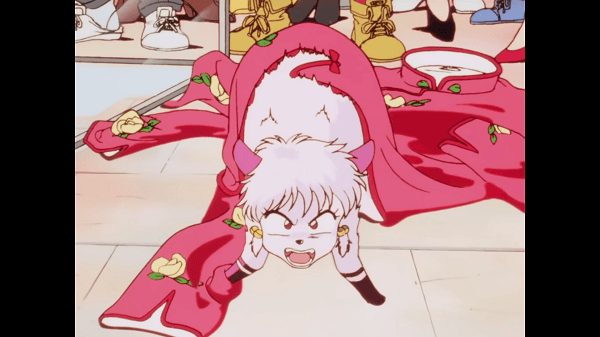 This begins a chain reaction of events that develop over the course of ten episodes roughly as Ranma has to deal with Shampoo's Great-Grandmother who strikes him with a technique that makes him unable to touch hot water, Shampoo's own plans to make Ranma her husband, and a martial artist named Mousse who is in love with Shampoo seeking revenge against Ranma.
That is only the start of things and is barely scratching the surface of what is offered in Ranma ½ Set 2. The fun that was had in the first set is dialed up a notch in this second half by introducing a number of great new characters, some of which are cursed, and enjoyable story arcs that help keep things fresh. Even when the series takes a pause to mess around with some random nonsense it is that nonsense that makes the series so enjoyable and it is really taken to the next level here. Whether it is the constant threat of water, the various misunderstandings, or all of the ridiculous battles that occur, the series really takes a step up in set 2.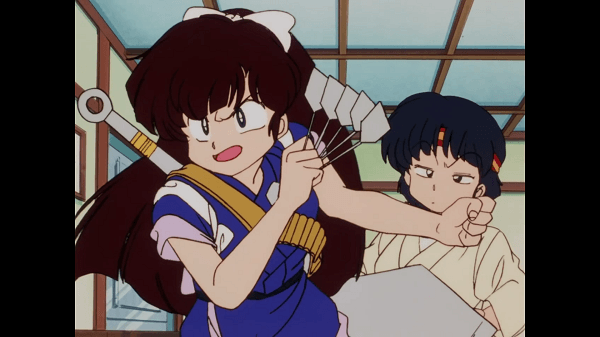 There is one small issue however as far as the new characters go and it has to do with Happosai, the master who trained Genma and Soun. While many of the characters in the series have simplistic motives for what they do, the perverted Happosai who is supposed to feel like a nuisance, tends to drag an episode down far too often whenever he appears. That being said, the rest of the introduced characters, including another one of Ranma's fiancées, do wonders for the series and provide more than enough laughs to keep viewers loving Ranma ½ throughout this second set and looking forward to the next one.
Visuals
One must really take the time to appreciate how amazing looking Ranma ½ looks now that it has been fully remastered and released on Blu-ray like this. The series is presented in its original 4:3 format and looks absolutely wonderful with no details lost in translation, making every episode look stunning. There are a few little specks and granules here and there that appear to have been from the original work and these aren't much of an issue.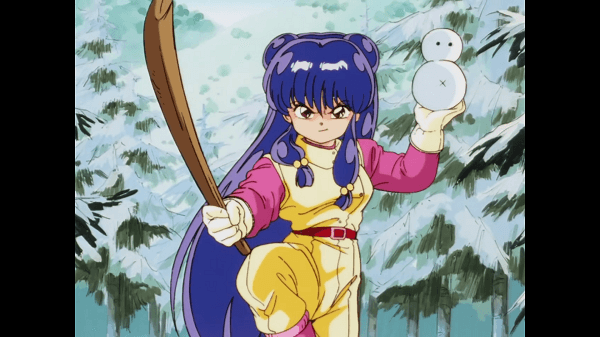 The art style also remains consistant for what was presented back then and it is what it is in those regards, providing a nostalgic feeling for those familiar with the time. It is also interesting to note that the amount of nudity takes a jump in the second half, but is still mostly in the form of Ranma' female-form being used for comedy. That being said, there are a few issues here and there when it comes to consistency of the coloration. Many times throughout Set 2 Shampoo's hair color will noticeably change shades of purplish blue between scenes and there are also times that Ranma's hair color will swap from black to red when he is meant to be a male or from red to black when he is a female.
Audio
With the release of Ranma ½ Set 2 viewers will have the option to choose between the original English voice track as well as the original Japanese voice track. All of the voice actors remain consistent between Set 1 and Set 2 and the newly introduced characters are all properly voiced and fit in well with the series. The same style of background music is also used to decent effect throughout this second set with a few new tracks added into the standard set. As far as the opening theme goes, a majority of these episodes are not actually shown with an opening theme, though when it is used it is "Little Date" by Ribbon with the last few episodes switching to "Omoide ga Ippai" by CoCo. The ending theme is always presented and is "Don't Mind lay-lay Boy" by Etsuko Nishio for the most part while the last couple of episodes switch to "Lambada Ranma," which is my personal favorite.
Extras
The extras included in Ranma ½ Set 2 Special Edition come in the form of both physical and on-disc bonuses. The physical bonuses include a chipboard box for the release that contains a "card" featuring artwork of female Ranma holding P-Chan, the case for the discs, and a booklet containing a brief summary of what has happened so far followed by a brief rundown of every episode in this release, which is a bit disappointing as the booklet could have included more than that.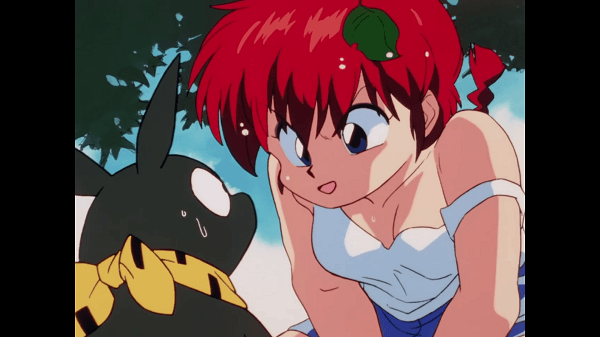 The on-disc bonuses come in the form of 'Next Episode Previews' that are seven minutes long and show the original previews for some of the episodes, clean versions of the opening and ending themes, trailers for other Viz Media releases, and 'We Love Ranma, Part 2: Favorite Scenes.' This last one is just over ten minutes long and features various voice actors and other members of the industry, cosplayers, and 'SuperFans' talking about their favorite scenes in the series, some of which haven't been released as of yet.
Overall
Long running series such as this can be difficult to keep interesting, especially for a series with such age, but it really goes to show how much longevity Ranma ½ has that this second set actually takes a step up from the first release both in action and comedy, even if one of the new characters is a bit of a drag. This remastered version of the series is easily the best way to watch the series and is a must have for any anime longtime anime fan who enjoys the classics.


Capsule Computers review guidelines can be found here.