R U Smarter Than A Monkey
Platform: iPhone
Developer: Capcom Mobile
Release Date: November 11, 2009
G'day everyone MasterAbbott from Capsule Computers back once again for another Video review.  This time I sat down with R U Smarter Than A Monkey for the iPhone / iTouch / iPod  A memory focus and retension game created by Software Solutions Consulting, Inc.
Now here's the run down aboout R U Smarter Than A Monkey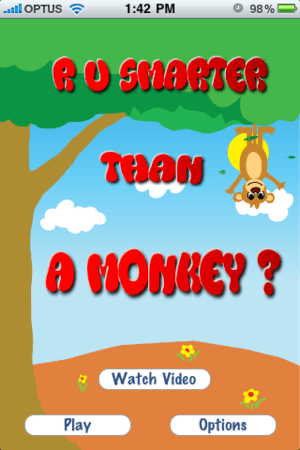 The game is based on a study on monkey's and their cognitive ability reported by ABC news (shown in the video below)  It's been proven that monkeys are quicker and better at this than one might think.
[youtube=http://www.youtube.com/watch?v=IHUqnw6Yjjk&color1=0xb1b1b1&color2=0xcfcfcf&hl=en&feature=player_embedded&fs=1]
R U Smarter Than A Monkey gives you a chance to test yourself against these naughty little monkeys.  It has several levels — starting at easy level (Baby Baboon) to harder levels such as gaps like "Mind the gap" you can practice before you challenge the mighty monkey himself (highest level) at an insane speed!  And this is where it will become very addictive as you will do whatever it takes to prove to yourself and everyone else around (who's probably laughing at you) that YOU ARE SMARTER THAN A MONKEY !! 
The game displays various statistics at the end of each match to show how you did like accuracy and most pieces solved.  It also has several achievements to earn such as "100% correct", "Memorized 6 pieces" and "10 consecutive wins", etc.  And its Fully integrated with OpenFeint. Which is fantastic.
For more information check out the official website over at : www.rusmarterthanamonkey.com Here you can check the 'daily top scores' and 'global top scores'.  It's very cool to see where you rank against others and how you are progressing. 
And it's true, and VERY Suprising, the human memory does get better with practice.  I have to admit they EVEN I was able push myself to higher and higher number of pieces after only a few games.
Now no more talking .. sit back relax and watch the video review for
R U Smarter Than A Monkey.
[youtube=http://www.youtube.com/watch?v=ng9ImXoNPFc&hl=en&fs=1&color1=0x5d1719&color2=0xcd311b]
–
Hope you enjoyed the review
–
In closing R U Smarter Than A Monkey is perfect for anyone wanting to improve their mental thinking and memory, the game is easy to pick and play and can be enjoyed by people of all ages.  Just a few minutes a day of play will improve your memory and ability to focus dramatically. 
Capsule Computers gives R U SMARTER THAN A MONKEY  : 7 Capsules Out Of 10
Grab your copy now from App Store now FOR  for only $0.99 US
Click on the RED BUY NOW Button
 Best iPhone apps at AppStoreHQ