Developer: Zitrix Megalomedia
Publisher: Zitrix Megalomedia
Platform: Windows
Release Date: 5 May 2017
Price: $19.69 USD – Available Here
Overview
Porno Studio Tycoon is a serious business sim delivered with a titillating premise. Players will run their own pornography business making, selling, and marketing pornographic films around the world. Although the premise is definitely 18+, the game itself has suggestive but no explicit content.

Story
As to be expected of a tycoon genre game, there is no actual story in Porno Studio Tycoon. The writing is rather poor. Some sentences are passable, but others are pure nonsense. The game's text was written or translated from its original Russian by someone who is does not speak English fluently.
Gameplay
Porno Studio Tycoon is a difficult game to learn. The tutorials consist of two poorly written interactive walkthroughs that provide instruction on the absolute basic functions of the game. The game leaves players to figure out a bulk of the game on their own. There is little documentation to explain most mechanics in the game. Although the first new game generated supposedly locks down many features to "introduce" them slowly, the actual explanations are either non-existent or nonsensical. The automatic scene creator that is unlocked for the second new game for easier play is equally confusing, leaving me more willing to tough out managing the minor details in each scene than force myself to master a new, confusing menu.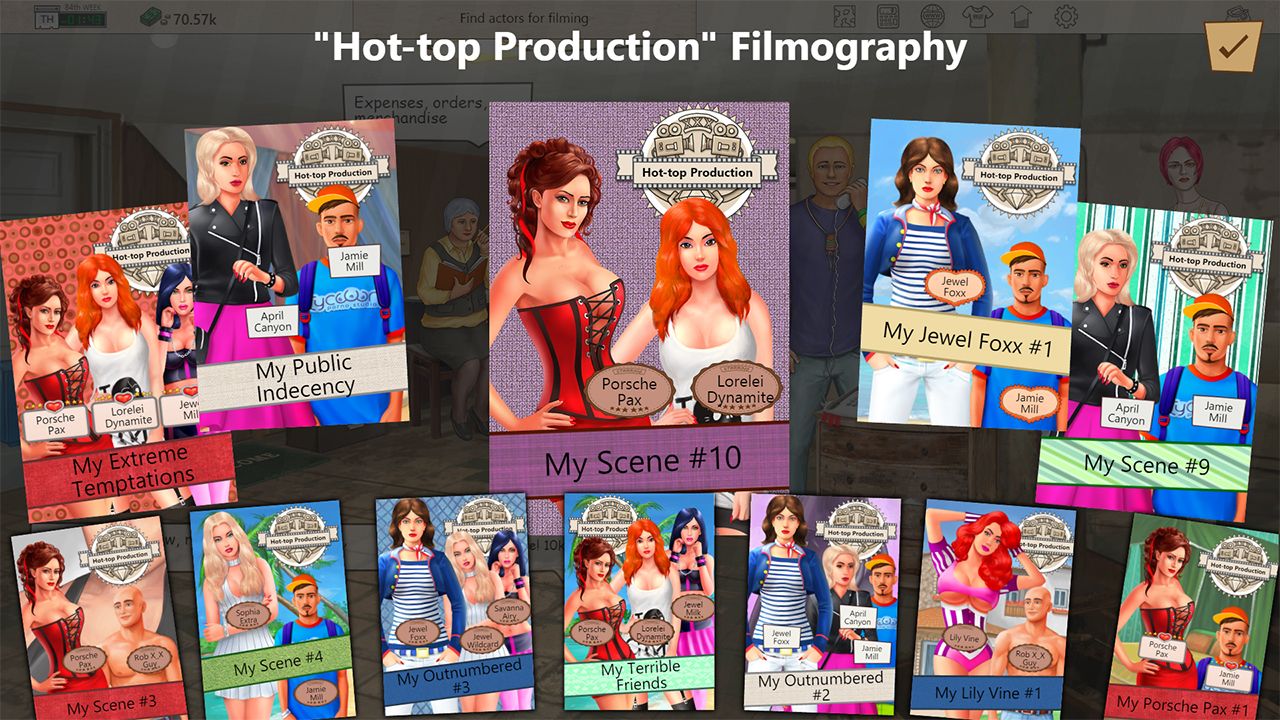 The menus follow the trend of confusion and a lack of clarity. The tooltips are marginally helpful at best. Some sliders, buttons, and UI elements are not explained at all. Some menu buttons are not properly sized against the English text, making them hard to read. The layout is a disorganized mess. The game is laid out like a point and click adventure game found on mobile devices than an actual business sim, making the navigation feel bloated Creating a film starting with hiring actors to post production to tracking your business' records requires hopping between multiple locations, creating multiple unnecessary steps.
If a player manages to endure the poor layout and experiment with the game enough to learn the ropes, they will discover a half competent business tycoon. While it is not as epic or complex as some of the titans in the genre, there are plenty of variables in the creation and marketing of films that need attention for players to be successful. Actors need to be cast in the right roles based on their abilities, extra technical crew can be hired to improve the quality of the film, and the day's filming schedule must be optimized to keep actors focused on their jobs without exhausting them. Players will constantly need to keep an eye out on changing market data to ensure a stream of relevant films hit the market that caters to ever changing demands that change by country and by week. When money is low, players can sell scenes or pick up contracts to make a quick buck.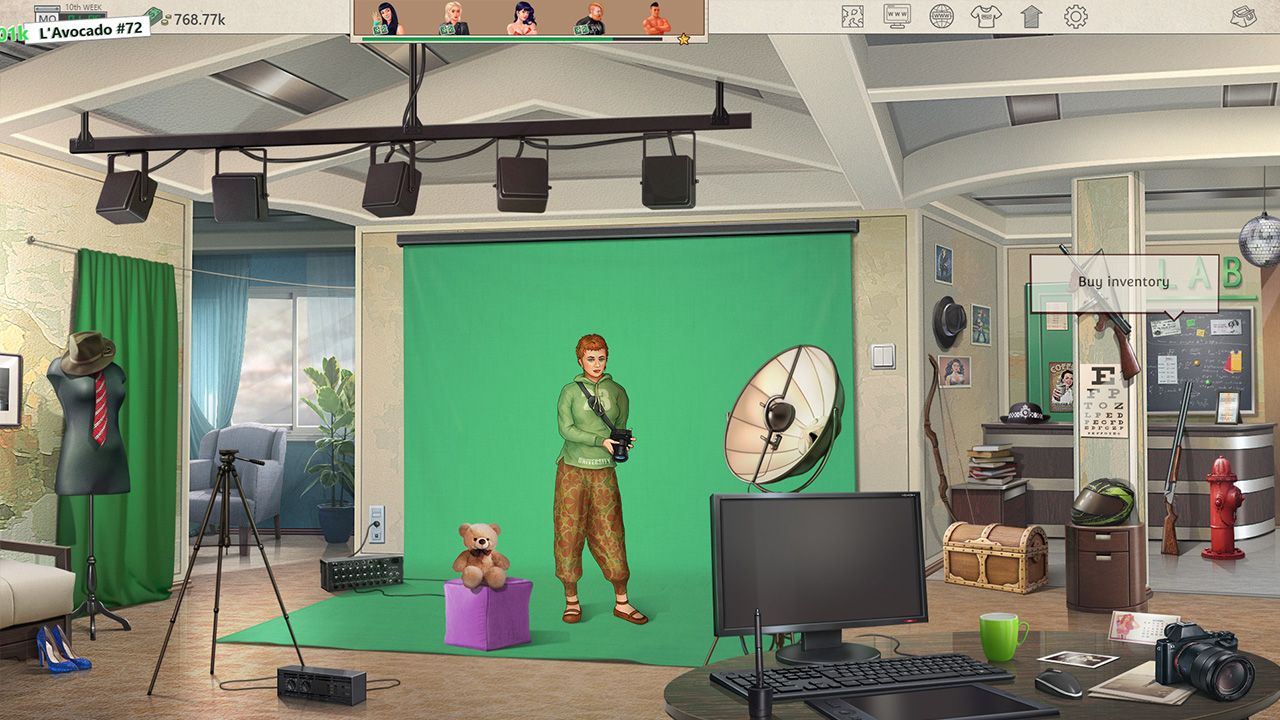 The developers have done a good job with giving the end users a good bit of freedom to tweak their game as they please. The new game menu provides a plethora of options to tweak the difficulty of the game beyond the preset difficulty settings. Additionally, the game features mod support through Steam Workshop.
Visuals
Porno Studio Tycoon features nice graphics that are probably a touch too risqué to be safe for work, but not actually pornographic in nature. The quality of art is high, but the style feels quite generic for the most part. The style is almost identical to the sea of hidden object adventure games that are churned out for mobile platforms. The only part of the game's graphics that really stand out is the cheeky icons that allude to a variety of acts the performers can be directed to perform.
Audio
The audio experience is a bit disappointing. The music consists of rather generic tunes that are incredibly forgettable. Many of the songs would feel at home in old 1990's shareware games or an elevator. There are some voice lines. The acting is decent, though there is a distinct lack of variety in the actors and lines themselves. It is important to note that only female actors are given voice lines, as the game lacks any male voice.

Overall
Reviewing Porno Studio Tycoon has been a bit of a challenge due to the nature of its taboo content. Up to this point in my review, I have consciously treated the game as if it was making normal movies seen at the theatre to separate the game itself from it's taboo content. But at some point, I must address the giant thousand-pound elephant in lingerie that has been in the room that I have made all attempts to ignore up until now. This game involves pushing the boundaries of the last great Western media taboo surrounding of sex, thanks in a large part to the United States of America's massive influence on English language entertainment. While controversy around depictions of violence and drugs have largely subsided in recent decades, the Hot Coffee controversy involving Grand Theft Auto: San Andreas is still rather fresh. Why is this rather dry, academic tangent relevant to a $20 video game made by a Russian developer? Because this game would have never received the same attention if it was simply called Movie Studio Tycoon. Sex and pornography isn't being portrayed in a sex positive or even a sex negative way in Porno Studio Tycoon. I can accept that making an adult themed game on Steam is problematic in its own rights based on a lack of clear guidance on what Valve is willing to accept. Russian laws also brings its own sets of rules with depictions of non-heterosexual content. Both facts may have impacted some design decisions on how sex and pornography is depicted in the game. But the problem lies in the fact the game treats sex with poorly translated wink wink, nudge nudge treatment of innuendo that makes the whole endeavour feel like it was designed to strictly capture the attention of 18-21 year old straight young men with promises of risqué and tantalizing content. While the game is rather restrained in the larger scheme of things, the emphasis on the sexualized depictions of females combined with the innuendo heavy treatment of sex in the game makes it hard to escape the conclusion that the game's pornographic is essentially clickbait. That is not to say that a pornography studio tycoon sim could not be done in an entertaining and enjoyable way, this is just not the way to do it.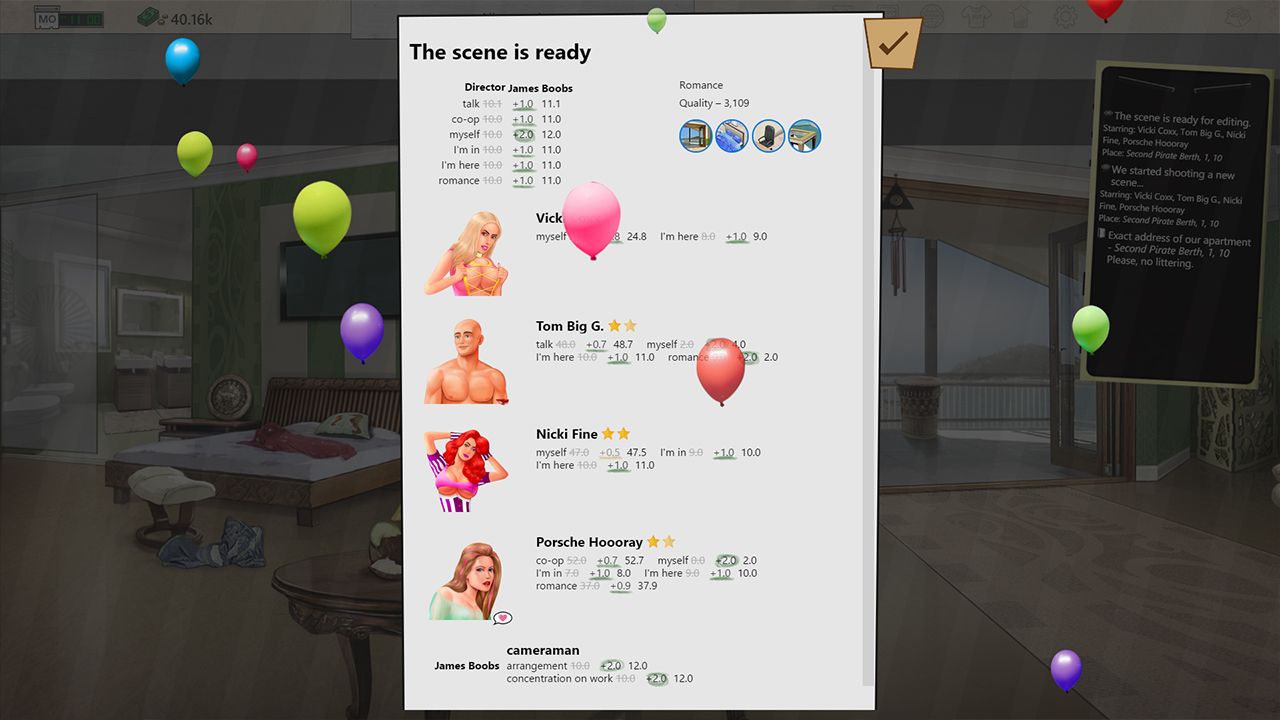 Parsing out any potential controversy related to sex and video games, Porno Studio Tycoon is a game that buries half decent tycoon sim gameplay under a pile of poor writing, bad UI, and lousy documentation. The graphics and audio are polished, but for the most part are completely generic. That alone is enough earns the game a poor review. The immature, clickbait-like handling of the game's premise just makes the poor game quality all the more offensive.
Capsule Computers review guidelines can be found here.