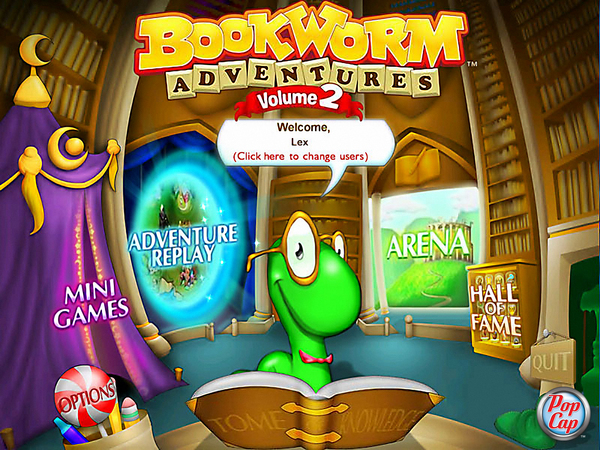 Bookworm Adventures Vol 2
Platform: PC
Publisher: PopCap Games
Developer: PopCap Games
Release Date: Jan 14, 2009
Overview :  The vocabularious sequel to the hit PopCap word game!
Stop the presses! The walls of fiction are collapsing as characters run wild through the Great Library, and only Lex the Bookworm can save the world from certain doom! Build words and battle monsters to survive three storybooks with 10 chapters each. Trade barbs, banter and body blows with over 130 foes, and earn help from fighting friends along the way!
The better the word, the badder the damage — so power up with over 20 treasures, including all-new Rainbow Tiles. Work wordy wonders in all four game modes and flex your lexicon in six mini-games. It's a role-playing word game you can't set down!
–
If I could say this is certainly the BEST word puzzle adventure game available on the market at the moment.  It's challenging, addictive, witty, amazingly creative and most of all FUN !!
Lex is back for another EPIC adventure !! It's amazing how much one little green worm can get up to using the power of his vocabulary, guide Lex through 3 imaginative and creative books consisting of 10 chapters each.  Meet weird and wonderful characters inspired by Fractured Fairytales, The Monkey King and Astounding Planet!
Lex might be small but his words BITE HARD !! To move forward in this game and beat the baddies all you have to do is string words together that are presented to you on a tile board.  Sound easy enough.  But when the baddies you face have tricks up their sleeve it's not as simple as that.
This is where you call upon the aid of and for the first time ever, combine forces with six colorful companions including Mother Goose, the Cheshire Cat and the mischievous Monkey King!  These companions you meet along the way and once on your side they will offer their powers and abilities as services to aid you in your quest.
Now enough reading more watching .. Sit back and enjoy the video review :
[youtube=http://www.youtube.com/watch?v=XaYC-2P2N58]
Bookworm adventures will have you hooked from the word GO !! And you wont be able to put it down till the last tile is used and you have made it to the end of your adventure. 
Capsule Computers gives Bookworm Adventure Vol 2 a 9 Capsules out of 10

What are you waiting for !! LEX NEEDS YOUR HELP !! Don't just stand there click on the links below to POP CAP Games and buy your copy today.
DOWNLOAD BOOKWORM ADVENTURES VOL2 on PC
Let us know what you thought of this review here by leaving a comment or in the forums.