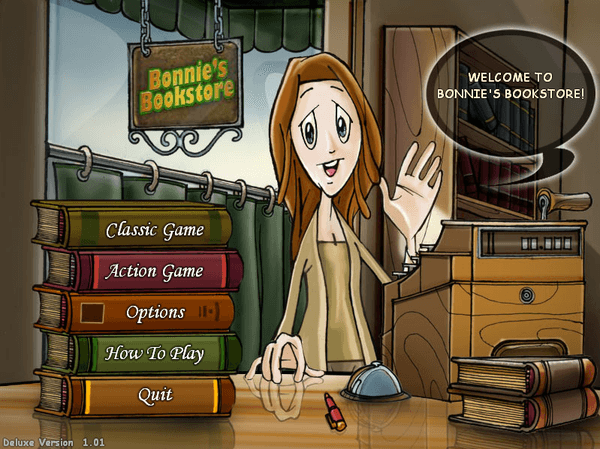 Bonnie's Bookstore
Platform: PC
Publisher: PopCap Games
Developer: PopCap Games
Release Date: November 28, 2005
Overview : Flex your word muscles to help Bonnie become a children's author in this masterpiece. Turn the tiles green as you weave your way through the word grid… capture the consonants… vex the vowels… but watch out for the dreaded Writer's Blocks!
Bonnie's Bookstore is a fun and very addictive letter/word puzzle game.  It will get your brain ticking and thinking.  Letters are presented to you on a game board which appears in different shapes and sizes with every level you access.  The object of the game is to LINK letter tiles together to form words that are 3 or more characters in length.  Once you use a specific tile it will turn green for the remainder of the level.  To clear the level all letter tiles must be used and green.  Sounds hard ?? Well it's not that hard.  Well if you play it on Genius it might be, but with three levels of difficulty you can ease yourself in and gradually try the harder ones, once you get the hang of it.
Check out the Video review below which covers everything you need to know about Bonnie's Bookstore :
Sit back and enjoy the review :
[youtube=http://www.youtube.com/watch?v=lJYqbky-yG4]
Bonnie's Bookstore is great for the whole family a fantastic easy to play letter puzzle game that will have you hooked for hours.
Capsule Computers gives Bonnie's Bookstore : 7 Capsules out of 10
Bonnie's Bookstore is available on the following platforms : Click on the links to be directed to the PoP Cap Games website
Windows PC
Apple Mac
Internet Web
–
Let us know what you thought of the review here or in the forums.
–