Nichijou: My Ordinary Life Collection 2
Studio: Kyoto Animation
Publisher: Madman Entertainment
Format: DVD
Release Date: April 17th, 2013
Price: $59.95 – Available Here
Overview
Nichijou – My Ordinary Life is anything but ordinary. After reviewing the first part of Nichijou – My Ordinary Life, I was left wondering, where does it go from here? Well if the first part was anything to judge by, it can only get more crazy.
This is one of the most bizarre anime in recent history and the oddysey of oddity continues in Nichijou's hilarious second half. This is far from your ordinary slice of life anime, this is an extraordinary slice of life and I wouldn't have it any other way.
Story
It goes without saying that Nichijou – My Ordinary Life is a bizarre creation. It features an expansive cast of unique characters in situations that defy even imagination. How do you think of stuff like this? It's obvious that Keiichi Arawai, the creator of the manga which this series is based upon, is a special kind of genius.
For all of its oddity, Nichijou – My Ordinary Life is every bit as funny. It draws humour from its inherent weirdness, finding drama in the most curious of places and then putting mass emphasis on it resulting in mass hilarity.
Nichijou – My Ordinary Life plays out like 4koma animated. There is a series of random yet sometimes interconnected events that comprises each episode. The abstract nature of this structure feels very similar to legendary slice of life comedies such as Azumanga Daioh and Lucky Star. That is of course a good thing as those two series are often hailed as some of the greatest slice of life comedies in anime history. For Nichijou to be in the same regard as those series, is simply remarkable.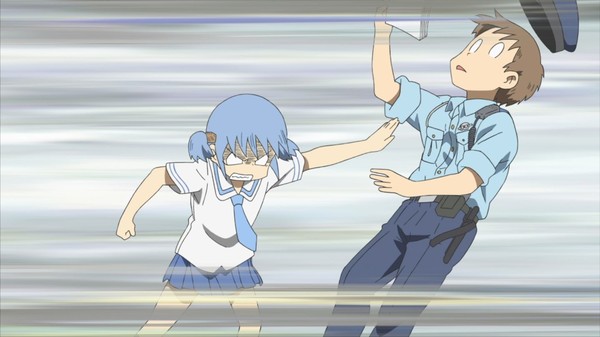 The cast of characters on display in Nichijou – My Ordinary Life is simply phenomenal. Despite the often limited time each character is given each episode, they are incredibly well developed over the course of the series. By this second half, each character is well and truly going through the motions like nobody's business. Their comedic timing is perfect and the characterization is on point. There is a feeling however that by around episode 20 much of the cast has reached their comedic potential, with everything else that comes after being little more than extra innings.
While it does feel like it goes on longer than it really needed to, Nichijou – My Ordinary Life never missed a beat, remaining fresh throughout. You do get the feeling though that this series would be best served as a 1 cour anime, but the second half does give the characters more room to breath and more Nichijou fun is never a bad thing. This second half is of course just as hilarious as the first and just as much fun. Isn't that what matter most in the end? That it makes you laugh all the while you have some fun?
As far as comedy goes, Nichijou – My Ordinary Life is in a realm of its own. Very few anime are ever truly funny from start to finish, Nichijou is one of those fine few series. It is a must watch for comedy fans. This is a special kind of comedy.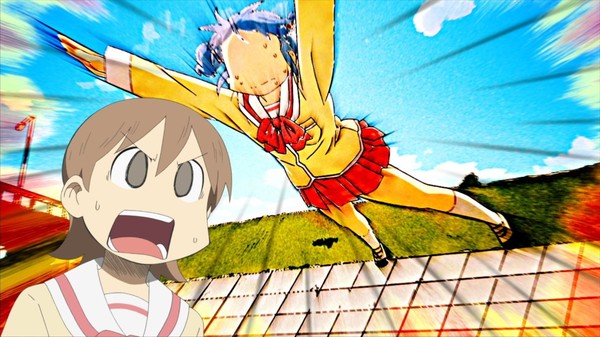 Visuals and Audio
Aesthetically Nichijou – My Ordinary Life is every bit as bizarre as the rest of its content. There is an abundance of abstract art that supplements the more ordinary subdued moments. The series seems to slip between a variety of styles at the drop of a hat. There is little bit of everything on show in Nichijou which ultimately makes it a visual delight.
The series also happens to feature an absolutely incredible soundtrack. Its opening and ending themes are addictive as can be, with hooks that will get stuck in your head with ease. The rest of the incidental music is a mish mash of extremely energetic tracks and subtle slow burning dramatized tunes. All in all its a perfect fit for this mixed bag of an anime series.
I must mention though that this release does not feature an English dub track, it does however of course feature the original Japanese audio which is absolute fantastic. Sadly though this was one series that would have been incredible with a dub. These types of series are often served well in English dubs. Unfortunately issues with Bandai prevented that from being possible. Despite that, the series is good enough in its own right that a purchase is still warranted even without a dub.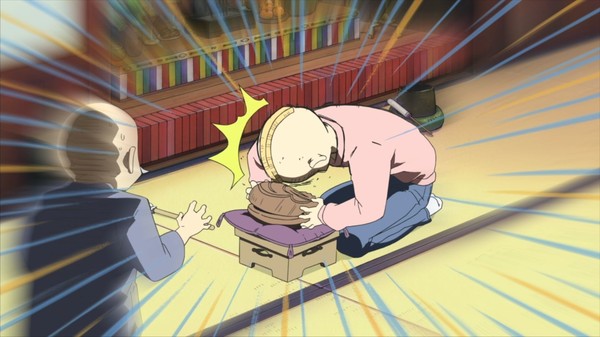 Extras
This particular collection from Madman Entertainment comes packaged with a fair few special features that will give fans of the series something to take a gander at. There is alternate episode previews (which are obviously hilarious), textless songs and the standard trailers. This isn't exactly a significant amount of bonus content and it in no way makes up for the lack of a dub, but it is a nice little batch of extras to complement the series itself.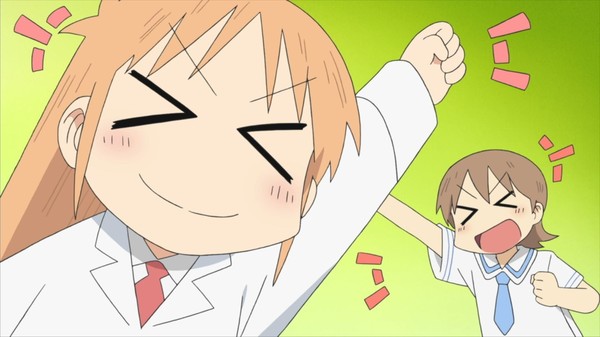 Overall
Nichijou – My Ordinary Life is absolutely insane but underneath all of that utter madness is a sense of unbridled fun that elevates this series into greatness. It is no stretch to say that Nichijou – My Ordinary Life is one of the finest comedy anime ever produced. It may not be Kyoto Animation's usual brand of comedy but it is a special breed unto itself.
If you enjoy bizarre comedy with an abstract sensibility, you will likely garner a great deal of pleasure from Nichijou – My Ordinary Life. This is a wildly fun anime series in all regards. This particular collection concludes the series on a high note and makes for what is must watch comedy anime.
This is far from ordinary, this is the kind of series that comes along once in a blue moon. If you haven't yet experienced the brand of ordinary life that Nichijou is selling then you are simply missing out on something extraordinary – an unimaginable slice of life.
Capsule Computers review guidelines can be found here.