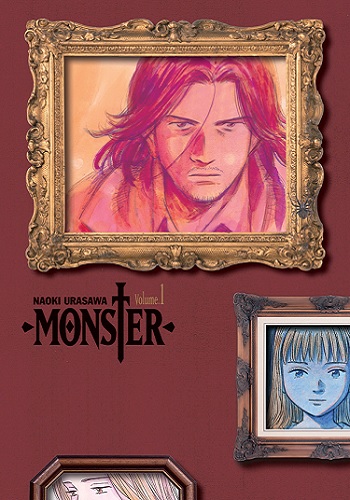 Monster: Volume 1 Perfect Edition
Author: Naoki Urasawa
Artist: Naoki Urasawa
Publisher: Viz Media
Release Date: July 15, 2014
Price: $19.99 – Available Here
Overview
There are few manga series that can be considered classic but one that is mentioned often is Naoki Urasawa's Monster. Originally published back in 1994, the series ran for a total of eighteen volumes before concluding in 2001 and eventually started being published in English in 2006. However after the full series was published in English by Viz, copies slowly became hard to come by as the series had gone out of print.
Thankfully Viz has chosen to revive Monster and breathe some new life into the volumes by giving them some upgrades and releasing the series as two-in-one 'Perfect Editions.' Now that Monster: Volume 1 Perfect Edition has been released, is it worth purchasing?
Story
Monster begins in 1986 Düsseldorf, Germany where a young and talented doctor has earned quite a name for himself at Eisler Memorial Hospital. This doctor, named Kenzo Tenma, transferred to the hospital from Japan and has quickly risen up the ranks due to his exceptional surgical skill and willingness to follow the director's orders. Not only is he set to be promoted further up the chain, but he is even engaged to marry the director's beautiful daughter Eva.
A man can only obey orders for so long however and after witnessing the way that the hospital prioritizes famous or wealthy individuals over common folk who came first and usually suffer from worse injuries, Tenma's struggle with his feelings and beliefs comes to a head when he disobeys direct orders to abandon a young boy shot in the end to work on the city's mayor. Choosing instead to work on the boy and save his life not only causes Tenma's world to collapse around him as he is demoted and those he thought loved him turn away, but his actions have caused something far worse to continue living.
Generally when it comes to manga releases, especially ones such as Monster: Volume 1 Perfect Edition that is 422 pages long, I usually would go deeper into the story but doing so would be a disservice to those who have yet to read the series. I say that because what makes Monster so great are all of the various twists and moments of drama and suspense found within the story.
While this first volume of the Perfect Edition serves mostly to introduce us to Tenma, those around him, the villain, and establish the entire scenario once readers get past the first few chapters they will find themselves hooked and be unable to put the book down until they finish. You see, the first few chapters of Monster are presented in a way similar to a standard hospital drama where various policies and connections make or break the doctors. While this may be interesting for some, what the series transitions to past that point becomes a murder mystery story packed with drama and potential.
A lot of heavy themes are at play in Monster's first volume such as the worth of a person and although many of the characters we are introduced to might be side-characters, it is evident which ones will play a major role already. The leading man Tenma is not only likable but also a realist with a sense of duty and we are given some extensive detail on him throughout this release. Considering this is only the initial release of what is going to be a two-in-one volume run, this first release does an amazing job drawing readers into the story thanks to the author's compelling writing style.
Artwork
Monster: Volume 1 Perfect Edition is part of Viz's Signature line-up which means that the volume comes in at 8.2" x 5.8" which as you may expect, is larger than the original release. This increase in size is both a good and a bad thing however. The enlarged size does allow for some extra details to be shown off and the artwork is still extremely crisp looking with unique looking character designs that help make every character unique.
But after comparing this release to the original English print release, every so often there are times where a bit of the art is cropped off, which is odd considering the extra space the larger book. That being said there is also an overabundance of blank white backgrounds used throughout the release, which is similar to the original, but a drawback nonetheless. The translation of the book is nicely handled and the fact that Viz left in a handful of German words and terms in the release is a nice touch considering the series' German setting.
Extra Content
With the release of Monster: Volume 1 Perfect Edition Viz has put a few extra touches into the volume to try and draw in readers. There are now a number of color pages included in the release, though they are printed on the same material as a standard page, and the book also features a faux dust jacket design where the cover features large French flaps that have no writing on them and actually end up getting in the way at times.
Overall
While Monster: Volume 1 Perfect Edition may not offer a whole lot for those already picked up the series back when it was originally released, as the increased size is an improvement but also a hindrance, those who have yet to pick up the series will be in for quite a treat. This first volume of story is clearly only a sample of a larger and more intriguing piece of work that will probably only get better as it progresses.


Capsule Computers review guidelines can be found here.