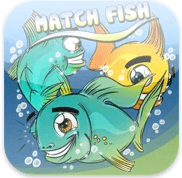 Match Fish
Platform: iPhone/iPod Touch
Developer: iFun4all
Released: June 09, 2010
Price: $2.99 (US)
BUY NOW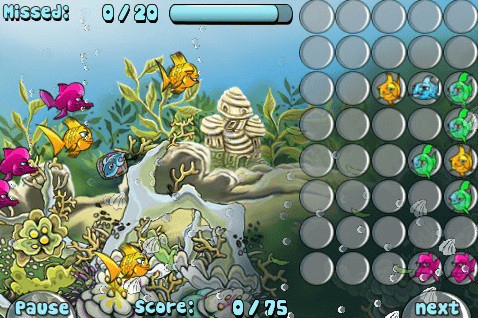 Match Fish is a simple puzzle game in which you must create groups of at least four, of the same species of fish. Once you have done so, you can then tap that group, removing them from the board, freeing up space for more fish and adding to your total score.
There are three seperate levels of difficulty: easy, medium and hard. This ensures that people of all skill levels are able to play Match Fish, without having any problems. There is a significant jump in the difficulty levels of the game, with 'easy' being slow paced and non-taxing, whereas 'hard' can present a hurdle for the most hardened of gamers.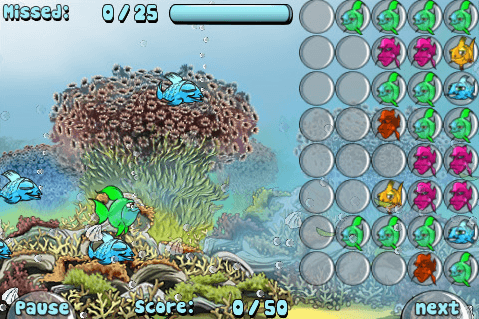 Match Fish features two different game modes, the first of which is the aptly named 'Play' for those who want instant action and the ability to choose how challenging they want the game to be by selecting the difficulty before they start. The other game mode is named 'Challanges' and offers 24 challenges, getting increasingly harder as you progress. Match Fish is also a puzzler in every sense of the word; as you make headway in the 'Challanges' mode, this advancement is represented as a jigsaw which is slowly pieced together on the 'Progress Map'.
Although some of the tasks are challenging (as is playing on the top difficulty),the game doesn't last very long. Once you have completed all of the tasks, similarly to most puzzle games, there is little incentive to go back. With no multiplayer mode, it is almost inevitable that you will grow weary of Match Fish, and after completion, you will probably find you will only pop back occasionally to try and top your high scores.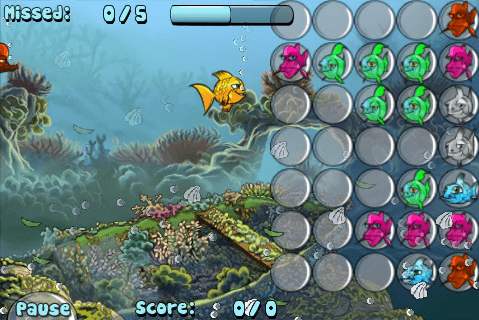 Overall, Match Fish is a colorful little puzzle game which suits a pick up and play style due to it's simplicity. The straight forward nature of the gameplay and the clear layout also support this statement. The range of difficulty, as well as a choice from two control methods (dragging your finger across the screen, or tilting the actual iPhone/iPod Touch itself), makes sure people of all ages and skills can have a go. It is quite short although this is fairly proportional to the inexpensive price tag.
Pros
Simple, but fun
Vibrant and colorful
Highly accessable for all skill levels
Cons
Short
Can get a bit repetitive
7 Capsules out of 10