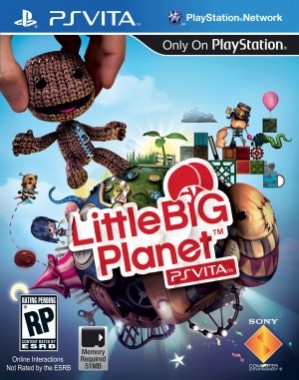 Little Big Planet PS Vita
Developer: Double Eleven, Tarsier Studios, XDev
Publisher: Sony Computer Entertainment
Platform : PlayStation Vita
Release Date: 20 September 2012
Price: $39.99   (available here)
Overview
Little Big Planet is oft mistreated. It's a high quality, addictive little platformer often brushed aside in favour of more 'mature' titles.  After two excellent entries on the PlayStation 3 and one quick foray onto the PSP, Sackboy and Craft World are finally making their presence felt on the Vita. Indeed Sony's latest handheld is the perfect place for this franchise to be, with the touch controls and portability adding even more immersion and longevity to an already impressive title.
The game has Wi-Fi only online elements and also comes complete with the level creation tools found in the previous games – there's very little that is lost in the transition to handheld.
Gameplay
There is a rudimentary story to LBPV, but as always with Sackboy it is light, feathery and often ridiculous. And that suits things just fine. In addition to over 40 story levels there is the Arcade, Creation mode and the entire online community to provide players with a potentially infinite supply of user generated content- and of course multiplayer playthroughs of whatever level you fancy.
The mechanics are classic LBP, increasingly tricky platforming set in dreamy fantasy worlds. The controls remain simple but responsive, and the additional gadgets and weapons from LBP 2 are also here to play once more. The Vita has allowed for some touch controls to be integrated into the mix, whether it's for firing and guiding projectiles or poking platforms out into the layers of play. Touch just feels right for this IP, as there has always been some fourth wall breaking going on with Sackboy – why not get even more involved?
The level design is delicious, and although the tutorials may linger for a little too long, the game is a huge amount of fun to blast through. The contraptions on display here show off the usual amount of imagination, with items and objects and clothing scattered all over the worlds along with  score bubbles.  Every level thus prevents copious opportunity for replay, once for story progression, once for 'acing' (lose no lives) and several more times for collecting all the goodies.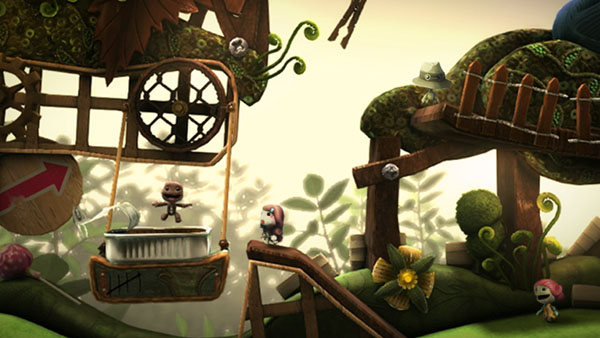 There are few games out there that provoke moments of pure platforming pleasure, but LBPV is one of them. An early sci fi level saw my Sackboy clothed in a Deckard-esque trench, running through a neon dystopia to some atmospheric electro; a piano in the background can be played via touch, the Arcade games and unlockable minis are addictive little spins on classic concepts – this is one incredibly generous and delightful title. It's a perfect handheld package – especially when you take into account the level editor and online community.
There have been no real changes to the editor, and although there are a vast amount of tutorials to guide players through the process it's unlikely that those not already into creating their own levels will be sucked into the highly time consuming and complicated process. That said it is a rare thing for a handheld game to boast, and the options are by no means limited by the lack of console guts behind everything. Once again the touch controls prove their worth here, removing some of the more frustrating aspects of creating via dual sticks and buttons.
Online can be a bit tricksy in connecting to other players, but when things run smoothly it's a ball. The number of user created levels is still building to a peak, but if other LBP titles are anything to go by there will be a huge number of weird and wonderful levels available in the near enough future.  If you sign in to the PSN at the off all your level scores will be automatically ranked, and the level select screen keeps track of how many players are currently in each level. Any completed creations can be uploaded to the community space for full dissection by the rest of the world, and the overall impression is certainly one of community.
The entire game is a showcase for creativity in the name of having fun, and in the age of realistic graphics and convoluted cut scenes it is a rare mainstream exception.  There is a place for games that provide an emotive and involving story, that simulate reality and boast perfect physics. But ultimately gaming is for fun, and this is it in it's purest form, devoid of any obsession with textures, polygons, and perfect lighting.
Nintendo, the age old kings of handheld platforming, should take a close look at Little Big Planet PS Vita. Would I rather play this than the latest 3DS Mario? Absolutely.
Audio and Visual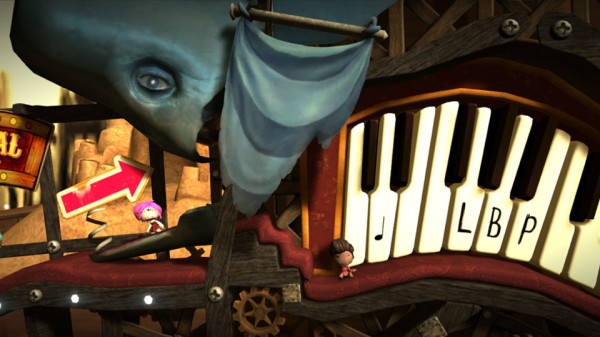 LBPV retains the style of its predecessors, all bright colours, weird and wonderful. The levels as always boast a range of themes, from a carnival to an almost fairytale forest. The music always complements the level design, and although some of the tunes are a tad familiar to other LBP themes, they nonetheless do a fantastic job of finishing off the world laid out in the visuals.
Stephen Fry returns as the narrator of all the amiable madness ; characters still speak in gibberish when they aren't in cut scenes, and you can play to your hearts content with the design of Sackboy, the hub like Pod and of course the levels themselves. Thanks to the Vita's built in camera it is easier than ever to snap pics of you and yours and stick it right in game – a small but endearing feature.
Little Big Planet's style is unmistakeable, and it is that strength of identity that sucks you in. Tune in with some headphones and prepare to be immersed in a rather happy place.
Overall
If this had marked the debut of the series, Little Big Planet PS Vita would be the system seller that Sony so craved. As it is the game is the strongest to grace the Vita so far, bursting at the seams with content that fulfils just about every desire you could have of a portable title. It is a must have for any Vita owner – well crafted, beautifully designed and almost infinitely replayable; charming, fun and a throwback to simpler times that is nonetheless equipped with a host of modern goodies.
To top that gush with some cheese – Little Big Planet has found the perfect place to orbit in the Vita.