MasterAbbott is back with another of his Video Reviews.  This time we have Heavy Gunner for the Apple iPhone developed by Com2us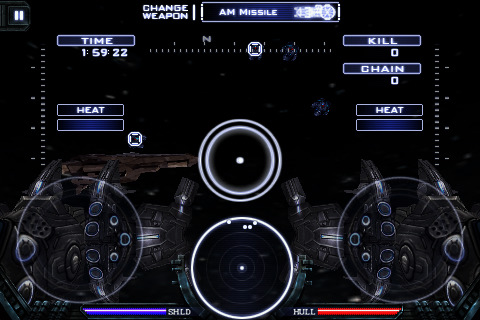 Heavy Gunner is a Dual Stick control 3D inter-galactic shooting game.  Com2us have done a great job in creating a very original, action packed and very fun game with a huge amount of re-playability thrown in.  With two styles of control options.  You have the touch and tilt options to maneuver your Heavy Gunner tank around combined with the dual analog buttons used for shooting the invading alien forces down.  The action can get wild in the later levels so make sure you choose your style of game-play at the beginning and become accustomed to it so your shooting and movement becomes second nature.
There are a total of 25 missions broken down into 5 levels and 5 sections .  At the end of each section will have you battling against a end of level boss.  There are a wide array of different alien enemies that will keep you on your toes and push you to the limit.  This is where the fantastic amount of weapons comes into play, the choices you make and the weapons you upgrade and take with you on each mission is very important.  There are more than 130 different combinations of upgradable weaponry.  The great fun is experimenting with them all and finding what best suites your playing style.  Another excellent feature is having the ability of going back to do all the sections as many times as you want, by doing so you can accumulate more points to upgrade weapons and also to score a higher ranking.
Now on to the video review.  Enjoy
$2.99 USD : Click to be taken to the iTunes Store :
Heavy Gunner is an action packed, challenging space shooter that will have you going back for more, with so many different combinations of weaponry to choose from this will keep you busy for hours on end.
Capsule Computers would like to give Heavy Gunner : 8 Capsule out of 10
For a great low price of only $2.99 UDS its a complete bargain.  Pick it up now from the iTunes Store
$2.99 USD : Click to be taken to the iTunes Store :
[Gallery=32]
–