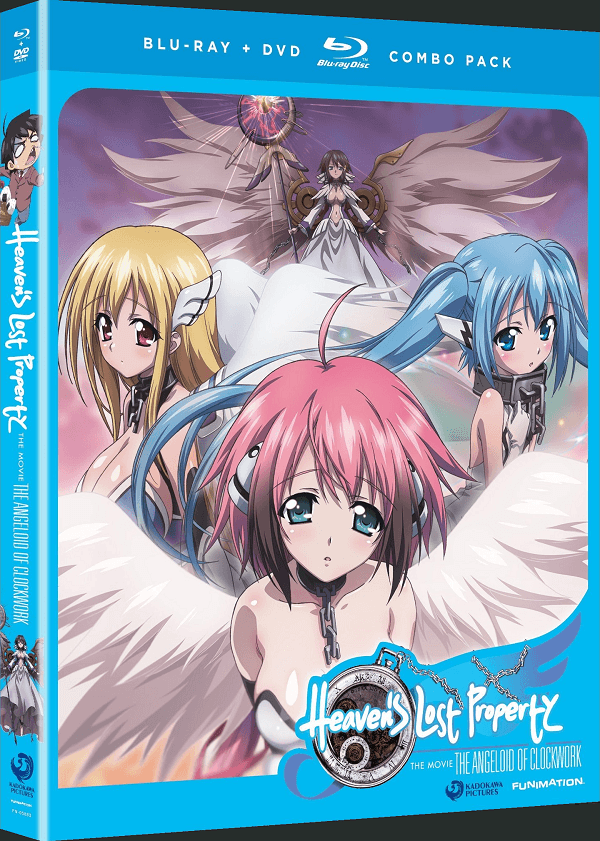 Heaven's Lost Property: The Angeloid of Clockwork
Studio: AIC
Publisher: FUNimation
Platform: Blu-ray/DVD Combo Pack
Release Date: February 26, 2013
Price: $34.98 – Available Here
Overview:
Ecchi anime have quite a reputation in the industry and whenever one is licensed, there is a certain group of people who sigh and shake their heads. However time and time again ecchi and harem series have been released overseas and their quality has proven that these series deserve their place in the industry and offer more than just casual fan service. One such series has been Heaven's Lost Property. With it's nonsensical humor, intriguing plot and great cast of characters the series has made quite a name for itself in the West.
Now that the first and second seasons of the series have been out for a little under a year, FUNimation has brought Heaven's Lost Property: The Angeloid of Clockwork, a movie which continues the anime's plot past the second season, to fans in North America. Does this movie contain everything that has made the past series great? We shall see.
Story:
After the events of the second season, Tomoki and the rest continue to live a far from ordinary life where giant chickens must be fought using a giant Sohara. Why you ask? Well to get a glimpse at Sohara's now gigantic panties of course. This type of crazy humor mixed with fan service is what the series is known for but before long the viewer is presented with the main focus of the movie.
Hiyori, a face that should be familiar to those who have seen the past seasons, has been keeping a close eye on Tomoki and the New World Discovery Club throughout their adventures and when she suddenly asks to join the group, everyone is taken by surprise.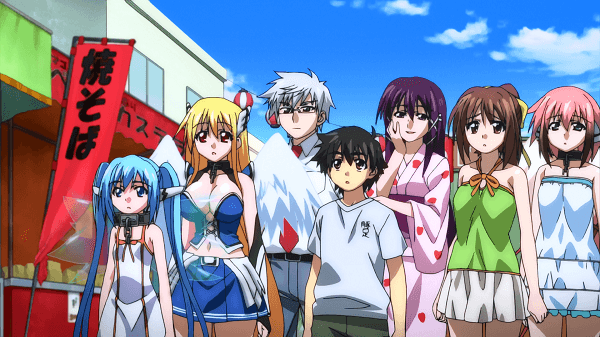 As the group welcomes Hiyori, suspicions still linger amongst the group as to why a girl who is as pure and adorable as Hiyori would want to join a club with Tomoki, the biggest pervert in the school, a sadistic Mikako and three girls with angel wings, Hiyori's true motivations are revealed.
But nothing is as it seems as the Synapse refuses to leave anyone happy for long. What will happen to Tomoki and the Angeloids, but most importantly, what secret is Hiyori keeping from everyone?  With a little over an hour and a half of viewing time, the story of The Angeloid of Clockwork moves at a brisk pace that is clearly separated into two sections.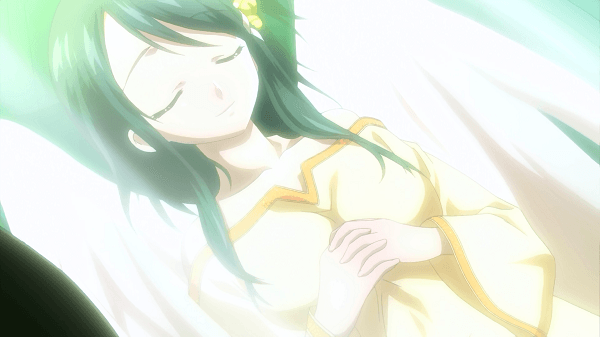 Now one of the issues with trying to release a movie for a long-running series is whether or not the production studio should try and bring new viewers up to speed or simply forgo any recap and dive right into the story for long-time fans. With Heaven's Lost Property: The Angeloid of Clockwork the company has found a unique balance by including a vague recap for newcomers but also a new perspective for those who have seen the series before.
Rather than try and provide a brief run-through of the story so far, a little under the first half of the movie is presented almost entirely from Hiyori's perspective. Viewers are presented the most noteworthy and public events from the first two seasons, such as everyone's panties flying off into the sunset, the new girls gathering around Tomoki, the concert the group held during a festival, snow war and more.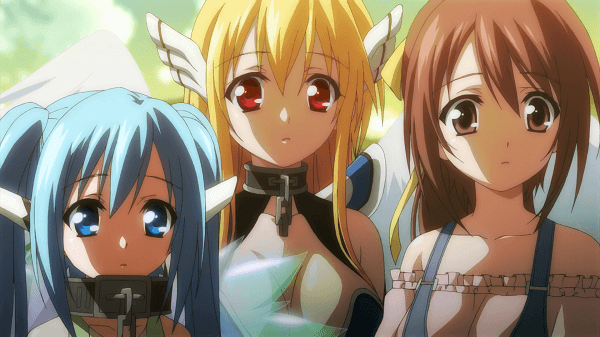 While it is worth noting that this recap does run much longer than necessary, those familiar with the series should enjoy this fresh outside perspective. Seeing Hiyori's feelings for Tomoki develop over time and what she thought of each of the odd events not only reminds fans of the numerous hilarious moments the series has had before but also a look at other events occurring at the time, often focusing on Astraea or Sohara interacting with Hiyori.
Once the long look at the past wraps up, the story progresses rapidly once Hiyori joins the club. As Tomoki continues to put the Hiyori through numerous ridiculous trials to prove her pure nature, we see just how sweet of a girl Hiyori is and the true depth to her character that was developed over the initial recap. While everyone short of Icarus and the idiotic Astraea responds negatively to anything Tomoki does, her nature of always trying to comfort him really strikes an emotional chord.
Angeloid of Clockwork balances humor and drama decently enough and the movie can quickly switch between the two in an instant. However it is worth noting that while the movie does have its share of comedic moments, the focus of this movie is to advance the series' storyline and because of this the Hiyori character is the only one given any major focus and character development.
Because of this however, Hiyori's main role in this movie is a great example of how the series manages to convey a great storyline alongside all of the standard fan-service. While she ends up experiencing a number of Tomoki's perverted pranks, she always remains bright and cheerful and looks past Tomoki's perverted nature to see him for who he is inside. Thanks to the closeness viewers feel to Hiyori after experiencing her recap sequence, the major twist within Clockwork's plot is very effective at manipulating the viewer's emotions and drawing the audience in with the group's plight.
While everyone has a moment, even Chaos briefly appears, viewers will experience the entirety of the Hiyori story arc and along with it they will be given an emotional ride with high comedic moments and low depressing events. With a third season on the way, Heaven's Lost Property: The Angeloid of Clockwork does an amazing job covering an important story arc from the original source material and leaving things off for viewers to look forward to more, even with this movie's unexpected ending.
Visuals:
When a show enters recap territory there is often a case of re-using old footage to try and save money and quickly push out a movie. Such was the case with the Shakugan no Shana Movie where numerous scenes were presented in lesser quality after being ripped directly from the original first season. Thankfully, this is not the case with Heaven's Lost Property: The Angeloid of Clockwork.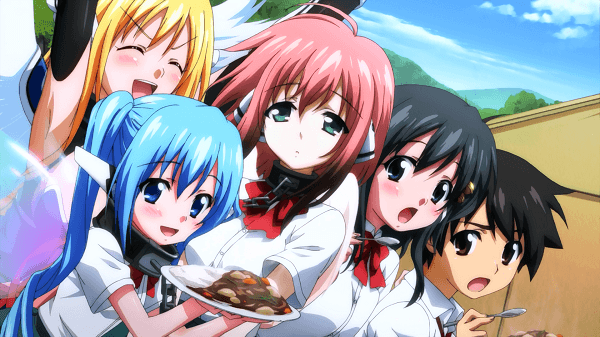 Despite showing off numerous scenes from the first and second season, each scene has been re-animated and provided fresh footage, usually from different angles, to match the amazing effort AIC put into the movie's artwork and animation. Every character's design returns better than before while the action sequences and chibi-style comedy sequences never miss a beat as far as animation is concerned. Of course there are numerous fan-service panty shots, however nothing venturing into any nudity for those concerned about such things.
Audio:
Thankfully FUNimation has managed to retain all of the voice actors from the past two seasons to voice the characters of Heaven's Lost Property and thanks to this viewers find themselves treated to great voice work by the returning cast. Colleen Clinkenbeard handles Hiyori's sweet and pure voicework excellently while the rest of the cast voices their characters magnificently, especially Brittney Karbowski's as Ikaros. It is also worth noting that for those who choose to, this release also includes the original Japanese voice track.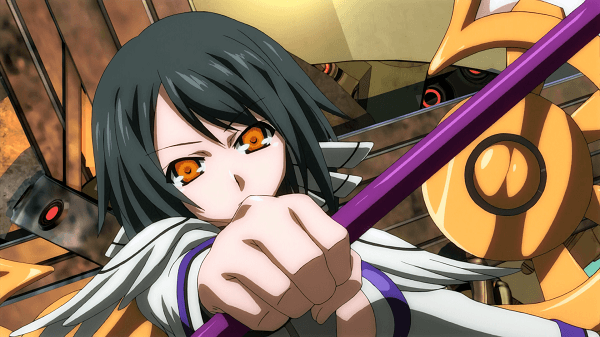 As far as background music goes, many of the background tracks will be familiar to those who have seen both seasons of Heaven's Lost Property thanks to the fact that many are re-used for this movie. While it is disappointing that more background music was not created specifically for The Angeloid of Clockwork, a couple of insert songs including a replay of the English version of "Falling Down" help rectify the repeat of background songs.
Extras:
As far as bonus features go, Heaven's Lost Property: The Angeloid of Clockwork features a number of expected inclusions, such as the original Japanese promo videos, trailers, commercials and teasers as well as the North America trailer and trailers for other FUNimation series. Also provided is a commentary track which runs the entire length of the movie.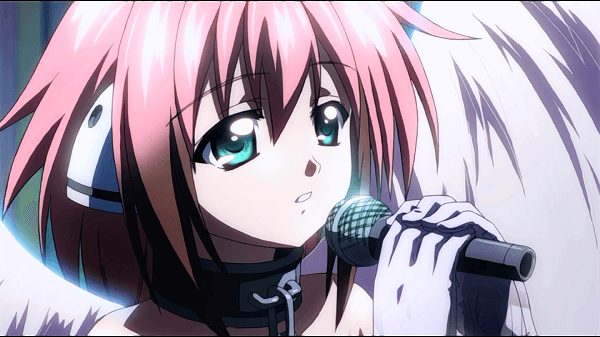 For commentary viewers join Christopher Bevins, the series' voice director, Greg Ayres who handles the voice of Tomoki and Carli Mosier, the voice of Astraea. Due to the length of the commentary viewers will feel like they are mostly watching a movie while listening to these three discuss various events as they occur on screen. This is a nice departure from the standard commentary fair, however it is worth noting that it would have worked better had Colleen Clinkenbeard, the voice of Hiyori, participated in the commentary.
Overall:
Heaven's Lost Property: The Angeloid of Clockwork manages to pull off a great story which not only builds up a background character in a series already flush with interesting characters, but makes you feel for her as well. While the Hiyori recap does drag on longer than necessary, it allows viewers to truly care about her feelings and despair at later events. This roller coaster of a movie provides a stellar build up full of comedy and development all leading to an emotional pay-off that will be left with viewer's long after the final seconds of the movie as they look forward to a third season.

Capsule Computers review guidelines can be found here.