Developer: Beyond Play
Publisher: Beyond Play
Platform: Windows
Release Date: 19 November 2017
Price: $49.99 USD – Available Here
Video Review
With everyone looking to share their best moments of video game glory on YouTube these days, it can be challenging to figure out a good gameplay capture set up. GoPlay Editor is looking to step into the fold by filling a much-needed gap for a one-stop solution for gamers looking to capture, edit, and upload their best moments. GoPlay Editor combines screen recording software and a simple video editor so gamers can spend less time fiddling with software and more time playing games.
Upon start up, GoPlay Editor sits quietly in the system tray. The software offers separate windows for capturing and editing footage. Right off the bat, GoPlay Editor asks for administrative privileges for Windows. While FRAPS asks for a similar level of privilege, others like OBS Studio do not. Personally, I prefer my capture software to fall in the latter category as the less intrusive the software, the better.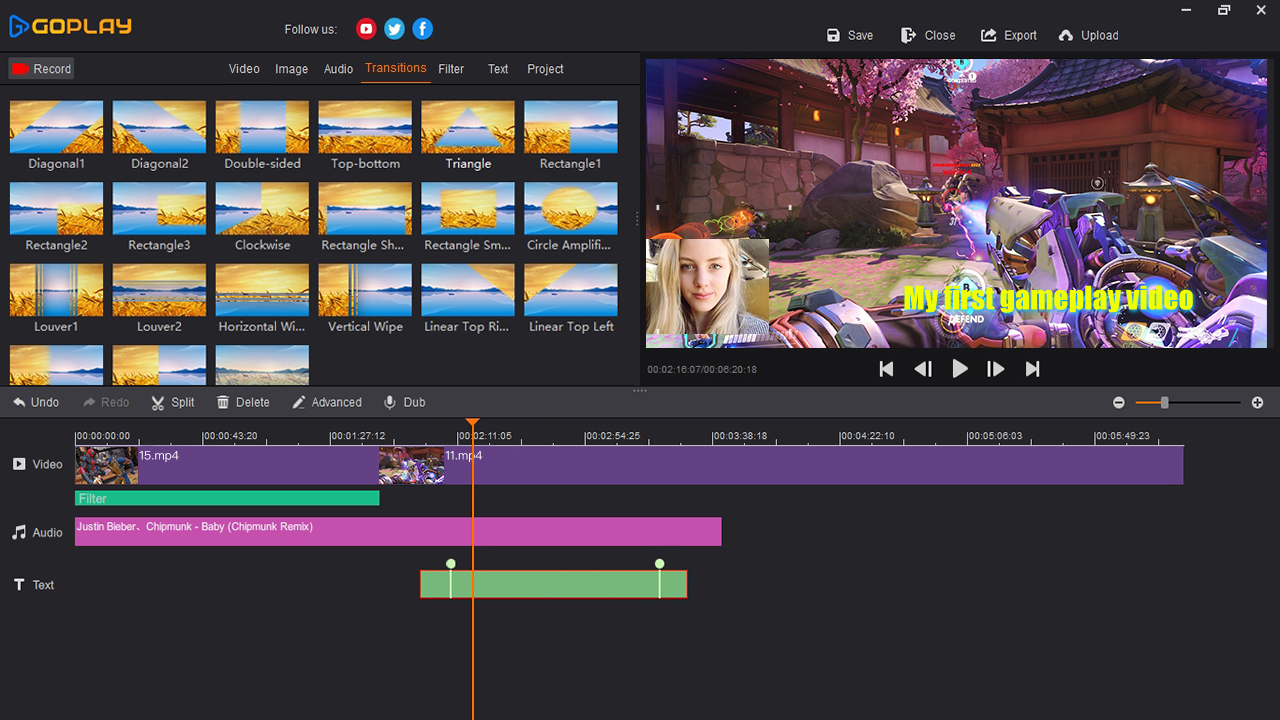 The recording options are limited, but straight forward. There are options for recording with a webcam or a screen. The webcam can be overlaid on the screen recording. Screen recording can be done full screen on the primary monitor or in a pre-set area. GoPlay Editor also provides options for adjusting the system and microphone volume. There are hotkeys to start and stop recording, abandon the current recording, and to bring up the recording screen. Video options are very simple. There are no options for different encoders like NVENC or Intel Quick Sync. Instead, the user simply has options for resolution, frame rate, and bitrate. Its simple set up process makes GoPlay Editor ideal for those looking to start recording with minimal configuration.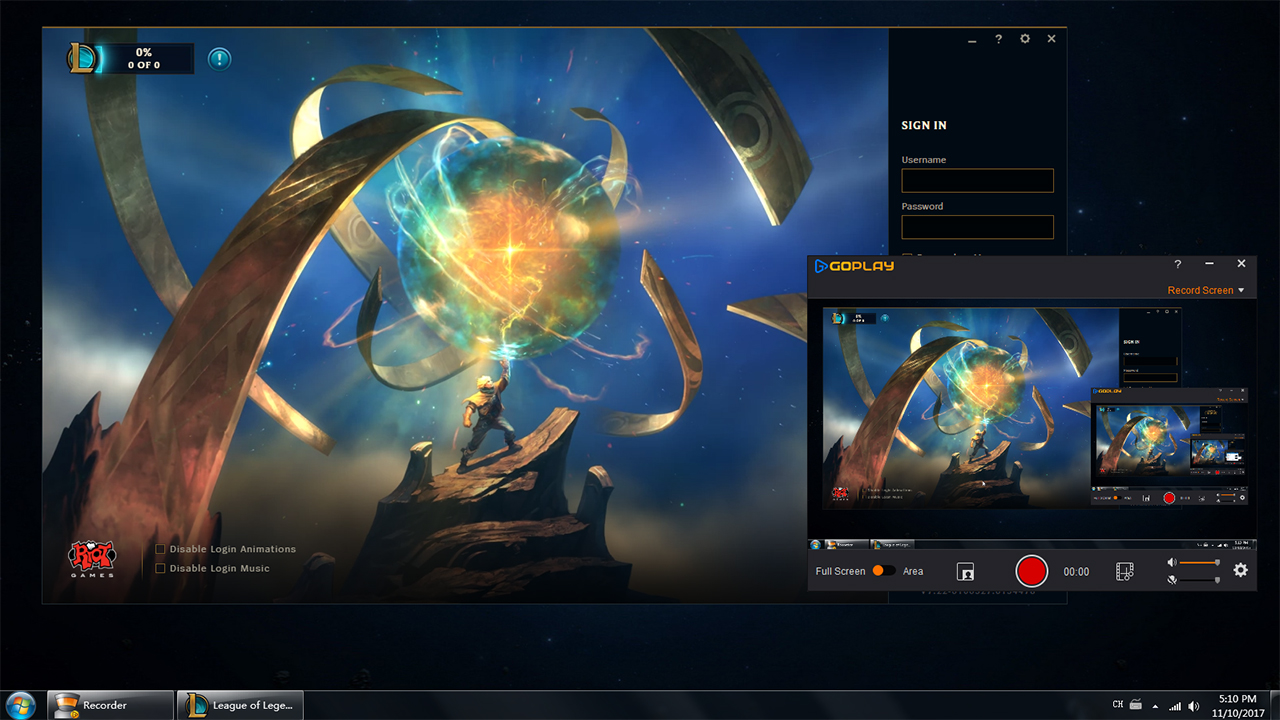 At the same time, GoPlay Editor is not ideal for power users. Features like separate streams for system and microphone audio, overlay customization, and alternative encoders are missing. The lack of alternate encoders makes GoPlay Editor particularly brutal on resources, as offloading encoding onto Nvidia's NVENC or Intel's Quick Sync can reduce the hit to FPS during recording.
To test GoPlay Editor's impact on FPS during recording, I tested the FPS loss on three different benchmarking tools. For 3DMark's Time Spy demo and Rise of the Tomb Raider's benchmarking tool, I used the built in average FPS provided by the respective tools. For Grand Theft Auto V's benchmarking tool, I used FRAPS to record the average FPS. Since I had to start and stop the FPS logging myself, there is a slight variation between when I started and stopped FRAPS for each test, so the results will probably not pass scientific vigour. They still give a rough idea on the FPS hit though. I tested the average FPS with GoPlay Editor, GeForce Share, OBS Studio, and no recording software. GoPlay Editor was set to record at 1920×1080 at 60 FPS using the Smart Matching bitrate setting. GeForce Share was set to record at 1920×1080 at 60 FPS with a bitrate of 50 Mbps. OBS Studio was set at its default quick start settings of 1920×10080 at 60 FPS using the x264 software encoder running at a bitrate of 2500.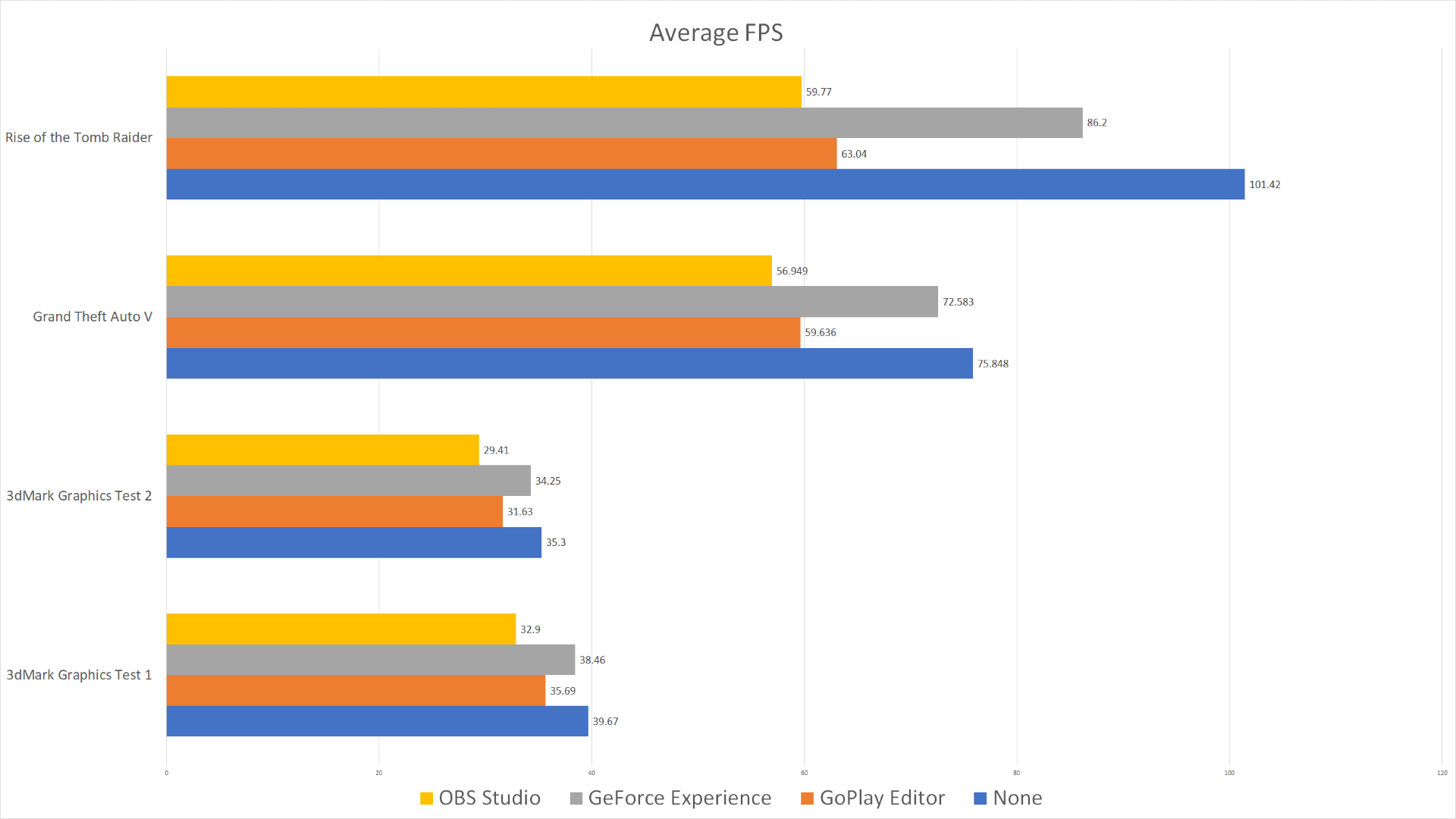 Based on the chart, GeForce Share easily outpaces the competition with the lowest hit to FPS overall. This is fully expected as Share uses hardware encoding on the graphics card along with some first party magic. While other programs can also use the NVENC encoder, Share always outperforms. Since GoPlay Editor is likely using a software encoder, it's probably fairer comparison to pit it against OBS Studio set up to use the x264 software encoder. We can see that GoPlay Editor manages to edge out OBS by a few FPS. I did notice that most of the FPS hit occurs when GoPlay Editor is open, even minimized in the task bar. Recording then lowers the FPS by another FPS or two. Improving the FPS hit while GoPlay Editor is in the tray will be a must for future updates.
Video quality is easily where GoPlay Editor falls short. Similar quality settings to OBS Studio results in markedly inferior video quality. The Smart Matching bitrate settings improves the quality a bit, but there is still clear graininess visible in certain parts of the video. I have provided a side by side comparison in the video review, though YouTube's compression may hide the drop in quality.
What separates GoPlay Editor from its competitor is the bundled video editor. It is a very simple editor, more along the lines of the now discontinued Windows Movie Maker than a full-fledged editing suite like Magix Vegas Pro or even consumer grade software like Adobe Premiere Elements. GoPlay Editor can splice together videos or edit sections out, add another video as a picture in picture overlay, and add a new audio dub track. The software includes a variety of effects for videos such as simple transition effects, Instagram-style filters, overlay texts, and fancy intros with custom text. Footage can then be exported in a variety of video formats or be uploaded directly to YouTube.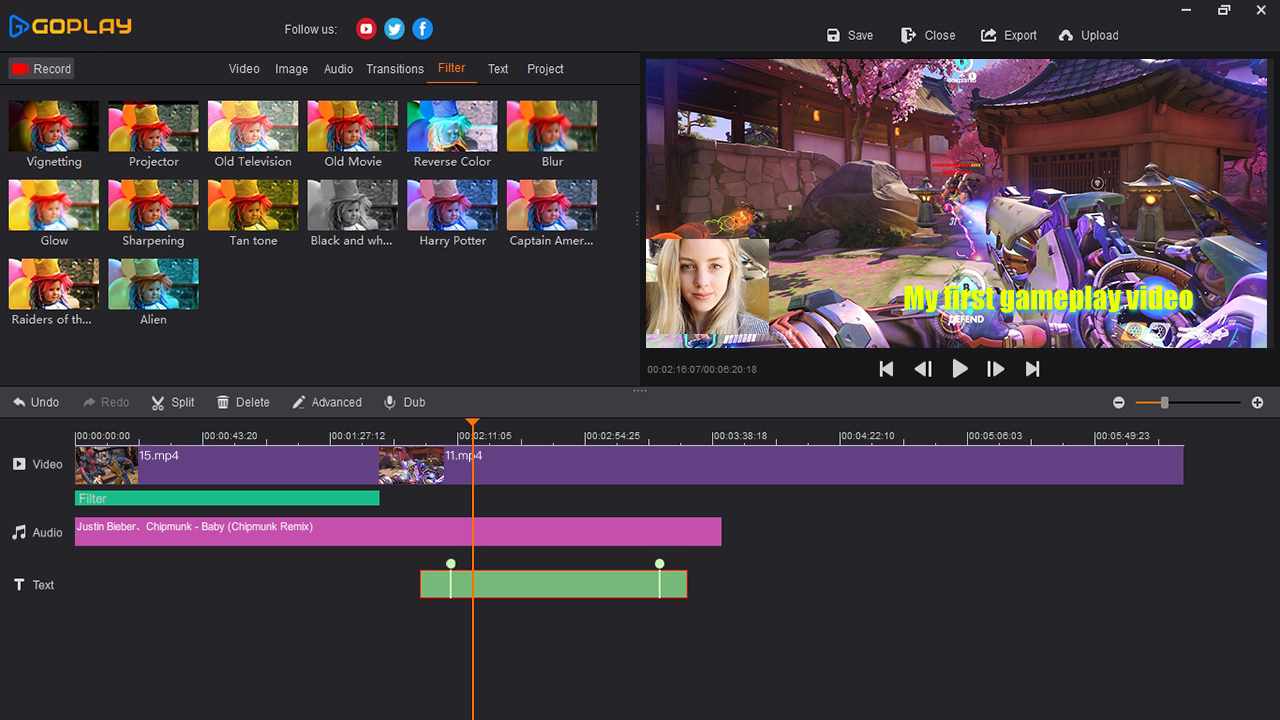 I like how GoPlay Editor overlays a simple tutorial when a feature is first loaded. It's simple and lighthearted but does the job well.  The layout is straight forward and visual in nature. All the standard export formats are supported. GIF support is thrown in for your reddit needs. Much like the video capture tool, GoPlay Editor has just enough options for gamers with a low level of technical skill or knowledge to put together a basic video as quickly as possible.
At its $49.99 USD price point, GoPlay Editor is cheaper than many of its commercial competitors and is almost on par for features. It's a simple, no frills software suite that will get gamers recording, editing, and uploading their footage in no time flat. Hampering a recommendation for GoPlay Editor is the freeware alternatives that are also available. OBS Studio has become much simpler to use over the years. GeForce Share is pretty much unsurpassed for those owning a compatible Nvidia graphic cards, and AMD's Radeon ReLive is catching up. Making the recommendation even harder is the slightly lower video quality compared to GoPlay Editor's freeware alternatives. However, GoPlay Editor's saving grace is the simple to use video editor. There are some freeware and open source alternatives for editing videos, but none has quite established itself as a reliable must download just yet. The hardcore content creator is probably going to want to spend the effort to learn OBS and invest in more powerful video editing software, but the casual gamer who wants to make and share gameplay videos quickly and with the least amount of hassle will want to give GoPlay Editor a try.
Capsule Computers review guidelines can be found here.