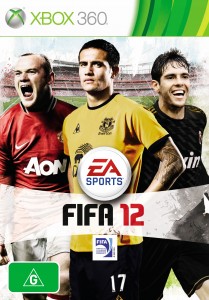 Publisher: EA Sports
Developer: EA Sports
Consoles: Xbox 360 (reviewed), PS3, PC, Nintendo Wii, Nintendo 3DS, PSP, PS2
Release: 29 September 2011
Price: Fishpond Australia ($88.55), Amazon US ($57.98), Amazon UK (£39.90)
When I first took my hand at FIFA 12 during EA's FIFA tournament night, I won't deny that I was excited.
"This is as close to football as it gets these days," I told one of my friends – and it's true. This year, EA has scored a hat trick: FIFA 12 looks beautiful, the gameplay is fantastic, and the experience is multi-layered and eclectic, which provides for countless hours, days, weeks, and months of football simulation.
Since the title first began generating hype back at E3, we've all waited with bated breath. How would the new Player Impact Engine fare compared to the physics engines of previous years? Are we really going to use Football Life and Ultimate Team? Is Precision Dribbling really that precise, or is it just it just a fancy name? And how is Tactical Defending going to improve the exhausted defense tactics (which, let's face it, basically just involved holding down "A" and occasionally tackling until you got the ball)?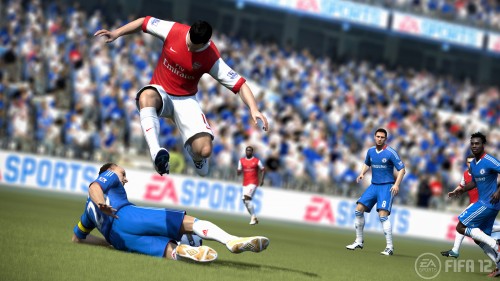 Well, let's kick off with the Player Impact Engine. This engine is responsible for simulating all player collisions that occur in the game, and injects a new level of physics into the mix. Players can now tackle, tug, and slide their way into a very authentic style of playing that truly mirrors (or close to) that of a real life football match. While the new engine certainly does have its glitch moments – including players floating, falling in weird positions, and running into each other and refusing to halt – for the most part it works a treat. Given it's in its first year of actual game time, the Player Impact Engine is by no means a perfect production, but EA certainly have taken a few (football boot) steps in the right direction. FIFA 12's engine brings the experience that much closer to the real game, instead of just a simulation.
Another addition that makes FIFA 12 feel more like the beautiful game is the Precision Dribbling. Although at first, it just sounds like the old style of gameplay repackaged into a new fancy name, Precision Dribbling in this game does make a difference. If you have a defender on your back, pressing L1 will cause them to enter Precision Dribbling mode where you can control the ball more fluidly. The dribbling in FIFA 12 also feels remarkably smooth, and gives you more control of the ball than any of the previous titles in the franchise.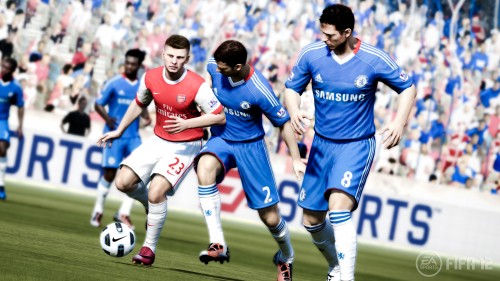 Perhaps what came as the biggest change in gameplay to me (and most others that have played the game) is the change in defending. FIFA 12 now uses what EA call Tactical Defending. In other words, you can't just hold down A and let your player win the ball back from your opponents. Instead, you actually have to control your player's movements and time your tackles, using the jockey and contain functions in the game; alternatively, you can also jostle your opponents by tugging at their shirt to throw them off kilter. Tactical Defending is definitely difficult to get your head around to begin with, but with a little bit of getting used to it becomes a welcome addition to the game. Also, with the improved AI, defending is just like football in real life: if you foul and the ref doesn't see it, he'll let it go.
Career Mode is virtually the same as ever, but it ain't broken so why would EA fix it? The interface has undergone a bit of a revamp to make the experience more streamlined than FIFA 11 and it certainly is easier to navigate around; however, for the most part player and manager careers are relatively unchanged.
With all these new additions to single-player mode, it's easy to think that EA have once again overlooked the community aspect of the game. Well, think again. The inclusion of modes like Head to Head Seasons and the evolution of Online Friendlies have bolstered the online component of FIFA 12, giving gamers a reason to buy an Xbox LIVE or PSN membership.
Head to Head Seasons are what they sound like: online leagues with different divisions, where wins, losses and draws determine the amount of points your team has, and ultimately, whether you stay, move up, or move down across the various divisions. Gamers can compete in tournaments for cups, and track their progress vis-à-vis the rest of the online community.
FIFA 12 gives gamers the option to go online and play against friends in Online Friendlies like its predecessor; however, now when you play a friend you begin a new season and after ten matches, whoever earns the most points receives a trophy. EA have injected a bit of light-hearted competition to a mode that was otherwise simplistic, and in doing so there's an added level of excitement added to the game. You can also play random opponents (because you want to beat someone else after all your friends disowned you for kicking their butts) by picking a team; the game will then automatically find a player who is at a similar level.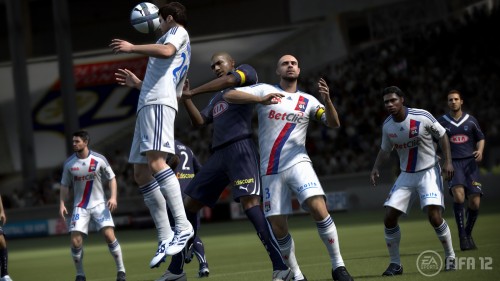 By far though, one of the best modes in FIFA 12 is the debut of the EA Sports Football Club. The Football Club is essentially a mode that keeps track of all your achievements and progress in the game, whether you have been playing online or offline. Each game you play will reward you with experience points, which determine what level you are (you can then compare these with other players in the community, if it so pleases you). You can also support a real-life team in Football Club, and have all your experience points and achievements contribute to that team's position on the global leaderboard. The leaderboards are reset each week to ensure fresh competition, and EA have pledged that in the future, events from the real-life world of football will be incorporated into Football Club.
While hesitant about Football Club when it was first announced at E3 a few months ago, I have to say that this mode is actually one of the most enjoyable and gives gamers an excuse to keep coming back to FIFA 12. After all, if you support a team like Real Madrid in real life and on Football Club, you'll definitely want to play more to earn experience points and help your club out in the leaderboards.
Of course, EA has also improved the graphics in FIFA 12, and the beautiful game is…well, it's actually beautiful to look at on the screen, as well as to play. The animation is smooth, the colours are crisp and overall, the game is just vivid and leaps out of the screen. The players look even more like their real-life counterparts than previous titles, which makes the game a delight for anyone who appreciates good visuals.
Commentary in FIFA 12 sees the removal of Andy Gray and the inclusion of Alan Smith alongside Martin Tyler. Smith definitely gels right in with Tyler, and their comments – albeit repetitive – show a great attention to detail regarding the players and the game.
After playing FIFA 12 nonstop since I first put it into my Xbox 360 disc tray, I can reassure you: this is one game you will play all season. While the new AI can occasionally glitch, overall the title is fantastic and enjoyable whether you play it for fifteen minutes or for five hours on end. FIFA 12 catapults the franchise into a new level, and EA are going to have to do well to beat this in FIFA 13.