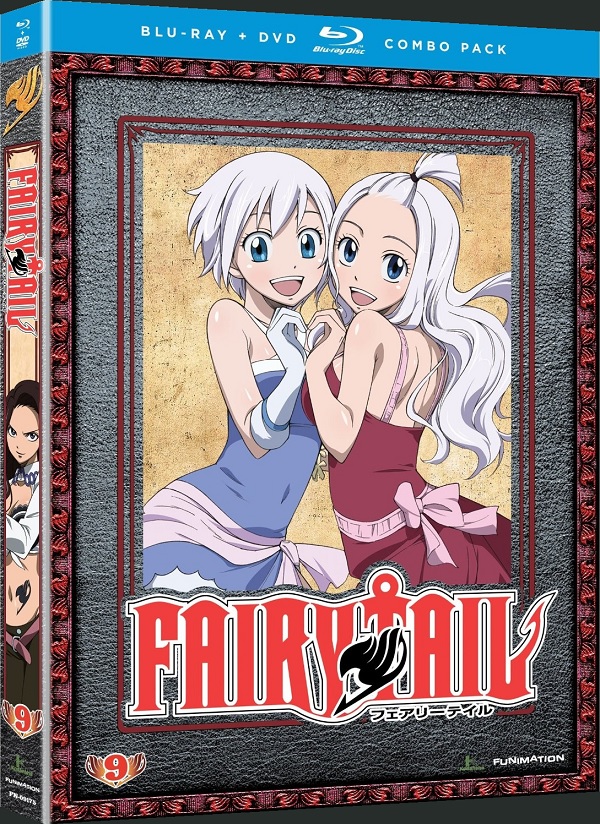 Fairy Tail: Part 9
Studios: A-1 Pictures, Satelight
Publisher: FUNimation
Format: Blu-ray/DVD Combo Pack
Release Date: March 25, 2014
Price: $54.98 – Available Here
Overview
Trying to follow up on a story arc that not only saw main characters dealing with different versions of themselves but also the return of a long lost character is a difficult task. Such is the case with Fairy Tail Part 9, which must follow up the highly regarded Edolas arc. Now with Lisanna back with the guild and everything settled down for now, what will happen to the Fairy Tail guild next?
Story
Despite just returning home from Edolas, everyone is on edge and almost every wizard in the guild is running around trying to complete solo missions. Since Lucy has only been in the guild for a little under a year at this point, she is confused about what is going on and her confusion only grows worse when Cana starts talking about leaving the guild.
You see, the annual test that Fairy Tail holds to try and promote wizards to S-Class, the highest rank there is, is about to be held and Makarov has chosen eight wizards to undergo this trial. The chosen wizards, Natsu, Gray, Juvia, Levy, Cana, Freed, and Elfman, are all able to take a partner with them to travel to Fairy Tail's sacred ground, Tenrou Island where only one of the eight wizards will have the chance to advance to the S-Class after overcoming the other competitors.
Since S-Class wizards cannot be chosen as partners, Mirajane, Erza, and the recently returned Gildarts are also set up as obstacles in the wizards' paths. Considering the way people are paired off and the large and diverse cast of characters that Fairy Tail sports, this leads to a number of new pairings for viewers to enjoy.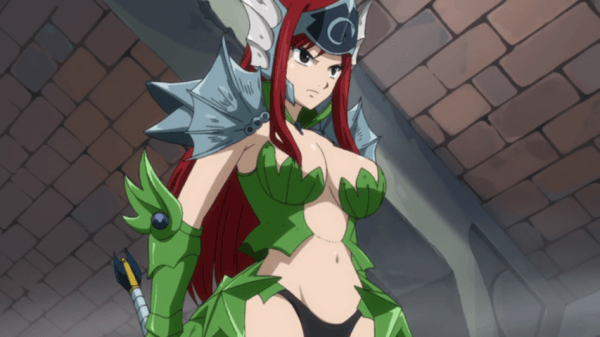 However even while the Fairy Tail guild members begin battling and making their way through the trial, a dark force is slowly moving towards the island but an even darker entity has made the island his home. With the members of the Fairy Tail guild already worn down, the dark guild Grimoire Heart has appeared with two goals. One, find the legendary dark presence on the island capable of wielding evil magic capable of destroying the world, and two… eliminate every Fairy Tail wizard they come across.
With the release of Fairy Tail: Part 9 we see the beginning of another arc that focuses heavily on combat but unlike the past few releases, this time around things are freshened up a bit by changing up the groupings of wizards who usually fight as a team. This gives viewers a fresh look at some powers being utilized, especially with Cana being a highlighted character this time around.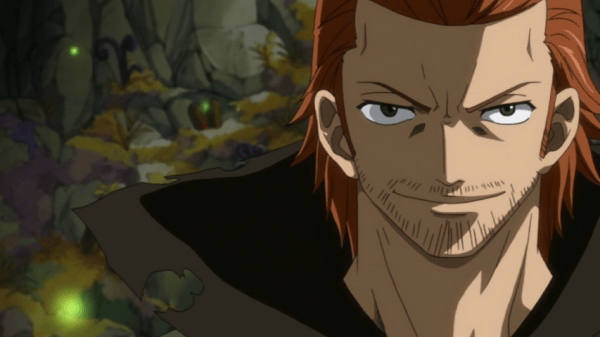 The return of Gildarts and the sudden appearance of a very strange guild member named Mest display a new set of abilities. This helps keep the battles from becoming too stale as some shōnen series battles begin to grow old if drawn out too long, even with new enemies to face off against, but thanks to the way that Fairy Tail handles their battles and the number of powers capable of being utilized, things remain fresh and exciting.
While the battles between the Fairy Tail members and then the fights against Grimoire Heart are the highlight of Part 9, we see some small development for Natsu as well as Makarov as he faces off against a man he once looked up to. To top this off the dark force that resides on Tenrou Island looks like he will be a major issue in the future thanks to his seemingly uncontrollable ability to instantly kill everything around him and the lengths that Grimoire Heart will go to bring him in.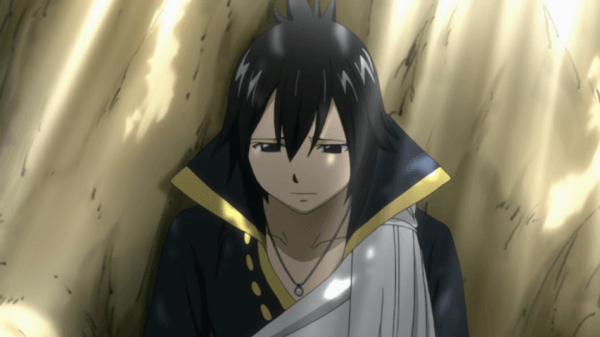 As always with Fairy Tail, outside of the combat there is always a nice dose of humor interwoven between serious moments and intense action pieces and to top that off there usually is a bit of mild fan service here and there as well, which also is used as a joke during a battle in this release. Unfortunately, as with many long running arcs in Fairy Tail, Fairy Tail: Part 9 does not finish the Tenrou Island arc and leaves viewers off on a cliffhanger that places Lucy in imminent danger and a number of Fairy Tail members still facing off against Grimoire Heart's Seven Kin of Purgatory and growing weaker by the minute.
Visuals
With almost the entirety of this release taking part on Tenrou Island, the jungle setting is a nice change of pace from the last few areas that the Fairy Tail members have fought in and this creates some rather nice looking backdrops for the action to take place against, especially since the island even has a set of overgrown ruins. Plus with Lisanna's return displaying fresh take over magic and a number of characters moving into the new area, a few wardrobes are changed up which is always refreshing.
As for the action, the animation quality remains impressive throughout most of the battles, though some of the more elaborate powers are not used this time around since Erza and a few of the more flashy wizards do not spend a lot of time fighting in this release which can be disappointing to some and there are a few strange looking drops in quality during a few of the less important fights.
Audio
With the release of Fairy Tail: Part 9 FUNimation has retained all of the previous English voice actors for the series, which shouldn't come as much of a surprise, and they have continued to impress in this release, with Todd Haberkorn's energy level constantly being successfully tested by Natsu and the amount of screaming that goes on in this series. It is worth noting that, for those who want it, the Japanese voice track is also included in the release.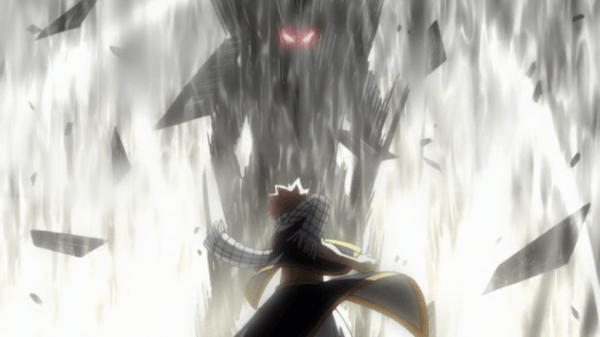 The background music throughout this release is similar to what fans have come to expect as a number of signature pieces of music are used throughout the release which is something viewers have come to expect. Interestingly enough, since this release follows right on the heels of the Edolas arc, the first couple of episodes feature the opening "The Rock City Boy" by Jamil and the ending theme "Don't Think. Feel!!!" by Idoling!!! which were used for that arc. Following those we have the opening theme "Towa no Kizuna" by Daisy x Daisy feat. Another Infinity with the ending theme being "Kono te Nobashite" Hi-Fi Clamp.
Extras
With this release, FUNimation has chosen to include their first video commentary for the series so far for episode 99 which features Tyler Walker, the series' ADR Director, Tia ballard who voices Happy, Monica Rial, the voice of Mirajane, and Todd Haberkorn who handles Natsu's voice. These video commentaries are always a nice inclusion and it features discussion of the episode and a number of jokes.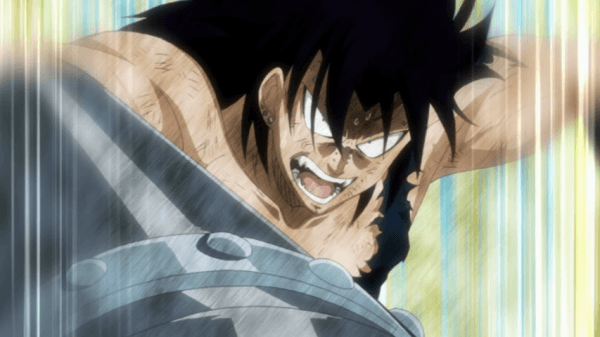 As for the other inclusions on this release, the case features a reversible cover art, two basic episode commentaries, one for episode 97 which features Tyler Walker, Tia Ballard, and Todd Haberkorn and one for Episode 107 that sees Tyler Walker once again, Michael Johnson who voices Caprico, and Justin Locklear the voice of Rustyrose. Closing out the extra features we have the clean version of both opening and ending themes, the US trailer for the series, and finally trailers for other FUNimation anime.
Overall
Fairy Tail continues to keep moving at a steady pace without missing a step as it successfully manages to keep upping the stakes despite leaving behind the Edolas arc. In Fairy Tail: Part 9 we not only see a fresh pairing of wizards battling each other in intense combat but also a number of important developments happening at the same time. With many members of Fairy Tail falling to their opponents and a dark force capable of destroying the world about to falling into enemy hands, viewers will find it hard to look away from this release and, once it is finished, eagerly waiting to see what will happen next.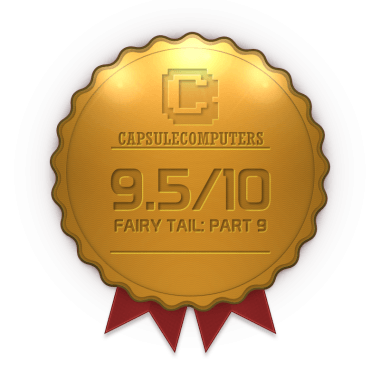 Capsule Computers review guidelines can be found here.