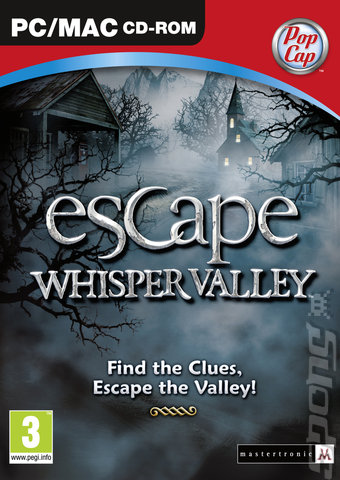 Publisher: PopCap Games
Developer: SpinTop Games
Platform: PC
Genre: Hidden-Object/Puzzle
Price: $19.95 (Buy now!)
Overview:
As I told you a few days ago, Escape Whisper Valley  is PopCap's latest hidden-object game. When starting the game you find out that due to a sudden rock-slide you are trapped in an abandoned mountain village. In order to escape you will have to explore different parts of Whisper Valley in search for clues which will have to be put together thus helping you find a way out.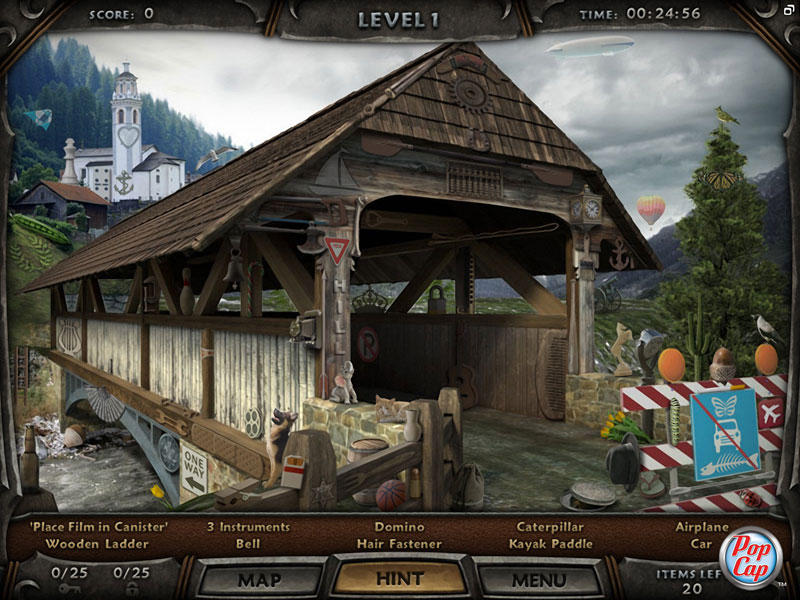 Gameplay:
The game has 3 differents game-modes. In the first one, which is available from the start and is the main game mode, you will have to collect 25 map pieces in order to find a way out. For each map piece you will have to find all the objects required in a specific scene. The number of scenes which require completion varies for each level from 2, in the lower levels, all the way up to 8 in the last part of the game.
I must tell you that the game gets you hooked-up really easy as there are dozens of cleverly hidden objects in each of the 25 scenes, and even though the scenes will start to repeat at a point you won't have to find the same object again (I went through 3 play-throughs before being asked to find the same object!). To make things interesting, beside having to pick the indicated objects, some tasks will be to combine different things, for example: "Slice the cheese" then "Put the piece of cheese in the mouse-trap" or you will be asked to spell "BABY" using some cubes. Things will start getting a little more difficult as you advance thus instead of indicating the object by it's name you will be asked to point out things like "Has Gills", "Left by shoes" or "Doesn't like dogs".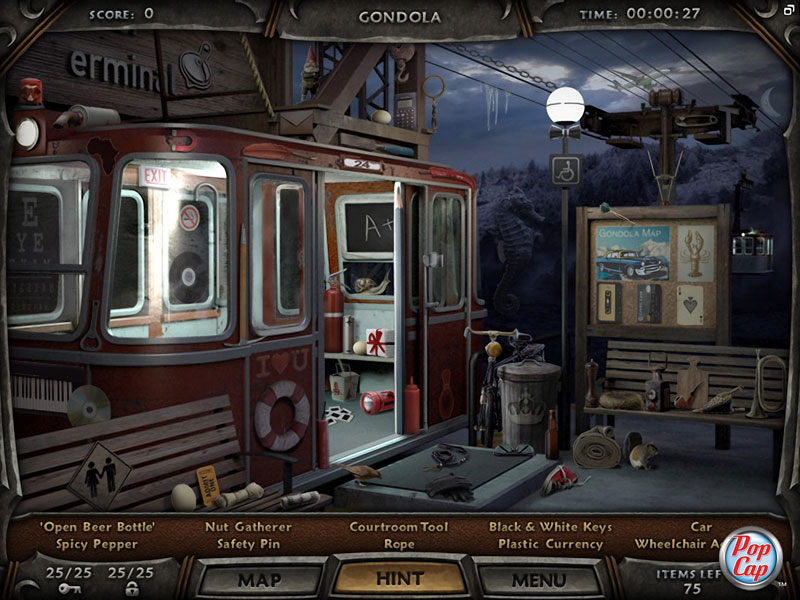 If you like seeing your name in the High Scores list, you'll be interested in acquiring bonuses. These can be achieved in a number of ways. You will be rewarded for your swiftness, both by locating the objects really quickly as well as finishing the scene in record time. Also you can try discovering the hidden locks and keys, there are 1 of each in every scene, but I warn you that they come in a lot of shapes and sizes and the HINT system won't work on them!
At the end of each level you will have to complete a mini-game in order to be given the map piece. There are 7 mini-game types like block slide, match-3 and different types of Jigsaw. These are really fun and help loosen the tension built up from all that object finding. Also you will notice that their difficulties will increase as you progress through the game.
After finishing the game two new game modes will be unlocked, Unlimited Seek & Find, and a mystery bonus game.
In Unlimited Seek and Find you will be able to revisit the scenes, only this time you will be able to search for all the hidden objects available.
–small SPOILER ALERT– 🙂
I usually don't do this but I have to say that I loved the ending part. I think it was genius to put in that little point-and-click adventure scene, which in my opinion looked and felt great and they could have easily made an entire game just like that!
–END SPOILER–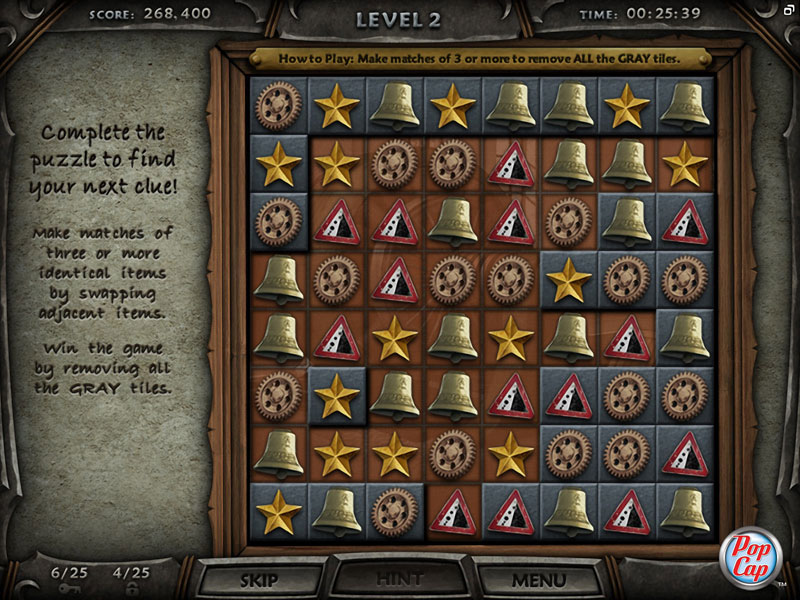 Graphics and sound:
I have only one word for the feeling that the graphics and sound give: GREAT!
It is obvious that special attention to detail has been given in order to do the scenes. The objects blend in wonderfully and sometimes you'll find yourself gazing at the screen searching for something, only to find out it was concealed in a painting or in a mirror's reflection. Everything looks natural and in its place.
I was also impressed by the sound of the game! Even though it gets a little repetitve, the music is very well chosen and at times gives you cold shivers and in combination with the graphics' style it really emanates the atmosphere of an abandoned mountain village, forgotten with time's passing.
Feeling:
The game is great and I recommend it to anyone who wants to relax and also practice their "seek-and-locating" skills. You will have a great time playing it, but somehow it leaves you wanting more…Who knows maybe they really are planning an adventure-type game for us in the future!