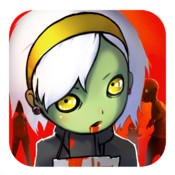 Dead Ahead Review
Developer:Mobirate
Publisher: Chillingo
Platforms: iPhone (Reviewed), iPad, iPod Touch, Android
Release Date: 23/05/2013
Price: FREE – Available Here
Overview
To tell the truth I've had a soft spot for endless runner titles ever since I first picked up Temple Run. However since then I've played and reviewed about a million vanilla titles of the genre and as a result I feel like I'm slowly becoming brain dead. Thus it makes me extremely happy to report that developer Mobirate's latest effort, Dead Ahead is a fresh and exciting take on the concept and is probably one of the best endless runners on mobiles to date. I'll be honest – this is the second zombie-related "free-to-play" title from Chillingo I've reviewed in a row, and the last one was a bit of a disappointment. But oh boy, Dead Ahead is one hell of a treat!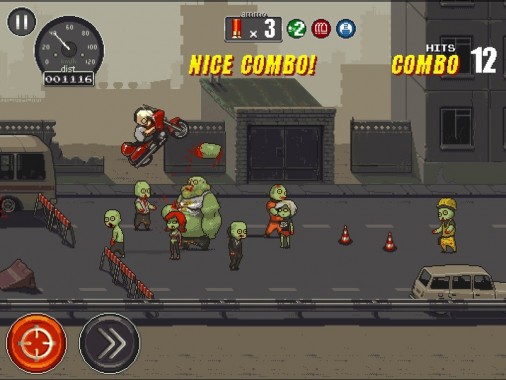 Gameplay
The concept of Dead Ahead works so perfectly it makes me wonder why we haven't seen a thousand other games just like it. It's an endless runner disguised as a zombie survival title. Generally when I play a game I just wanna kill things, but If I have to run from something personally I'd prefer it to be a zombie. Dead Ahead has a unique take on things and as a result has a slight learning curve. At first it appears to be very much like Jetpack Joyride as it's a side scroller, the vehicle moves by itself and you got to dodge obstacles by moving up and down, etc. But Dead Ahead is so much more than that. The twist with this title is that the obstacles that are dead ahead (see what I did there?) are usually the least of your worries. An endless horde of zombies are chasing you and can catch up. There are a few ways to kill the zombies. Firstly, you have a gun so you can shoot those behind you, but like all good zombie survival games you have limited ammunition. Players can also accelerate to go faster and escape the zombies, but the catch there is moving faster means you have a higher risk of crashing into the obstacles in front of you. The most encouraged way to kill  zombies is to make them run into obstacles or other zombies. You know those scenes in action movies where the hero must escape a missile that's locked onto them? It's a lot like that. Move out of the way at the right moment and the zombies with run into things, killing them. With so many options and tactics at the player's disposal, Dead Ahead actually feels like it has a ton of depth to it.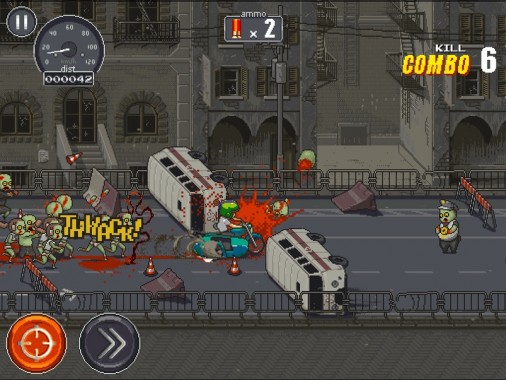 But it doesn't stop there. In fact the better you get at the game, the better the game becomes. The further the player gets in a level, the more various types of enemies are introduced. There's exploding zombies, the banshee who will charge at you and even boss characters who jump at you and take some time to kill. Furthermore the more coins you get the more types of weapons, vehicles and stages you can unlock. On top of all this there is a challenging level up system that feels greatly rewarding as it allows players to unlock new items. To level up players just need to complete three unique tasks that surprisingly have plenty of variety and never feels repetitive or pointless. Even Facebook integration has been done in an interesting way. Players are given banners showing their stats that they can share on Facebook so even that has a nice twist to it. Sure players can also take advantage of in-app purchases but they never seem forced as the game is so fair with coins. For players who are struggling to complete tasks, they can be rewarded with more coins by defeating bosses,  getting high scores or completing daily challenges. This is how free-to-play titles should be. The option for in-app purchases is present, but you never have to use it to enjoy the game. With such a strong balance of challenge it is tempting at times, but a true hardcore gamer would most likely embrace this.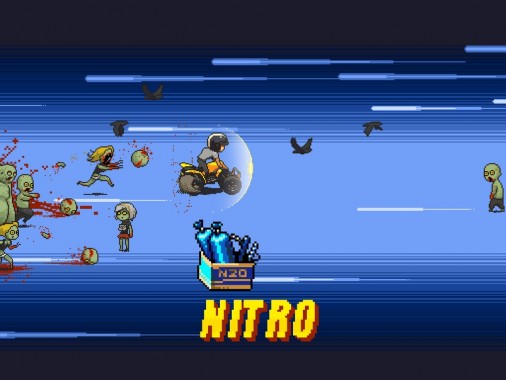 Audio & Visuals
Dead Ahead is filled with style. The retro, pixelated presentation adds to the gameplay's arcade feel (I'm getting a kind of Metal Slug-ish vibe) and character design is outstanding. But it's the little things that make it a joy. From the blood that trails off your wheel from running over a zombie to the fight game styled font that appears when racking up combos Dead Ahead is truly a work of art. Audio is right up the same ally as sound effects for weapons certainly packs a punch. Music isn't crazy and in your face but instead hangs in the background pumping up your adrenaline with strong kicks with an outlandish feel (I'm getting a kind of Metroid-ish vibe). All in all Dead Ahead is presented in the same way the gameplay is: pretty damn good.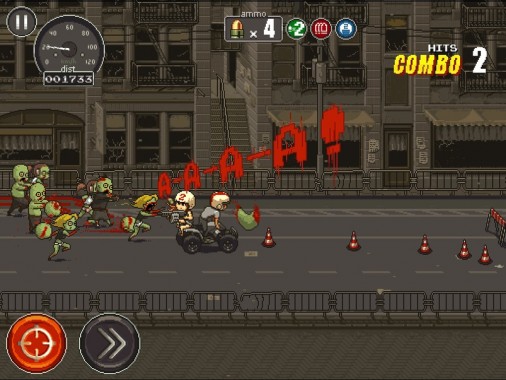 Overall
I'll put it in clear terms: Dead Ahead is a breath of fresh air amongst an endless sea of endless running titles. It's surprisingly deep for a game in this genre, it's fun, it's addictive, it's challenging, it looks & sounds fantastic and most importantly it's never aggressive in regards to in-app purchases. Dead Ahead is a prime example of what developers should aim for in regards to free-to-play video games. An easy to recommend title for both casual and not-so-casual gamers alike.

Capsule Computers review guidelines can be found here.