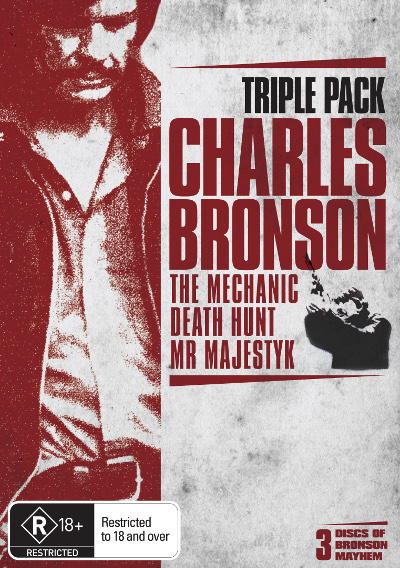 Charles Bronson Triple Pack
Studio: Chartoff-Winkler Productions, Mirisch Corporation & Golden Harvest Company
Publisher: Beyond Home Entertainment
Format: DVD
Release Date: 5th June 203
Price: $12.98 – Available Here
Overview
Charles Bronson isn't just a man's man, he was your grandfather's idea of a man's man. Charles Bronson is from an era where you weren't tough unless you hocked chewing tobacco into the dirt and carried a six shooter. Well, maybe he's not that old but you get the idea. Charles Bronson stood among the giants of Hollywood from the 50s right up to the naughties. Having such a long and successful career boiled down to three films is a shame in a way but boy howdy, did they choose three doozies. Mixed movie packs can easily be a hodge podge mix of good and bad films, luckily with the Bronson Triple Pack there aren't too many of those to accidentally cram in there in the first place.
Story
Seeing as there are three films here, I'll approach each one individually, break it down into its parts and then move on to the next one. I should talk holistically first though. This is not a trilogy, inasmuch the only thread between these films is Bronson himself. You'll see some of the greats of the era tumble onto screen throughout – most notably Lee Marvin makes for an excellent counter to Bronson in Death Hunt. Stoic brooding epitomises Bronson's style. Communicating with glares is Charles' forte, complementing the deliberately paced directing style which was popular throughout the 70's.
The Mechanic is a slow boiling film about a reclusive assassin. When Arthur Bishop (Charles Bronson) is employed by the mob to assassinate Harry McKenna (Keenan Wynn), Arthur goes to work with grace. Having completed the job, he is drawn to Harry's funeral where he meets Harry's son, Steve (Jan-Michael Vincent). Steve quickly deduces Arthur is associated with his father through the mob, however he doesn't have the complete picture. Young and cashed up with his inheritance, Steve becomes bored with his life and pesters Arthur to take him on as an apprentice. Initially Arthur isn't fond of Steve hanging around but as his cold-hearted drive is exposed Arthur sees some utility in the partnership. Unsurprisingly, the mob don't take kindly to Arthur adopting the mark's son as an apprentice.
Seeing as the film is driven more by its aesthetic than its narrative, I'll stop there. Plot-wise, the first two acts don't cover much more material than what has been mentioned above. What we're really being given here is bucket loads of tension. Sly glances across tables not only convey a characters thoughts, but force the audience to question which characters know what. Arthur's process of methodically approaching each target forces the film to take its time moving between set pieces. In these preparation sequences we're given a look into both of these men's lives – and they're certainly not positive. It's not an 'edge-of-the-seat' thriller, but if you can handle 70's pacing then this is a classic piece of machismo cinema.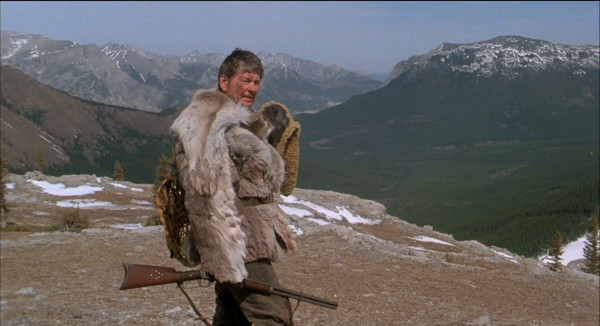 Death Hunt is the strongest of the three pieces, if you remove yourself from the cult fandom surrounding Mr Majestyk. Death Hunt takes us to the Canada in the 1930's where Albert Johnson (Bronson) is a pariah who lives alone in the wilderness. While on a trip to town, Albert enters his dog in a dog fight, taking the opponent's animal as a reward for winning. Hazel (Ed Lauter) is frustrated that he lost his dog, so he goes to the Sergeant Millen (Lee Marvin) to try and get the Mounties to recoup his animal. Sgt. Millen outright denies Hazel so he decides to sort the matter out on his own by ambushing Albert. Of course, this is the wrong move. Albert has skills that far surpass your casual drifter, speaking to a past that is shrouded in mystery. After things turn messy, Sgt. Miller is begrudgingly required to tidy up the mess. So begins a long stand off, pitting two honourable men against each other in the most dishonourable of circumstances.
I can't heap enough praise onto Death Hunt. It's a classic slow boiler about manly men in the wilderness. You could easily exchange any of the actors for Clint Eastwood or James Coburn, it's that type of film. Death Hunt is a movie Sam Peckinpah would be jealous of. Based on the true story of the 'Mad Trapper,' this film takes a libertarian perspective on the event. Albert was acting in defence, his societal role as a man requires that he not take an assault on his home on the chin. He's forced to respond to violence with violence. Having this quandary play out against the back drop of the Yukon River and its surround mountains elevates the action from tense procedural to an allegory for man's will to live on. These themes may be outmoded in a contemporary context, but they were issues that many felt were legitimate at the time. That sincerity is well articulated, so well in fact I felt an attachment to this man's plight – even if he acted against my own sensibilities.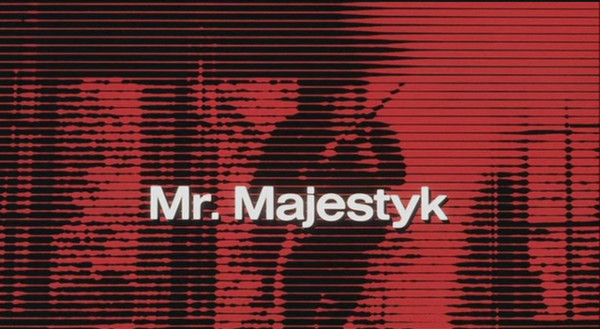 Finally, we reach Mr Majestyk. A film that has blown minds since it was released. Vince Majestyk (Bronson) is a watermelon farmer with a complicated past. No one makes a lot of money with the farm but a large group of migrants depend on Majestyk's labouring jobs to survive. Vince takes care of them the best he can while going about the business of running the farm. When the mob wants to install their own men to do the work, Majestyk gets defensive of his property. Mobsters being mobsters means that soon the situation escalates to a point where Majestyk must put his life on the line to protect the meagre assets he has left.
This movie sure is a weird one. Not that the plot is particularly complicated, or that there is a huge twist at the end. Rather there's a bizarre vibe that comes from a film about the intersection of labour laws, watermelon farming and mobsters. Bronson turns in a great performance yet again as the man who was pushed too far. Our villains are over drawn to the point where they're almost campy but then again that could just be the 70's acting style. There are quite a few double crosses and intricate relationships in this film. Despite it's flashy, pop exterior you may need to mull over a few of the themes presented to get the most out of this one. I was surprised at the detail that was put into exploring labour relations. Certainly the film benefits from it.
Visuals
Looking back on Hollywood cinema in the 70's and 80's, you can tell that they thought of things differently. I've already talked about the pacing marginally but it really is worth exploring how the edit impacts the final product. Nowadays these films feel sluggish as we expect sharper and faster cutting techniques. Having shots rest longer on actors allows the tension to rise in a more subtle way. Unfortunately I think that many people won't be able to handle it. Some will think these films are boring because they don't keep the pace that we want to see in movies. If you can get over that, there's a lot here to enjoy.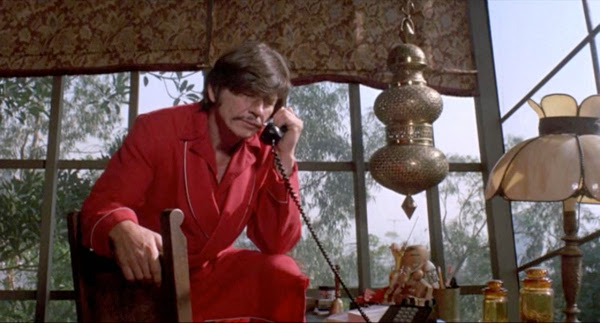 While we're talking about conventions from the 70's and 80's, get ready for zooming close ups and loose framing. Again, it's one of those things modern audiences are going to assume are errors, or at least think that there's something off about them. Having watched a lot of films from this period, I really enjoyed it. If you love old cowboys you won't just enjoy the themes or the stories. Everything from the colour palates to the editing through to costuming will enthral you. Each one of these films was a success in their own time because of their aesthetics and their leading man. After watching all three of these films, I think you'll find it hard to separate the two in your mind.
The great thing about the relatively restrictive budgets of the 70's and 80's is that directors weren't afraid to use nature to awe the audience. Often the environment plays a key role in establishing the mood. So many amazing locations are burned through in this box set because that's how it used to be done. By the same token, there are no flashy effects, just gritty road chases and muzzle flashes. Not that they'd put those things in if they had the money and technology, they'd be tonally inconsistent. In a way, those constraints are what we have to thank for the narrative forms we get to see as producers needed to dazzle conceptually rather than resting on the effects.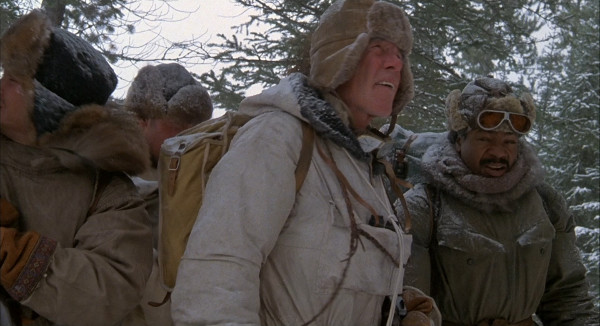 Audio
All three of these films have minimalist soundtracks. Outside of diagetic noises, theme songs are often the only music you'll hear. The sparseness of the audio half has to do with the standards of the time and half with the aural aesthetic. Each of these films is about a masculine sense of pride and as such don't need much beautification. Clean, clear and to the point. Just like each of the protagonists. Bronson's accent is probably one of the key audio devices used in each of the films. It was iconic at the time for a reason. He sounded brash and disjointed, yet sincere. His muted tone makes you lean in to hear which pulls you in to his character, both metaphorically and physically.
Overall
This box set acts as a time capsule with Charles Bronson acting as your tour guide. His unmistakable presence single-handedly lifted each one of these films from generic action to quintessential viewing. Bronson defined manliness and masculinity for a generation. Each of his roles is filled with pride and dignity. Even more explicitly, each one of these films deals with a man who was wronged and is required to act to protect his property. It's the kind of stuff that Republicans would cream over, mainly because actors like Bronson and Eastwood articulated the tension between masculinity, ownership and identity better than any libertarian politician ever did. Some will never enjoy films from another era simply because tastes have change, I can't help that. It's a pity though because this box-set is a glimpse at a world that is no longer with us. A world where people actually believed in alpha-males, and those men had Duty, with a capital D.

Capsule Computers review guidelines can be found here.