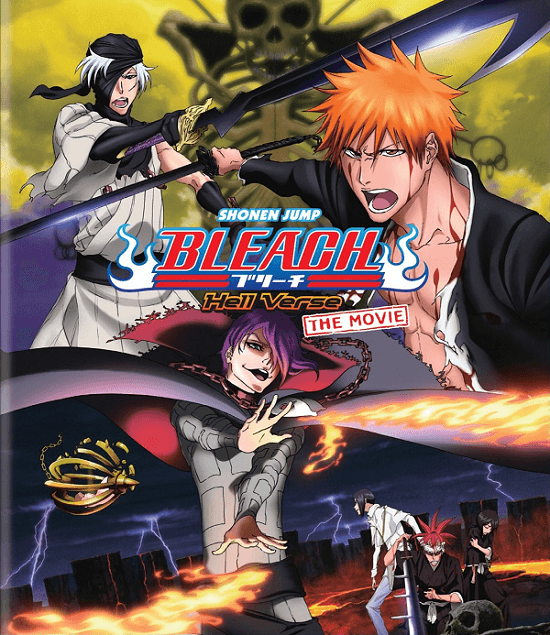 Bleach the Movie: Hell Verse
Studio: Studio Pierrot
Publisher: Viz Media
Format: DVD, Blu-ray (Reviewed)
Release Date: December 4, 2012
Price: $24.98 – Available Here
Overview:
There are a number of anime series that are known worldwide and among these is the Bleach series. Not only is the manga quite successful, the anime has also seen large amounts of success and can be seen on television, Neon Alley and on both Blu-ray and DVD. As such, it should come as no surprise that the Bleach movies created in Japan are brought overseas as well. Now Viz Media has released the fourth movie in franchise's history, Bleach the Movie: Hell Verse. Is this movie worth your money? Let's find out.
Story:
Away from all the hectic battles he's been in, Ichigo is living rather peacefully again in Karakura Town where he spends time taking care of ghosts and helping them move on. However when Renji and Rukia appear on a secret mission, weird things begin to happen around Ichigo. While attending school with his friends, mysterious robed figures start attacking the group and attempting to destroy the school. As such, Ichigo, Chad and Ishida face off against these mysterious opponents and struggle against their unknown abilities.
However it quickly becomes apparent that the whole attack was just a diversion. These beings' true intentions were to kidnap Ichigo's two little-sisters and while the group manages to save his one sister, Yuzu is taken to Hell. Ichigo is told that these people known as Sinners have kidnapped his sister and the only way to get her back is to follow the Sinners into the depths of hell and free them from their chains which hold them there for eternity.
With his sister's life at risk, Ichigo encounters a new ally named Kokuto who also happens to be a Sinner, however he wishes to work with Ichigo and try to put a stop to this group. As such, the group enters Hell in an attempt to try and save Ichigo's younger sister Yuzu, regardless of the consequences and not bothering to seek help in any form.
As far as chronology goes, Bleach: Hell Verse is practically impossible to place thanks to the fact that it obviously takes place after the Arrancar and Aizen story arcs, though doesn't follow the actual storytelling of those arcs, so ultimately the movie sits outside of the anime's actual storyline so those looking for some sort of story expansion won't be finding any here.
The story of Bleach: Hell Verse is almost as formulaic as a shōnen series comes. While there are interesting tid-bits of information revealed about how the Sinners managed to obtain power and why Hell is such a horrible place in a world such as Bleach's, the only surprising parts of the movie occur after a telegraphed plot-twist. After this occurs there are actually some emotional scenes for Ichigo which makes the movie a little worthwhile, but outside of that there is zero actual character development or additional information provided in this hour and a half movie.
Unlike past Bleach movies which either explored a "what-if" scenario or expanded upon side-characters, Bleach: Hell Verse unfortunately is a series of impressive battles strung together with some interesting but poorly explored plot-points that ultimately delivers nothing but a chance to see Ichigo and his friends lay into some new enemies outside of the show's main storyline.
Visuals:
Bleach: Hell Verse is a gorgeous looking anime, especially on this Blu-ray versions of the movie. The movie looks similar to what one would expect from the anime itself, however with the overall quality of the visuals and animation dialed up to eleven. That being said, the new enemies' character designs are bizarre by even Bleach standards. As far as the battle animation goes, Hell Verse's fights are impressively colorful and well-animated with no drops in quality despite the fact that most of the main cast uses their strongest attacks at least a once throughout the movie.
The only time the animation quality of Bleach: Hell Verse manages to drop is whenever Studio Pierrot chose to insert some CGI elements into the environment of Hell. Outside of these CGI elements, the detail put into each environment is breathtaking. In a way, the company managed to create their own version of the circles of Hell by creating different areas Ichigo has to hurry through as he descends deeper into the pits of Hell to save Yuzu.
Audio:
As one would expect from Viz Media, Bleach: Hell Verse contains both the original Japanese voice work as well as the new English dub. The entire English cast from the anime is used in the movie while the new characters have been voiced well, although one enemy, and you'll know who it is, voicework sounds exceptionally obnoxious as if the voice actor was trying to oversell the performance.
As far as background music goes, the movie makes use of many standard background themes including rock instrumental version of Yui's "Rolling Star." The movie does not feature an opening song, however the ending theme is "Save the One, Save the All"  by T.M. Revolutions and this song serves as a nice fast-paced J-Rock closing to the show. It is worth noting that for some odd reason, Viz Media has not provided any background music to play over the main menu screen.
Extras:
As far as bonus features go, Bleach the Movie: Hell Verse has a small number of extras in the form of original Japanese trailers, trailers for other Viz products as well as two digital art galleries. The "Production Art Gallery" features twelve color character sketches which focus almost entirely on the newly introduced enemies for the movie while the "Illustration Gallery" features nine color illustrations of popular Bleach characters wearing their combat outfits as well as casual clothing.
While a rather basic offering overall, the illustrations of some of the most popular Bleach characters in casual clothing is a nice treat. It is also worth noting that Bleach the Movie: Hell Verse comes in just a standard Blu-ray case with a Neon Alley insert, no slipcase.
Overall:
Bleach the Movie: Hell Verse gets the job done by providing plenty of high-impact battles with Ichigo and his friends battling against a whole new set of enemies with a slew of strange powers. However outside of one twist, the movie does little to surprise the viewer or develop the characters in any meaningful way outside of some minor drama. This means that viewers can find  beautifully animated battle-sequences strung around a rather rudimentary side-story into a new world never before explored in Bleach but unfortunately that is all.