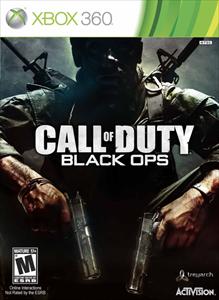 Game Name: COD Black Ops First Strike DLC
Platforms: Xbox 360
Publisher(s): Activision
Developer(s): Treyarch
Genre(s): Shooter
Release Date: 2/1/2011
ESRB Rating: M (Mature)
Price: 1200MSP ($15)
Download: Add the DLC to your add on queue here.
Intro
"Call of Duty®: Black Ops takes you deep behind enemy lines into the world of deniable operations as a member of an elite special forces unit engaging in covert warfare, classified operations, and explosive conflicts across the globe. With access to a variety of exclusive weaponry and equipment, your actions will tip the balance during the most dangerous time period mankind has ever known. Black Ops features: – An epic campaign and story that keeps you glued to edge of your seat from start to finish. – Call of Duty's signature Multiplayer gameplay with deeper levels of character customization, and all new modes like Wager Matches, the Theater, and Combat Training which can be played Solo or Co Op. – Zombies! Providing endless hours of intense Zombie-slaying entertainment, Solo or Co-Op." [Via Xbox.com]
First Strike contains 5 brand new maps including "Berlin Wall," "Discover," "Kowloon," "Stadium," and finally the Zombie mode specific map "Ascension". Most of the maps feature unique moments or key features that make the map entertaining to play. These maps also add to the replayability of the game that both hardcore and casual players will enjoy with the increased amount of variety.
[pro-player width='530′ height='253′ type='video']http://www.youtube.com/watch?v=ID-oK5m2Ivs[/pro-player]
The Maps
The maps  included in the DLC are varried and leave plenty of options for all players to find their nitch. Some players may like certain maps better than others and not all opinions will match but that is the great thing about map packs. There is usually something for everyone.
Berlin Wall:
It is the Berlin Wall! What more is there to say about it? The level is comprised of a few small buildings to run around in, but a majority of it consists of long open areas. Right in the middle of the level there is a danger zone. This area is marked by signs and is red on your map. Automated turrets will shoot at you the minute you walk into this area, while it looks like you could just run across the open field, you can't and have to walk around. It was stated that you could risk the run, but with people firing at you and those insanely accurate turrets it is near impossible to make it across. I've tried multiple times and haven't made it once, logically it is easier to just go around particularly since you are basically wide in the open and in extreme danger while running across the danger zones.
Discover:
Another addition to the ice maps found in Black Ops. This particular ice map has a whole bunch of frozen buildings and a giant chasm in between them. There are bridges in between the chasm, one on top and on one the bottom. The bottom one can be destroyed, but the destruction isn't massive. The actual location, isn't that good of a vantage point so not many people stay there for extended periods of time. Also, when it is destroyed it doesn't hinder progress at all. Going around it or just jumping over it isn't that hard. The map is fun and offers new hiding spots and a giant chasm to fight around.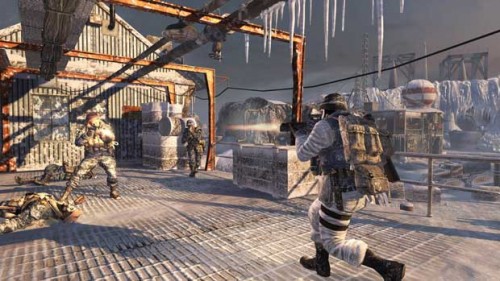 Kowloon:
I honestly enjoyed this map the most. Most of the level feels a lot like the singleplayer map by the same name. Lots of hectic gameplay all condensed onto some narrow rooftops and tons of hiding places. The key feature of this map is supposed to be the zipline, but honestly anyone who uses this is asking to be shot. You go down the zipline way too slow and you are left wide open. It is simply easier to jump around the rooftops, you might not get directly to your destination but at least you have a better chance of surviving on your way there. During the entire level there is rain and this reduces visibility. Hectic, rooftop gameplay is all within this fun map.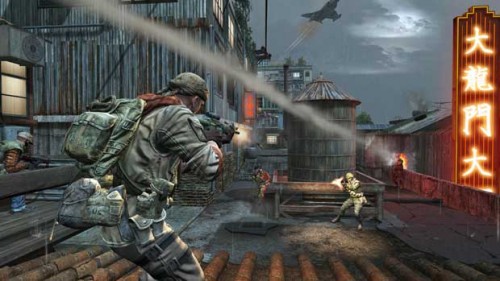 Stadium:
Probably the worst map in this entire pack. It isn't that the map is necessarily bad; but compared to the others, Stadium is just too normal. The level takes place around a giant stadium (that you can't actually explore fully) you can only be in one part and look off map at the rest of the hockey stadium. Gameplay on this level is pretty normal and doesn't add anything new to the game or give any openings for additional strategies to use. It is simply just another map located within a bunch of more noteworthy maps.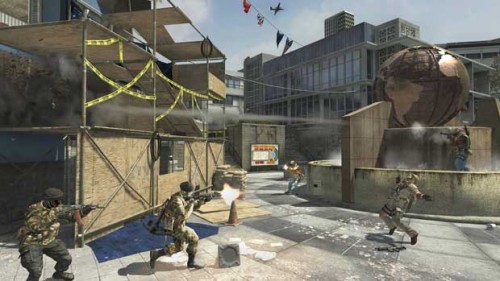 Ascension:
Probably the most sought after new addition to Black Ops. The zombie mode is extremely popular and this brand new addition is welcomed by many fans. New tactics need to be created, new plans devised, and new zombies all come with this new map. Anyone who loves the zombie mode will not be disappointed by this map. While there are quite a few places you can camp comfortably with a team, these aren't necessary and only assist those who want an easy time playing. For the rest of us, there are new areas and tons of new zombie killing fun to have.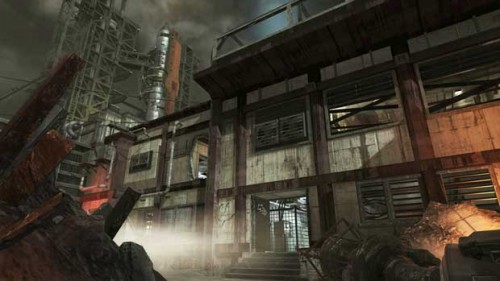 Achievements
First Strike includes a few achievements, and while one or two may be a bit difficult they are all manageable. They all have to do with the new zombie map, so I hope you enjoy playing it a lot because it may take a few attempts. The only advice I can really give players going for these achievements is to have patience and a few friends. You will eventually get the achievements, and while they may seem difficult with enough practice they will get unlocked.
The achievement list is:
The eagle has landers – 35 – In Ascension, escape on all 3 lunar landers.
They are going THROUGH! – 35 – In Ascension, kill at least 5 zombies with 1 Gersh Device.
Space Race – 45 – In Ascension, Pack-a-Punch a weapon by round 8.
Chimp on the barbie – 35 – In Ascension, kill a space monkey with a fire trap.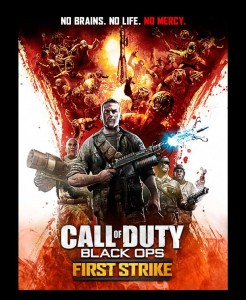 Overview
The First Strike DLC for Black Ops is a very nice edition for any call of duty fan. Even the price is quite generous in my opinion. Five brand new maps for 1200MSP equates to 240MSP each, and compared to previous Call of Duty map packs that usually included remakes, this is quite an offer. The maps are fun and each present a unique addition to the gameplay; aside from stadium of course, that one was quite dull and just simply too normal. The price point may be a little steep for some players, but as a map pack First Strike is put together pretty well.
I give the Black Ops 'First Strike' DLC