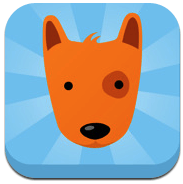 Barkin' Buddy
Developer: Radical iDeas Group
Publisher: Radical iDeas Group
Genre: Social Networking
Platform: iPhone(reviewed)/iPad
Release: 11/7/11
Price: $1.99AUD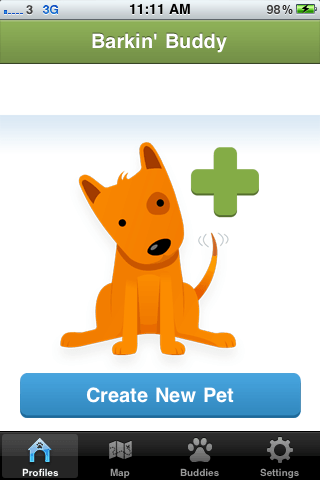 Overview
"Do ya like dogs?" A strange question from an equally strange man I met in England a few years back. The question was the proceeded by him pulling an A4 sheet of paper from his pocket, pointing at it and asking me to look. The photo was of a dog in the snow, which he claimed to be his. Secretly I suspect he had downloaded and printed the image from Google, but there isn't much need to throw such accusations about. Perhaps there is a better, less suspicious means of sharing information about pets? Radical iDeas Group CEO and dog lover, Alexander Bagg, came up with the idea of a new social networking application for the iPhone, Barkin' Buddy, after recognising the disconnect between the number of dog owners worldwide and the advent of social networking.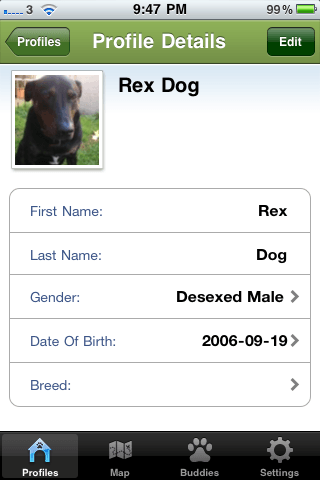 Profile Design
When I think of social networking profiles, I normally picture a convoluted misspelt list of likes and dislikes, littered with opinions that no one really cares about. Perhaps Barkin' Buddy developers have assumed that all dogs like/dislike similar things. What is more likely is that the developers at the Radical iDeas Group released that it's a bad idea to structure a profile for a dog this way. Let's face it, making a Facebook page for your pet isn't cool. The features on the profile are more related to information that is worth knowing when your dog is interacting with other dogs, like gender, age, breed and name. I think it is a little silly to include the last name, but they have done it anyway. There is also the option to upload a photo of your pet, pretty much the same as any other social networking site. However it looks as if you can only upload the one. I'd say this is for the best, to avoid people uploading a ridiculous amount of photos of their dog, perhaps even wearing a range of different little hats? The world can probably do without these images I'm afraid. In terms of the profile interface, it is a little bland, featuring just basic text and the single photo.
Networking Capabilities
Immediately after registering my dog I found a fault with the App, which is the fault with any social networking platform after release. The flaw is that no one else is using it. I registered my profile, and received an email saying I was #44, so I can only assume that there are only 43 dogs with profiles out there. None of which live anywhere near me at all. Because of this, it's a little difficult to evaluate the strength of social networking available through this App. After clicking the map button, a bunch of parks that are near by to me appear on the map. Not much information seems to be given about the parks, just their address. There are also a few parks that appear on the map that aren't flagged by the App. I assume that if there were to be a dog near by then they would appear in the same fashion as these parks. If it bothers you that people can find out where you and your dog live by using this App, then there is the ability to set your profile to invisible.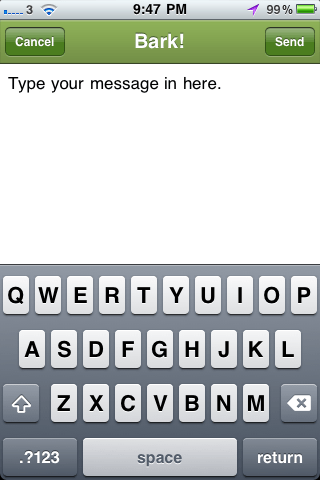 After finding other dogs on your walks, and adding them as your dogs friends, you can then view them on your buddy list. The profile page also gives you the option to state that you and your pet are out for a walk, in case any of your pet's buddies are near by and want to walk too. The networking here isn't based on pet owners, but rather on socialising the dogs. I'm not sure if the idea is that you meet new dogs when on walks, or if you are organising walks with dogs and pet owners you already know, the App seems to foster both interactions. There is also a Twitter like function, title "Bark!" As the name suggests, this is basically sending out a communal message for all to hear/read.
Conclusion
The App is rather limited in terms of sociability, and the premise itself is a little odd. However, I can see the merit behind the idea to some degree. Dogs need socialising, and perhaps it is better to walk your dog at a time where they can interact with other dogs. With this in mind, checking out local parks and seeing what type of, and how many other dogs are in the same area might be useful. Given the recent release of the App, it is hard to gauge its effectiveness at this point in time. Despite this, I can't see it having a wide range of uses other than the one I previously stated. Perhaps spreading the information available to users to include dog friendly parks, and especially beaches, might push the App a little further in the right direction.
Check out other iPhone news and reviews brought to you by the team at Capsule Computers