anohana: The Flower We Saw That Day
Studio: A-1 Pictures
Publisher: NIS America
Format: Blu-Ray/DVD Combo Pack
Release Date: July 3, 2012
Price: $55.99 – Available Here
Overview:
Every so often an anime comes along that will pull at its viewers heartstrings and make them truly care about the characters. While anime is full of shonen adventures full of action and ecchi shows packed with fan service, there are also series focused on drama and the experiences of a small group of characters going through everyday life.
Originally released in Japan back in 2011 under the name Ano Hi Mita Hana no Namae o Bokutachi wa Mada Shiranai, NIS America has brought the series to North America under its new name, anohana: The Flower We Saw That Day. Does this series offer a truly emotional experience that viewers will remember long after the final episode finishes?
Story:
anohana: The Flower We Saw That Day follows a group of friends who were inseparable during their childhood, but ever since an accident occurred when they were young, the group has separated almost entirely. Now that many years have passed and this same group of friends has entered their mid-teens, these one time friends barely speak to another or end up treating each other simply like garbage.
The de facto leader of the childhood friends' group, Jinta has now become a shut-in who refuses to even attend school, but when the group's childhood friend Menma suddenly appears to Jinta, more mature since the incident, claiming she has a special wish that she wants granted, he must try to bring the estranged "Super Peace Busters", as their group was called, back together in an attempt to help Menma find happiness.
anohana: The Flower We Saw That Day is a heartwarming story but also one that is bittersweet. As the friends begin to come together once again they must overcome their guilt and regrets which have been piling up on them after the incident that happened so many years ago. To make matters worse, many members of the group have been suppressing their emotions and dealing with internal conflicts for so long that reuniting the group may be nigh impossible.
Considering the story's premise, there are a number of flashback sequences that are handled well and never seem heavy-handed. Instead these flashbacks provide a clear parallel to how these friends used to be before they grew up. It is worth noting though that anohana: The Flower We Saw That Day is unfortunately only eleven episodes long, which is a tad shorter than your standard anime, but throughout these eleven episodes viewers will be taken on an emotional ride.
Over the course of the series there is never a lull in the character development and emotions these characters display. Though Jinta happens to be the main focus, the rest of the friends' emotional baggage is aired out with some of them revealing dark secrets never known to the rest of the group as they come to terms with who they now are.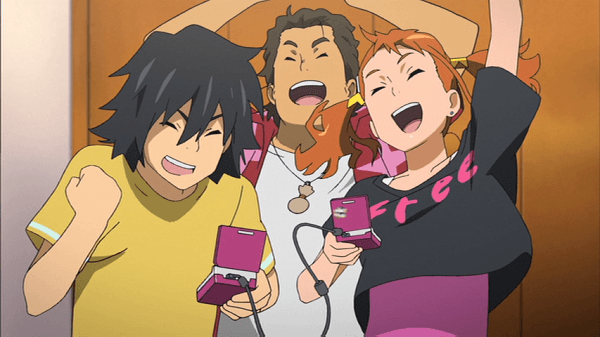 Thanks to the well-developed characters and the emotional plot viewers will find it impossible to not care about this group of friends as they try so hard to grant Menma's wish (ultimately accepting her fate) and bury the hatchet on past conflicts, allowing them to move on with their lives and grow close to each other once again.
Visuals:
To help with making characters that the viewer can connect to, the animation team has created characters with highly expressive faces to display their emotions. Interestingly enough, most characters outside of Menma will often go through multiple clothing changes per episode, keeping the characters fresh and more realistic and detailed.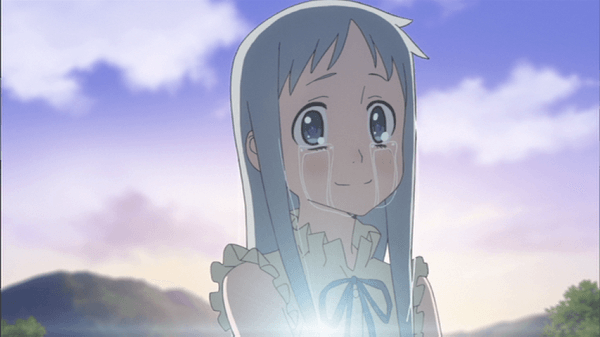 It is also delightful to see how well A-1 Pictures took advantage of the ten year gap between flashbacks and the present time, showing how each child has grown up into an adolescent. With the use of flashbacks viewers are also treated to the It is also worth noting that a lot of the background scenes in the series are well drawn and have a decent amount of detail to them.
Audio:
Considering this is an anime release from NIS America, there is no English dub included with the release of anohana, instead viewers will need to watch the anime with the Japanese voice track only and have to read the English subtitles provided by the company. Thankfully the Japanese voices are ably performed which is a necessity for an anime which focuses so much on the emotions of the characters.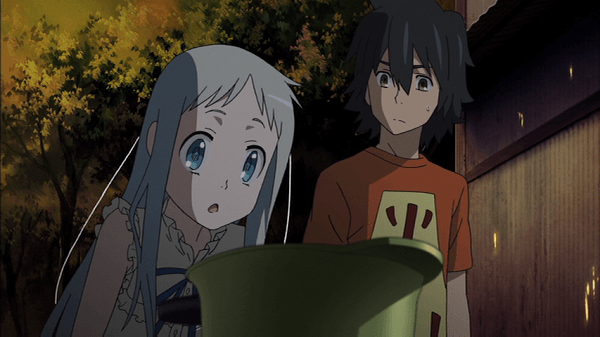 Outside of the dub work, anohana fields very simplistic background music usually featuring calming music played by a piano or other light instrument. As for the series' opening and ending themes we have the opening theme is "Aoi Shiori" while the ending song is "Secret Base ~Kimi ga Kureta Mono~." Both of these music pieces are slow paced and fitting for the overall mood of the series, especially since whenever the ending theme starts playing during the last few seconds of an episode it really helps add emotion to the last scene.
Extras:
With NIS America releasing anohana: The Flower We Saw That Day, anyone who happens to pick up the show will be given a premium edition version. This premium edition includes an oversized glossy chip-board slip cover featuring a happy Menma on one side and the whole group of friends laying in a circle on the other side. This slip cover contains a detailed art book titled "The Super Peace Buster Chronicle" and the two slimpak DVD cases containing both the DVD and Blu-ray discs of the series.
The art book itself contains a number of interesting tidbits. It contains character descriptions and artwork of each of the "Super Peace Busters" in their teenage and child forms, Menma's scrapbook which features various images of a young Menma as she enjoyed time with her friends, a Super Peace Scrapbook which also functions as an episode guide.  Closing out the art book we have some character sketches, various images translating Jinta's T-Shirts, lyrics to the ending song and bonus artwork. The amount of bonus content in the pages of the art book is certainly pleasing.
Overall:
anohana: The Flower We Saw That Day is a touching story that tackles a number of emotional issues such as the struggles that friends go through as they age the death of those closest to you. Although the series may be shorter than standard, the experience will leave a lasting impression on the viewer. Rarely do anime series come along that can trigger such emotional responses from their viewers such as this. To put it simply when a series can make you care so much for the characters on-screen that you cry along with them, it is one that simply should not be missed.