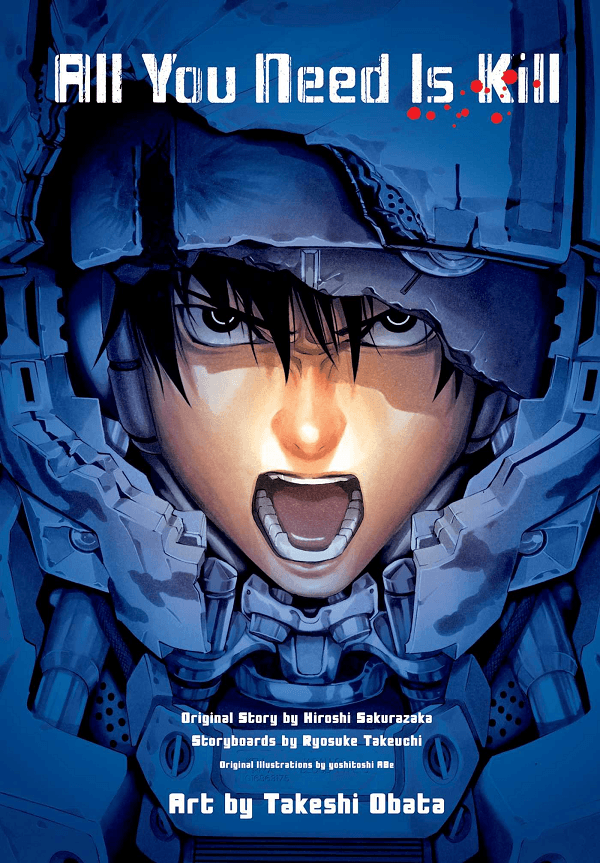 All You Need Is Kill
Author: Hiroshi Sakurazaka
Artist: Takeshi Obata
Publisher: Viz Media
Release Date: November 4, 2014
Price: $14.99 – Available Here
Overview
Rarely does a Japanese light novel get as much attention as All You Need is Kill has been given. Not only has the novel been given a manga adaptation and a Western style comic adaptation, it has also been adapted into a Hollywood movie titled Edge of Tomorrow. With the comic lacking in places, Viz Media has now released an omnibus containing the entire manga, is this adaptation more fleshed out and worthwhile for fans?
Story
Ever since Keiji Kiriya was a child, humanity has been fighting for its survival against a race of creatures known as Mimics. No one knows what they are or where they come from, but their intent is clear… the destruction of all humanity. With humanity constantly in a losing war against the Mimics, only specially designed sets of power-suits called "Jackets" allow humanity to stand a chance against these seemingly unstoppable creatures by creating the United Defense Force.
As such, when the story starts, a lone soldier is dying on the battlefield accompanied by a woman in scarlet red armor asking him a question. However this is far from the end for this soldier named Keiji, who finds himself waking up in his bunk like nothing had ever happened. Suffering from a severe sense of déjà vu, Keiji continues through the day leading up to his first deployment against the Mimics, noticing that a woman named Rita Vrataski, also known as the "Full Metal Bitch" due to her unparalleled fighting prowess against the Mimics, appears to have taken notice of him.
Despite this strange feeling, Keiji finds himself deployed only to quickly be killed in combat, only to once again wake up in his bed repeating the same events over and over again. Forced to live the same day over and over again and die on the battlefield, Keiji chooses not to resign himself to despair and instead takes this opportunity to become an expert on the battlefield in the hope that he might eventually find a way to escape the loop of death, and perhaps that very answer has been within arm's reach every day.
The manga adaptation of All You Need Is Kill is clearly a better choice over the comic that was released earlier this year for a number of reasons. Not only does the length of the total omnibus make the story flow at a much smoother rate by explaining certain details and not jumping frenetically from place to place, but we also learn more about the actual characters present in the story. This includes Rita's tragic backstory as well as Keiji's continuing struggles with not only fighting, but holding onto his emotions as he witnesses every loop play out in a different way, resulting in different deaths due to his actions.
The manga does a great job keeping a fast paced sense of action and danger while also telling an enjoyable storyline with very little being lost in translation. That isn't to say there still aren't problems however as there are still certain elements that feel rushed or are completely left unexplained and while it is nice to see a little bit more characterization for side-characters, they play almost no role in the actual storyline other than to give readers a slight change of pace.
Artwork
For those who may be unaware, All You Need Is Kill's manga artwork is drawn by Takeshi Obata, who is famous for his works with Death Note and to a lesser extent Bakuman., so those who are familiar with his work will find themselves in for quite a treat. The way that Obata draws the faces of his characters really helps make the emotions in All You Need Is Kill shine as we see Keiji run an entire gamut of emotions throughout the story.
The amount of detail put into the various pieces of armor, the Mimics, and the weaponry really helps give the action sequences the aforementioned fast pace and even though the deaths shown in All You Need Is Kill can be a bit gory, the amount of detail in these sequences shouldn't be enough to concern most readers.
Also one thing to note is that this release, despite simply being labeled as a Shōnen Jump Advance manga, is actually slightly larger in height than the already larger than normal Viz Signature series. While this allows the artwork to be shown at a larger size, it also means that those with smaller book shelves may need to slide this omnibus somewhere else.
Extra Content
There are a few noteworthy additions found in All You Need Is Kill's manga omnibus though they mostly come in the form of a few color pages included at the start of the manga storyline. At the very beginning the book features full color artwork of Keiji in his Jacket as well as a full color piece of art featuring Rita as she is leaving her Jacket in a skintight suit. Other than that, in-between each chapter is a sentence, likely from the light novel, talking about the upcoming events and it is worth noting that the artwork featured on the front and back of the omnibus happens to be the artwork for both original manga volumes.
Overall
All You Need Is Kill's manga adaptation is a much better way to enjoy the story compared to the basic comic predecessor released earlier in the year as not only is the artwork a major improvement over the previous release which makes the action scenes feel all the more dire, but the story progresses at a much smoother pace. Although said story may still have a few limits, due in part to being a manga limitation and also due to some issues with the original work, those looking for a great sci-fi action manga should find themselves quite pleased with All You Need Is Kill.


Capsule Computers review guidelines can be found here.