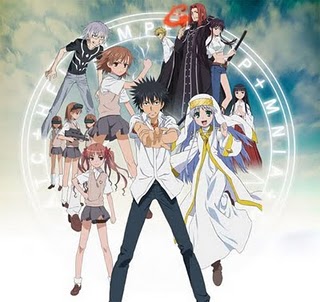 Last but not least we have the crown jewel in my book for this Fall's anime season. To Aru Majutsu no Index II, otherwise known as A Certain Magical Index II, is the sequel to the series of the same name a couple of years ago and is quite literally action filled to the brink with an intelligent storyline and lovable characters that doesn't fall into any generic traps that action anime's end up using as time goes on.
The basic premise is that Kamijou Touma lives in Academy City, where nearly every citizen has a special power of theirs rated on their power level, Level 5 as the strongest and Level 0 as nothing. Touma has absolutely no power; at least recognized by the system. Instead his right hand contains the power to dispel any type of magic or esper powers that he faces, and he has named it the Imagine Breaker. After the first series when he faced down crazed magicians and psychics, Touma is still protecting Index who is the center of all knowledge for the magical world and the Church of Necessarius.
If it sounds like it is confusing at times, it is true that Index can become confusing if you do not pay attention. However once you manage to understand everything that is going on there is a large amount of appreciation for the deep meanings shown in the show and the way that Touma stands up for those that are under attack regardless of who is opponent is or how much he will be hurt. If you happen to watch this though, be prepared for very large technical terms and explanations that will sometimes take up a few minutes of an episode simply to catch the audience up on what the characters are talking about.
After watching the first series, I can guarantee the fact that this sequel looks to deliver even more of the Light Novel in which the anime is based off of. Every familiar face from the first season is returning and even more are showing up to help drive the story along; even those that have no central origin in Index, but the spinoff Railgun.
[pro-player width='530′ height='253′ type='video']http://www.youtube.com/watch?v=hDhfxDhfkR4[/pro-player]