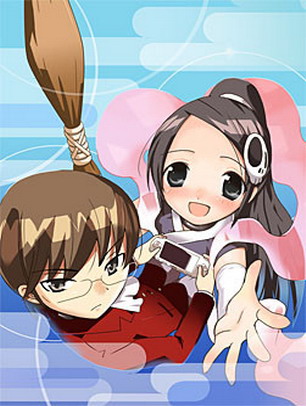 As fellow gamers we know that occasionally games can take our attention away from important things in life. Say a huge game has just came out and you have it sitting in your console, you are more than willing to forgo homework and everything else just to get a chance to play the game right? Well what if these games became your entire life, not making them, but playing them. And they aren't just any game, they are all gal games, meaning games in which the protagonist's main objective is to develop relationships with female characters.
That is how Katsuragi Keima's life has become, entirely by his own choice. Kami nomi zo Shiru Sekai (Translation means The World God Only Knows) is the story of a genius highschooler who has forsaken the 3D world and cares little for real life girls, school, or anything outside of his gaming. But what happens when he accepts what he believes is a challenge from a game maker, only to enter in with a contract with Hell.
This contract has made it so if he doesn't fulfill his obligations, he will die. Not only that but he has been paired with a demon girl named Elsea in the task of capturing runaway spirits that have taken refuge within young girls hearts. Now the real catch is, that the only way that these spirits can be expelled and captured is by making the girl fall in love with Keima. Keima must use his knowledge from countless dating simulation games on real world girls, all the while despising the fact he has to be away from his games.
Sure this is an extreme example but this anime is definitely going to be full of laughs as we see Keima try to shirk his duties as a spirit hunter and simply go back to his isolation. Put it together with the fact that he is being forced to make women fall in love with him to capture souls; and the fact that he hates the entire idea and there will be a humorous romance anime ripe for the watching.
[pro-player width='530′ height='253′ type='video']http://www.youtube.com/watch?v=AB8Z0zt41zc[/pro-player]