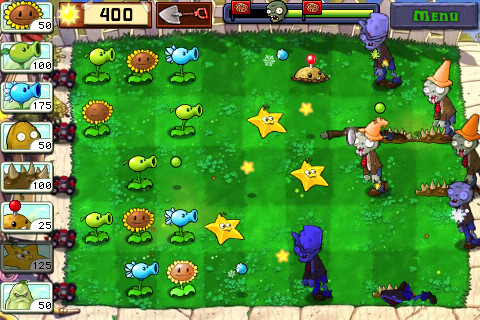 POPCAP have release the log awaited Plants Vs Zombies for the Apple iPhone / iTouch iPod.   Now you can take those cute little Pea Shooters and Sunflowers everywhere you go.  This is certainly one of the most addictive, witty and entertaining tower defence style games you'll ever play.  Once you're infected it's going to be VERY hard to put this game down. 
Stay tuned for review soon.  If your interested in what Plants vs Zombies is all about check out our PC review here.
Details and Screenshots below :
BUY Plants Vs. Zombies from iTunes here : 
Stem a zombie attack on your iPhone!
Get ready to soil your plants in this brand-new version of the hit PopCap game! A mob of fun-loving zombies is about to invade your home, and your only defense is an arsenal of 49 zombie-zapping plants. Use peashooters, wall-nuts, cherry bombs and more to slow down, confuse, weaken and mulchify 26 types of zombies before they can reach your front door.
Each zombie has its own special skills, so you'll need to think fast and plant faster to combat them all. But be careful how you use your limited supply of greens and seeds… as you battle the fun-dead, obstacles like a setting sun, creeping fog and a swimming pool add to the challenging fun. Get ready to soil your plants!
– Conquer all 50 levels of Adventure mode — through day, night and fog, in a swimming pool and on the rooftop
– Battle 26 types of zombies including pole-vaulters, snorkelers and "Zomboni" drivers
– Earn 49 powerful perennials and collect coins to buy upgrades, power-ups and more
– Open the Almanac to see all the plants and zombies, plus amusing "facts" and quotes
– Collect 13 iPhone-exclusive PvZ achievements
– Replay levels in the all-new Quick Play arena
– All the fun of the hit PC/Mac game — adapted for fun-dead fun on your iPhone
– Hilarious graphics, great soundtrack and a bonus music video
–
Who's picking this up ?? If you have .. what do u think of it ?