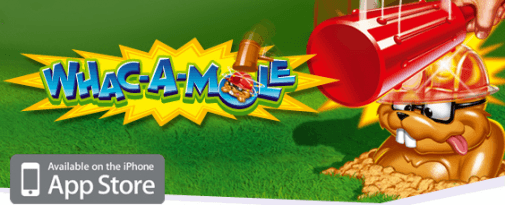 Aarhus, Denmark, September 22nd 2009
Today, Kiloo announced the worldwide launch of the Mattel brand Whac-a-Mole™ for Apple's iPhone and iPod Touch. The Whac-A-Mole™ game represents more than three decades of brand heritage and is developed and published under license from Mattel (NYSE:MAT). Whac-a-Mole® dates back to 1971 and has provided countless hours of entertainment to millions of people worldwide.
"As we continue to explore ways to bring our brands to new dynamic platforms it becomes more clear that this is an ideal location for games like Whac-a-Mole," said Geoff Walker, Senior Vice President, Mattel. "By taking games out of the home and adding play features via the mobile platform we not only give loyal players a new way to experience the property but bring new players into the brand."
"We are excited to launch this unique entertainment application! Whac-a-Mole is one of the most popular arcade machines ever made" said Jacob Moller, Chief Executive Officer at Kiloo. "Our application is a fantastic example of how to combine a powerful brand with an innovative mobile platform. With the launch of Whac-a-Mole for iPhone and iPod Touch we have brought a great game directly into the hands of millions of devoted fans."
"Whac-a-Mole™ – Raise Your Mallets" is now available World Wide for $3.99 from the Apple App Store.
Get it here from the Apple App Store
For more information, go to www.kiloo.com.
About Mattel
Mattel, Inc., (NYSE:MAT) (www.mattel.com) is the worldwide leader in the design, manufacture and marketing of toys and family products. The Mattel family is comprised of such best-selling brands as Barbie(R), the most popular fashion doll ever introduced, Hot Wheels(R), Matchbox(R), American Girl(R), Radica(R) and TycoR/C(R), as well as Fisher-Price(R) brands, including Little People(R), Power Wheels(R) and a wide array of entertainment-inspired toy lines. In 2009, Mattel is recognized among the "100 Best Corporate Citizens," as one of the "World's Most Ethical Companies" and as one of FORTUNE Magazine's "100 Best Companies to Work For." With worldwide headquarters in El Segundo, Calif., Mattel employs approximately 30,000 people in 43 countries and territories and sells products in more than 150 nations. Mattel's vision is to be the world's premier toy brands–today and tomorrow.
WHAC-A-MOLE and associated trademarks and trade dress are owned by, and used under license from, Mattel, Inc. © 2009 Mattel, Inc. All Rights Reserved.
About Kiloo
Kiloo is a leading global publisher of mobile entertainment content. The company is a pioneer on the mobile entertainment market. Founded in Aarhus, Denmark in 2000, Kiloo has been developing and publishing games from the earliest days of WAP, SMS and Java. Today Kiloo has a catalogue of games featuring some of the world's most highly regarded consumer brands and licenses, including LEGO™, LEGO BIONICLE™, Commodore™, Whac-a-Mole™, Hugo The Troll™ and Happy Tree Friends™, as well as many original titles.
For more information about Kiloo, please contact: Jacob Moller, CEO, +45 27 112 234, [email protected]