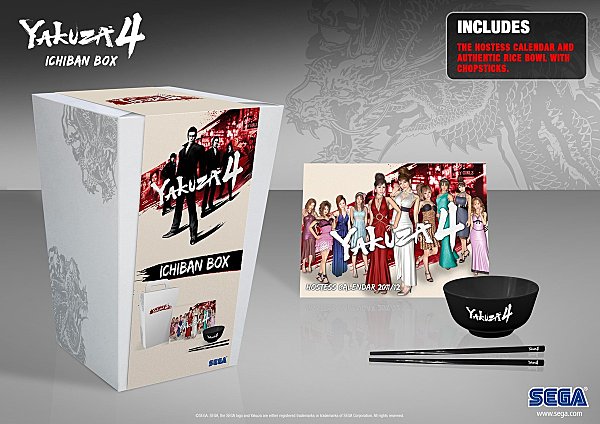 MasterAbbott is back for another one of his WORLD FAMOUS Video Game Unboxing's.   Today we have SEGA's Yakuza 4 Collectors Edition only available on the Playstation 3.   So what do you get for $119 AU?  Gameplay-wise you get downloadable content that includes 4 pieces of bonus content featuring unlockable costumes and battle modes, previously only available in Japan.  The unique unlockable costumes are for Akiyama, Saejima, Tanimura, Kiryu and Haruka.  You also can also take the ultimate challenge and battle against the bosses in survival mode or take the battle underground and race opponents in a battle tournament.
You also get a SUPER-SIZED Chinese take away box called the ICHIBAN Box. (Number 1 Box)  I'ts huge, if you were to fill it up with noddles you'd be able to feed a whole village or a few hungry Sumo's.  Inside you get a very cool Hostess Calendar 2011/2012, limited edition black Yakuza 4 chopsticks and Yakuza 4 rice bowl.  The box is so big SEGA could of thrown in a few more little extras, like maybe a keyring, a pack of noodles and maybe a phone number or two of those really KAWAI Hostesses but alas all you get is the Calendar, the chopsticks and rice bowl.
With a RRP of $119 AU only the hardest of hardcore Yakuza fans would be tempted to pick this up.  But then again if you think about it, the standard retail version is only $10 cheaper, so why not just spend that extra $10 and pick up the additional cool stuff and the ICHIBAN BOX that you can put your lunch in and take to work every day!
Enough typing time to watch the unboxing.  Enjoy.  Any questions or comments leave them below.  Just to save you some time, just in cast you ask it.  No your not getting the ICHIBAN BOX, it's mine, mine, mine !!!