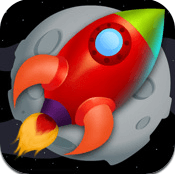 Ranger Rocket
Developer: Gamaday
Publisher: Chillingo
Genre: Casual/Strategy
Platform: iPhone(reviewed)/iPad
Release: 28/6/11
Price: $0.99 (Buy Here)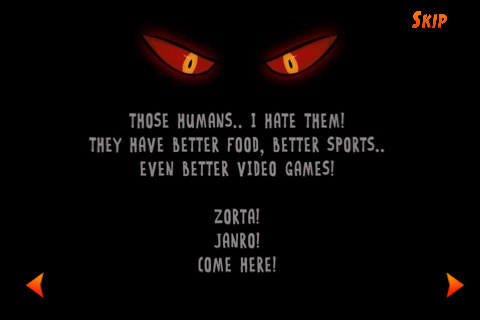 Overview
Sending a rocket off into vast open space is always a big risk. But it's a risk worth taking when evil aliens, who are jealous of all the fantastic and wonderful things we have here on Earth, like delicious food and awesome video games, attempt to take those things away from us. The aliens have invented an Evil Soul Ray Gun and are blasting all our precious commodities in an attempt to destroy the Earth. Enter Ranger Rocket, a captain who stands between the aliens and the fate of the world. Help Ranger Rocket fight off invasion by capturing vast amounts of space by maneuvering the rocket out into the vast open space.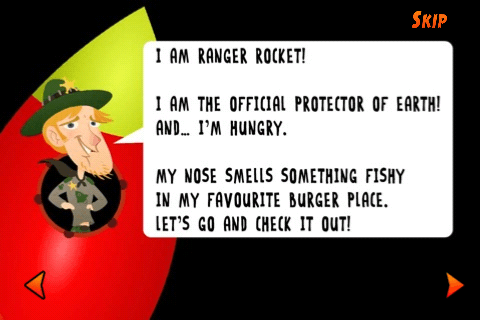 Gameplay
The story line might be a little bit silly but the gameplay is fairly simple. While it took a few tries to get to grips with control the rocket, once it's picked up the game is fairly straightforward. The basic goal is collect a large number of space while avoiding enemy fire and collisions. Enemies will also fire at the rocket, which then runs along the rockets trail at great speed before creating a huge explosion: resulting in the loss of a life. The enemies in each level tend to be fairly similar. There are a few levels, such as the level with traffic lights that command the movement of other enemies, and the giant spaceship that can be shrink with lasers, where enemies have special abilities. However, it doesn't take long to chip away at the surface and get back to the basic gameplay of capturing space. In this sense the game might be a little bit limited. There are varied difficulties, but they just involve capturing more space in the same levels you have already played, which means by this point you might be a little bored of the levels.
A downfall to the gameplay is the number of lives you are given. Each level has nine lives as the starting base, which is far too many to start with (unless of course you are playing Bubsy on the Super Nintendo, which fits thematically because he was a cat, and we all know they have nine lives… right?). The fact that these lives can get used up fairly fast is a comment on the difficulty of gameplay. Often there are far too many objects flying around and enemies shoot fairly suddenly and with great speed, so it is often hard to avoid these in time. That being said, there are a number of power-ups to collect through different levels to help along the way, ranging from bonus points, speed boosts or the ever helpful laser gun. For that little bit of extra planning to avoid attack, conquer space and defeat the evil aliens, it is possible to change the control system so that the rocket isn't constantly moving. This makes it a lot easier to slowly push out into the middle and gather large amounts of space in one go, but a little less fun.
Graphics and Audio
With a cartoon like charm, Ranger Rocket showcases its graphics with little comic book style introductions that explain the narrative of the game. Each level has a little introduction where the enemies taunt both you and Ranger Rocket before attempting to destroy you. The graphics in game lack the humour and cartoon-like quality of the introductions, but still manage to work well. Interesting character designs, and unique backgrounds work well in Ranger Rocket. I especially like that the background will start as black and white, and then gradually become coloured the more space you capture.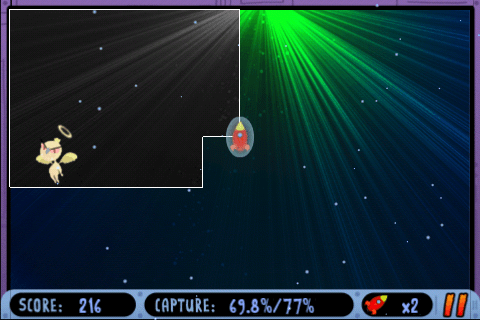 While the game might not have too much going on in terms of sound effects, there is a rich soundtrack that plays throughout the background of Ranger Rocket. While it isn't completely fitting to the games theme of alien invasion, it is the sort of music that makes playing casual games such a treat.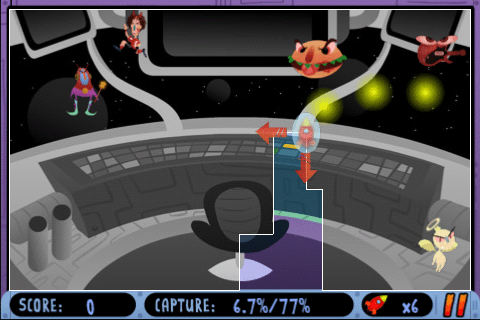 Conclusion
With very simple, and sometimes fast-paced gameplay, Ranger Rocket makes for a decent casual game on the iPhone. However, it can get a little repetitive seeing as each level is essentially the same. The enemies don't vary all that much, only a few levels have enemies with special abilities and as a result don't really change the core challenge of the game. For a small casual game, it not only ticks the right boxes, but also structures the game around making them. Unfortunately, it doesn't push outside of these boundaries often. Despite this, it is still a fun little game and worth investing some time in, even just to play through the basic levels.
Check out other Chillingo news and reviews brought to you by the team at Capsule Computers