Game Name: Pinball FX 2
Platforms: Xbox 360
Publisher(s): MGS
Developer(s): Zen Studios
Genre(s): Sports & Recreation
Release Date: 10/27/2010
ESRB Rating: E (Everyone)
Price: Free. Tables must be purchased Separately.
Story
"Pinball FX is back, and it is better than ever! Pinball FX2 offers brand new tables and a host of new features and improvements: new state-of-the-art physics model that surpasses anything available so far, full compatibility for Pinball FX owners, online races, hotseat and split-screen multiplayer modes, Operators Menu with custom settings and advanced play info." [Via Xbox.com]
There isn't a story at all, because Pinball FX 2 is basically  a HUB to house a bunch of pinball tables that you purchase separately. Like Game Room, you purchase additional content that can all be accessed through the Pinball FX 2 game.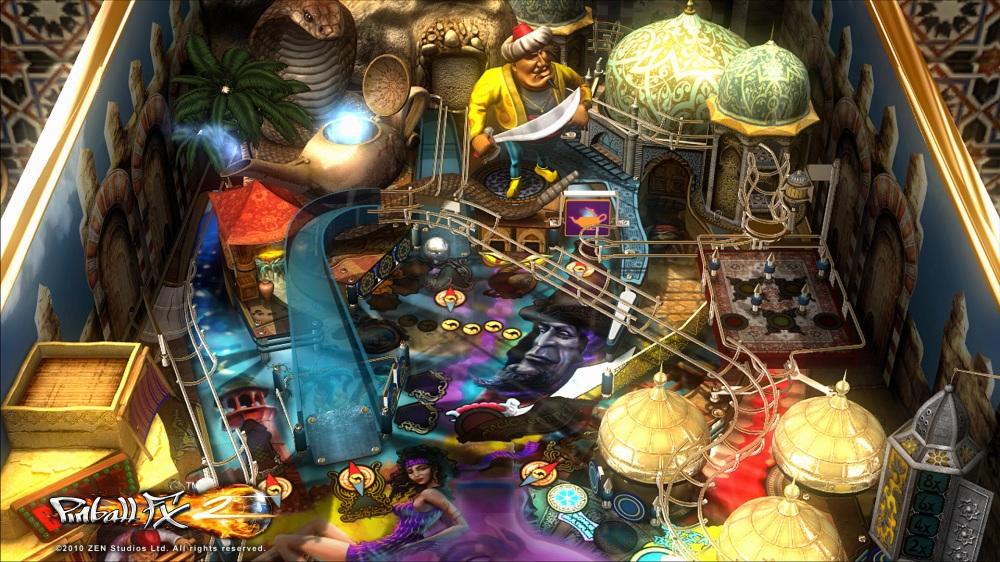 Gameplay
Pinball FX 2 is a HUB that houses a bunch of different pinball tables for the player to enjoy. While the player has to purchase every table separately for a small fee, they do have the luxury of being able to try out a demo of the table before purchasing it. Pinball FX 2 is a lot like the Game Room, where you can look at what is offered and only buy the ones you truly enjoy. The user face is simple to use and extremely easy to navigate. Leaderboards are easy to locate and a lot of times are right there when you need them. The overall experience is smooth and extremely welcoming.
There are some additions to the game that wouldn't be found in a normal arcade pinball. These additions treat you as the owner of the pinball machine, and since you are the owner you can tweak certain aspects of the machine. You can move around certain pegs, adjust the tension of certain items, increase the bounce of other items. This may be a good thing or a bad thing. It is quite complicated to understand and isn't necessary for the full experience; however, if you are one of those people who strive for perfection this new ability is perfect.
The physics engine has been revamped and it is incredible now. I can full heartedly say that Pinball FX 2 is the best pinball simulator I have ever played on a console. Everything that you would expect in a pinball game is located in Pinball FX 2, from the ability accurately slingshot your balls with practice to being able to memorize what angles to hit certain obstacles at. This game isn't necessarily predictable, but since the physics engine is reliable you can practice and actually memorize the exact location, angle, and speed a ball has to be shot at in order to hit certain targets.
Each table lets you get a score and compete on the leaderboards against friends. Every million points you gain gives you 1 superscore point. These superscore points are combined over all the tables to create one overall superscore that you can compare with friends. Pinball FX 2 emphasizes having a lot of friends playing the game because it creates a challenging atmosphere as well as enables you and your friends to cooperate in unlocking some of the things within the game. Throughout the game you can gain wizard score, which takes you and your friends superscore and multiplies it all by the amount of tables you have played. The need to have a lot of friends, all working cooperatively, to unlock some of the more expensive unlockables. This creates a nice experience and may even help you find new friends who share your love for pinball.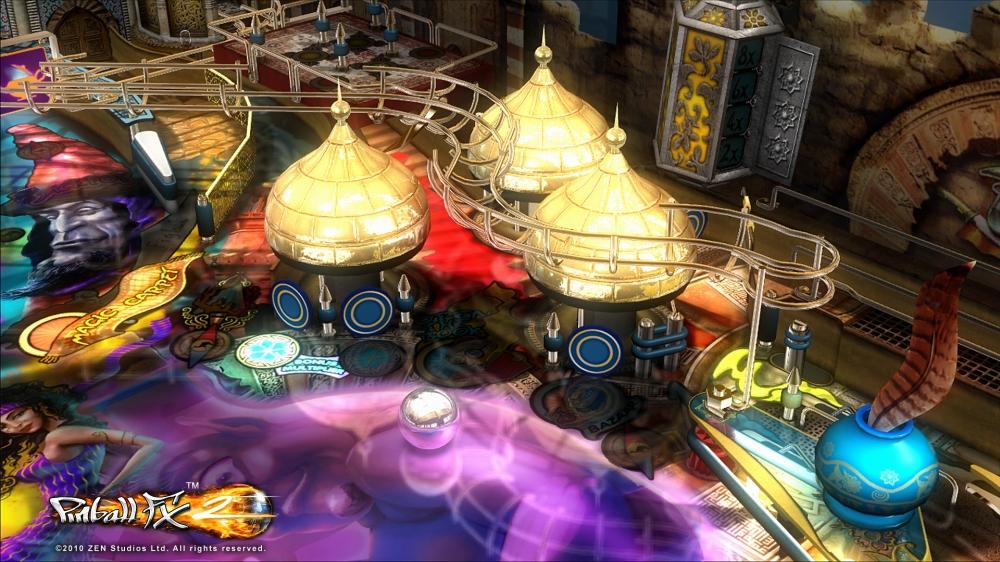 Audio & Graphics
The audio is nice and reminds me of playing an actually pinball machine. As the metal ball bounces around, the pings and pongs of the tables creates the classic feel. Each table also has a unique element to it, and the sound emphasizes these elements further. Voice acting for both male and female narrators are superb and help delve the player even further into the specific tables.
The graphics are extremely well done. Each table has a unique look and feel to it, with a theme on each one that feels special. The lights, and camera angles create an effect that can't even be successfully reproduced with a real pinball table. This all creates an exemplary effect that makes the experience as a whole even more fun than a real pinball table.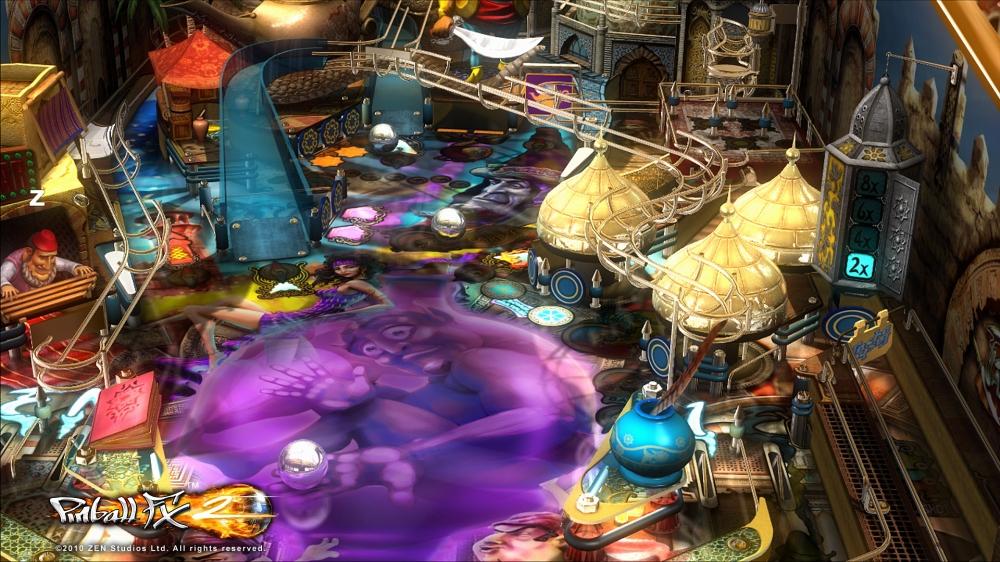 Achievements
Each table includes 3 achievements and range from extremely easy to extremely difficult. The easy achievement are usually gained by doing some simple task that is done regularly on each table. The harder tasks require you to do a lot more on each table, such as completely beat the table or unlock every aspect of it. Avatar Awards are unlocked by gaining Wizard Score, which makes these avatar awards extremely difficult to get. I had to add over 50 new friends just to get enough Wizard Score to unlock both avatar awards. As stated earlier, wizard score is gained by combining your superscore and your friends superscore and multiplying it by the amount of tables you have played. Based on how many tables you own, your amount of friends, and your skill; this task could be easy or quite difficult.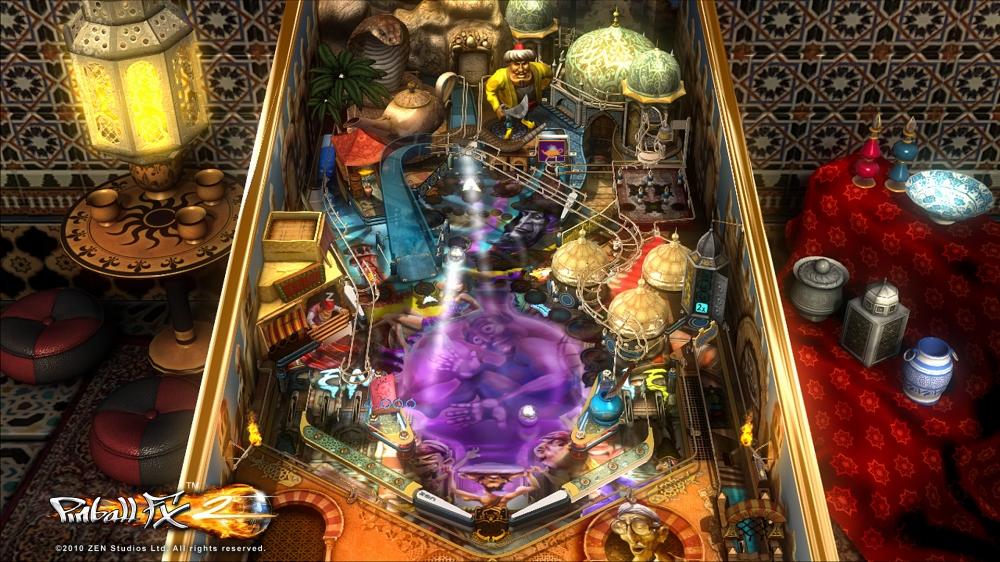 Overview
Pinball FX 2 is a nice addition to the Pinball FX series with a bunch of new tables, and the ability to import all the classic tables from the original into this new HUB and access them along with a bunch of new tables. Each table is unique, and you can even demo each table before purchasing it. Remember, Pinball FX 2 is just a HUB that houses separately purchased tables. For some reason I actually have to emphasize this even more, because there are gamers out there complaining that it isn't really free. I assume they are the same people that complained about the Game Room. Any pinball fan will love this addition with the improved physics engine, great graphics, and the ability to tweak aspects of the table. Why go to the arcade when you can just play Pinball FX 2 in the comfort of your home, away from any friends looking over your shoulder and telling you what to  do and how you should have done something.
I give Pinball FX 2