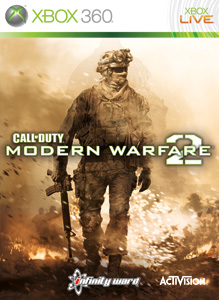 Intro
"The best-selling Xbox 360 game of all time gets even bigger with more new content, first on Xbox LIVE! The Resurgence Pack delivers five epic multiplayer maps: "Carnival," an abandoned amusement park with a variety of unique vantage points; "Fuel," a massive oil refinery with extremely long sightlines; "Trailer Park," a maze-like mobile estate surrounded by war-torn debris. Two legendary maps from Call of Duty 4: Modern Warfare return more detailed than ever, including "Strike," a large urban center in the desert; and "Vacant," a fast-paced Russian office complex with few places to take cover." [Via Xbox.com]
The Maps
Below is a video of all 5 maps, I am the one playing and I had to fit all 5 into one 10 minute video. Below I have also mentioned some worthy details about each map.
Carnival:
This is easily my favorite level of the batch. There are tons of corridors and places for snipers at the same time. Carnival is a well balanced map that takes inspiration from a broken down carnival. The first time you play the map, I guarantee you will be too busy exploring it to actually fight. From the broken down rollercoaster, to the fun house, and even to the castle with bumper cars in it; there is tons of stuff to see. You can't actually partake in any of the attractions but they are cool to explore.
Fuel:
This level has a bunch of big buildings with multiple floors. Maybe it is just my bad luck but I could never get the map unless it was also the search and destroy gametype. The level is perfectly suited for search and destroy; however, and with multiple routes to each target there are tons of ways to win. You could also lose pretty easily though, since there are also a ton of places to cover the bombs indirectly. The reason I say indirectly, is because you can cover the entrances to the targets but the targets are in the best locations be able to see them at all times. This lets people sneak in to plant the bomb.
Trailer Park:
Trailer park is a Trailer Park that has been caught in the middle of the war. Broken planes and debris are everywhere. Trailer Park is actually quite annoying to play on, since there are tons of windows to shoot people from. There is a constant need to check all the windows, which is simply impossible to do. Once you figure out how to jump between trailers and shoot people through the windows yourself you will become unstoppable.
Strike:
This map is a remake of the one from Call of Duty 4, there is nothing different but with all the new perks and killstreaks it seems these remakes don't stand the test. This particular level seems to get hit hard with explosives, there are a few buildings but grenade launchers and airstrikes make the field deadly. A lot of fun, but deadly.
Vacant:
Like Strike, Vacant is also a remake from the first Modern Warfare game. There is nothing different that I could tell. For those of you who haven't played it, it takes place primarily in a building, which enables for close range combat. There are bits outside, but a majority of the game takes place inside the building. The long hallways are good to taking out people who are going down them but the side rooms are perfect for dodging shots.
Overview
The Resurgence map pack for Modern Warfare 2 is a very nice edition for any Modern Warfare 2 fan. The price on the other hand is still steep for only 5 new maps. The maps are awesome, and fun though and if you are still playing Modern Warfare 2 on a daily basis you should pick it up to put a little more variety in your maps.
I give the Modern Warfare 2 'Resurgence' Map Pack

Pros
5 new maps to play online with in Modern Warfare 2.
Replay 2 fan favorite maps from COD4 with Modern Warfare 2 weapons and killstreaks.
Spend even more time creating and perfecting new strategies on 5 extra maps.
Cons
The price is kind of steep for a map pack.
Really only has 3 new maps, with 2 remakes.