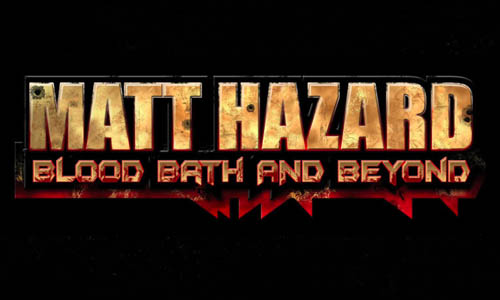 Matt Hazard: Blood Bath and Beyond
Publisher: D3 Publisher
Developer: Vicious Cycle
Platforms: Xbox 360 (Reviewed), Playstation 3
Release Date: January 7th, 2010
Overview:
Ahh Matt Hazard, does anyone remember the great old days of playing the Matt Hazard games back on the old 8-bit systems?  What you don't?  Well you will be working to save Matt Hazard's 8-bit self, as Matt Hazard in this side scrolling shoot-em up.
Story
Unfortunately there is not much story to speak of, the plot that is driving the story, is that your arch nemesis Neutronov has kidnaped your 8-bit self in the effort to kill your past, thus killing you in the future.  If that doesn't make much sense, don't worry, even the game's main character Matt and his programming pal Quentin have trouble understanding it.  Thus begins your journey through many familiar levels that will bring up some memories of games past.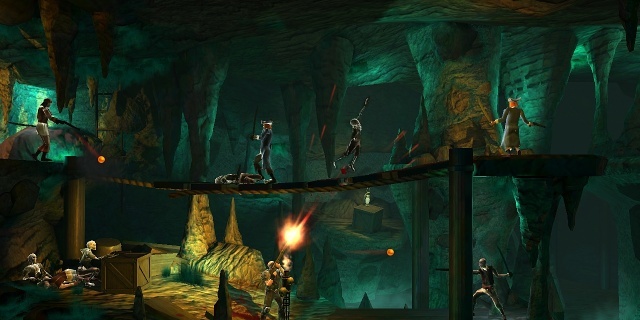 However the story is only told through small text pieces as there is nearly zero voice acting in the game. This is joked upon between Matt and Quentin as there being less funding thanks to the bad reviews and sales from their previous game Eat Lead.  Through the game there are many jokes upon their poor reviews and how harsh the sales were for their previous game, which is enjoyable that they can still take and put a comedic spin on their last game.
The story and the game is terribly short however, leading to a maximum of two hours playthrough on the hardest difficulty.  Though you can continue to play on each of the three difficulty options, uniquely called; Wussy, Damn This Is Hard, and F*** This S***! there is little else to do beyond collecting every pachinko coin in the game, and every box art.  Although it is hard to miss them as enemies and boxes drop them quite often in plain sight.
Graphics:
Appearances in this game are as they appear, and you will not be playing any levels that are in 8-bit, even if you are supposedly playing through old games and even a few of Matt's old games.
Each level will have a certain theme, and most levels will have a theme to go along with them.  In the very first level you start out on a cruise ship, then as you venture inside, you begin to wonder whether or not you will see a Little Sister running around.  Then levels later your treated to a pristine city filled with bright red areas to jump and walk, just like Runner Vision from Mirrors Edge.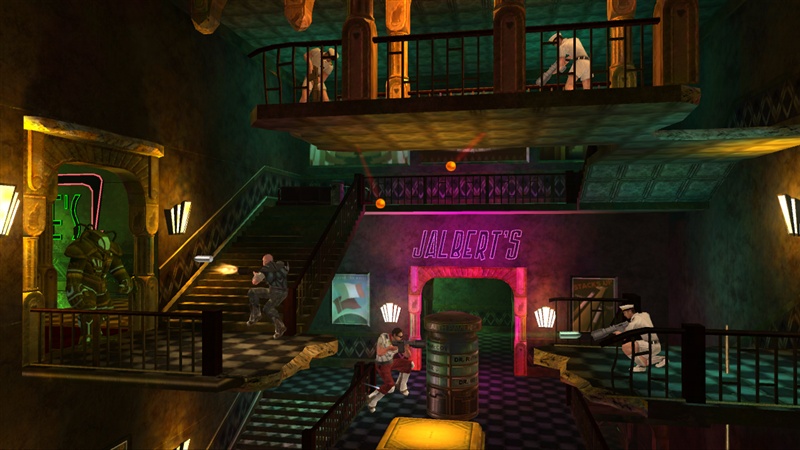 Another interesting area, was when Matt is running through a base quite similar to Team Fortress 2, only to run into Red and Blue team members.  Not only that, but there are curious pipes and floating blocks with ! Points on them, favoring Mario style block breaking.
Though there are absolutely zero cut scenes in the game, and the pictures used for the characters talking screen could have been a little better looking. At that point it felt like an old RPG game with the characters talking silently through their pictures, though this could also have been a parody.
Gameplay:
Here is where the parodies and the bits taken from other games truly shines.  Matt Hazard Blood Bath and Beyond is strictly a side scrolling shooter.  This takes it's cues from Contra, and the more recent Shadow Complex.  However, unlike Shadow Complex which favors exploration and backtracking, BBB favors Contra's formula of being unable to go backwards.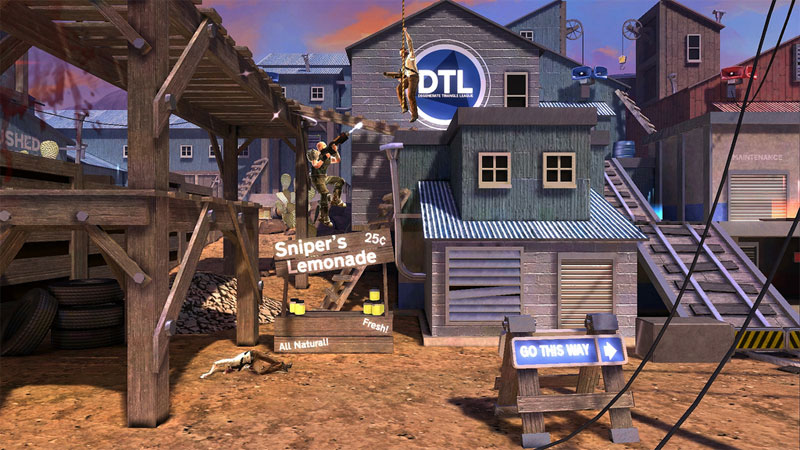 Once you have advanced far enough in the screen, the camera moves along with you.  However if you were to pass up enemies or power ups, you can still shoot the enemies off screen.  Anything they drop, such as a collectible item or a power up is completely lost to you.  Also this leads to some troublesome re-spawns.  As a few times I lost lives simply because the character re-spawned back into a pool of water or electricity trap.
At the start of each life, you are given your basic gun which has unlimited ammo, and six grenades.  However you can pick up an assortment of various other weapon power ups such as; a shotgun, machine gun, laser, rockets, and more.  However the most unique and powerful upgrade is the flamethrower.  This flamethrower burns through enemies like they were marshmallows, and they fall to the floor in a wondrous pile of fire.
Bullets will go through nearly any obstacle, minus crates and certain floors.  Hidden in crates and certain enemies are Hazard Game boxes, and pachinko coins.  These boxes are collectibles which will unlock the box art and description for Matt Hazard's previous games.  While the pachinko coins give you tokens for an after level game, called Ragdoll Pachinko.  This mode, while short, is very fun as you drop bodies down a pachinko game to score extra points to add to your online leader board total.
The game play is capable of playing with a friend, however that friend must be sitting next to you.  The co-op mode for the game is strictly local only, however there is the opportunity for this to be fixed by a patch later on in the game.  Playing with a friend is just as rewarding as it was playing in Contra.  Though you may still argue over who stole the health pick up or weapon upgrade.
Overall:
If you were a fan of Matt Hazard: Eat Lead, then you will definitely enjoy this game, as the same satirical element stands, though not much is emphasized outside of level design.  Plus the game is very short, though the running and gunning is quite fun,  for 1200 MS points, $15, can be a lot to ask for two hours of playtime.
In the end I would give Matt Hazard: Blood Bath and Beyond a hazardous 6.5 Capsules out of 10
Want to Win a copy of MATT Hazard Blood Bath And Beyond on Playstation 3 and or XBOX 360 ?
Well all you gotta do is leave a comment here & follow both Matt Hazard & Capsule Computers on Twitter.
Once Matt gets to 150 followers on Twitter & we will pick a comment from here  :  3 Playstation3 codes and 1 Xbox Live Arcade code will be given away !!
Make sure you also post your Twitter Account below along with your comment.
Now what do you comment on you say .. ??  …  WELL here goes ..
If Matt Hazard had to appear in another game.  Which Video Games should he make fun of ??
The funniest and most original comments will win 🙂  Get cracking, leave a comment and follow both Matt Hazard & Capsule Computers on Twitter.