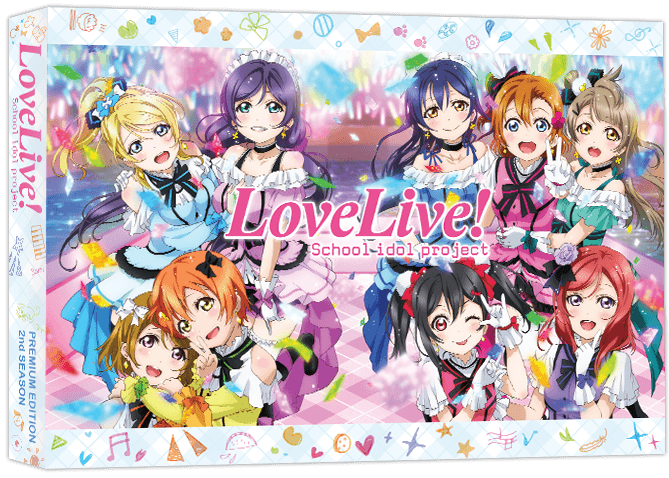 Love Live! School Idol Project 2nd Season Premium Edition
Studio: Sunrise
Publisher: NIS America
Format: Blu-ray
Release Date: February 14, 2016
Price: $64.99 – Available Here
Overview
After making an extremely successful debut in 2013 it wasn't much of a surprise that a second season of the popular idol anime Love Live! School Idol Project was being broadcast in Japan. Of course with such a level of success it was also wasn't very surprising to hear that NIS America had acquired the rights to the second season of the series, though what did surprise many fans was that the company would be releasing the second season, and re-releasing the first, with an English dub to go along with the original Japanese voice work. With the first season focusing primarily on assembling μ's, where do the girls go from here?
Story
It is worth noting that since the first season follows μ's as the members are assembled to join the group and quite a few of the girls undergo most of their development throughout the first season that potential viewers should start there. As for this season, a bit of time has passed since the end of the first season and with Honoka and the rest of μ's managing to prevent the school from closing thanks to the growing popularity of their school idol group raising the application numbers.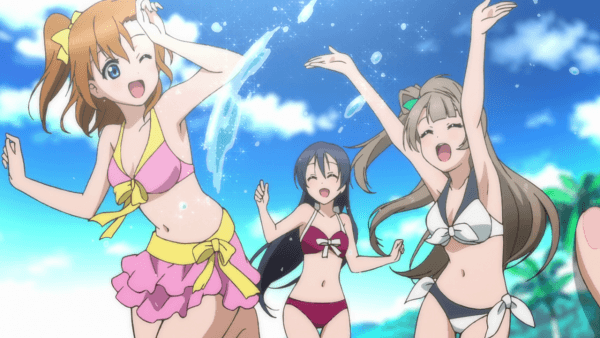 Perhaps due to her popularity and thanks to being the center of μ's, Honoka has been given the job of being the new president of the student council and is assisted by both Umi and Kotori as both Eli and Nozomi have stepped down. After giving a fittingly embarrassing speech to the school, Hanayo comes to the rest of the girls with major news and tells them that the Love Live competition is going to be held once again and it is going to be bigger than ever.
Previous viewers may remember that while the girls formed μ's in order to save the school, they were also attempting to take place in the idol competition Love Live but had to drop out due to Honoka falling ill. While Honoka may not seem too interested in taking part at first, she soon realizes that this is the last time that the third year students, Eli, Nozomi, and Nico, will ever have a chance to perform as school idols as they will be graduating shortly after the Love Live competition comes to a close.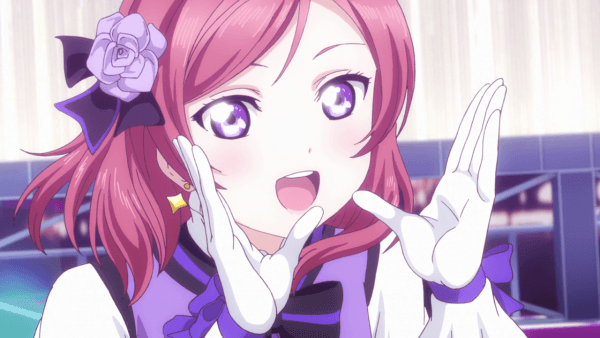 Reinvigorated Honoka and the rest of μ's begin to train themselves for their hardest performances yet as they know that, due to their location and the new stipulations of Love Live, that the group must now compete directly with A-Rise, the most popular school idol group in Japan, in order to even make it to the finale.
With μ's setting their sights on coming out on top before the group loses three of its most important members, Love Live! School Idol Project's second season focuses heavily on the group preparing while also giving viewers more development for a few characters that were previously left in the dark, more endearing slice of life moments with the whole group, including a few sections where the girls break into groups of three that match their sub-units, BiBi, Lily White, and Printemps, far better handled drama than before, as well as plenty of highly enjoyable music numbers.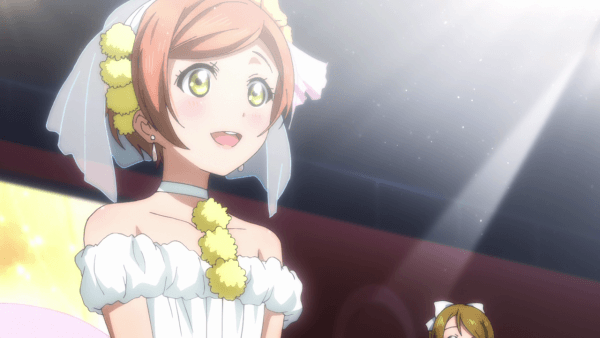 Thanks to all of the girls already being assembled in the second season, viewers are treated to plenty of humorous and cute episodic events that follow the girls as they prepare for their upcoming performances. This extra time that doesn't have to be spent on gathering the group is instead spent on developing a number of characters that were only briefly touched upon in the past with Niko's family life being introduced, Rin overcoming her negative past, and even providing us with a view into why Nozomi did everything she could to help μ's from the background before becoming a member.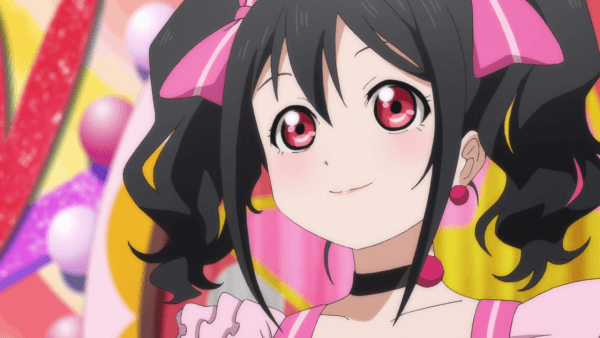 These little moments help provide the series with some more believable small pieces of drama such as the girls trying to lose weight (albeit one of the weaker episodes), compete against idol groups that they previously idolized themselves, and eventually come across the realization that once everything is said and done, that three of the nine tightly knit girls will be separated once the competition comes to an end. These pieces of drama are far better handled than what was shown in the first season and show fans just how much these girls care about one another, making the end of the season really hit home emotionally for longtime fans as μ's comes to an end, even if there is still a movie on the way.
Visuals
Love Live! School Idol Project continues to appear outstanding with the second season. The bright and colorful designs for the nine main girls continue to help them stand out and with more performances than ever before fans are in for a real treat when it comes to the costumes that appear, especially during the "Snow Halation" performance which is easily the best one of the entire series.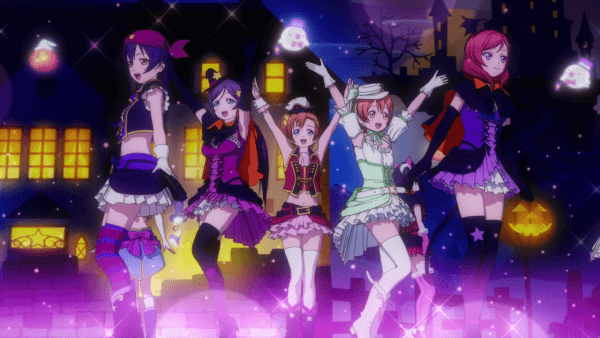 One of the biggest changes that occurs in the second season of Love Live! School Idol Project is how the CG elements are handled. The CG models are still used from time to time during performances however not only has more time been spent on making sure that these models are a bit more up to par with their standard animated counterparts, but that they move far smoother than before. It is still quite obvious when the show switches from standard to CG but it isn't as noticeable as before.
Audio
For this second season of Love Live! School Idol Project NIS America is offering fans both their freshly handled English dub as well as the original Japanese voice work. For many who don't go back and pick up the first re-released season, this will be their first time with the English cast and the voice work by the English voice actresses is still decently for those who wish to listen to it. That being said, with some liberal translations for Honoka and a few characters losing a bit of their unique voicework in the process, fans will likely wish to stick with the original Japanese voice track. Whichever option is chosen all of the singing is still presented in Japanese which continues to serve as a wise decision.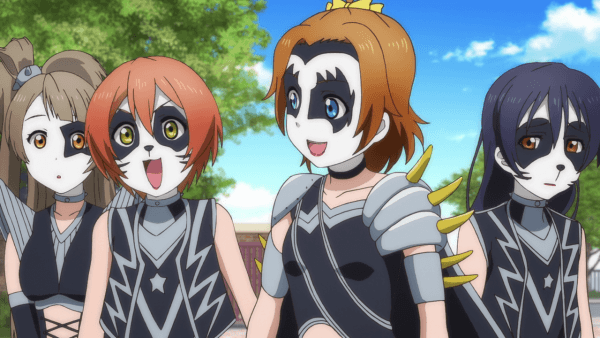 Although the basic background music is fairly standard outside of the few occasions that instrumentals of other Love Live! songs are used fans will find that the performances this time around contain quite a variety of music with around nine performances happening throughout the season, including one from A-Rise. The opening theme for the second season is "Sore wa Bokutachi no Kiseki" while the ending is "Donna Toki mo Zutto" and both songs are performed by μ's and are fitting with the rest of the soundtrack.
Extras
Although NIS America has previously transitioned their premium edition releases into being more standard sized collector's art boxes, Love Live! School Idol Project 2nd Season's Premium Edition returns to the original longbox format. This is a good choice considering fans who were able to pick up the first season will now be able to pair up both editions without one being shaped far differently than the other. The long chipboard art box contains colorful artwork featuring all nine members of μ's in their school uniforms on one side and in their final performance outfits on the other.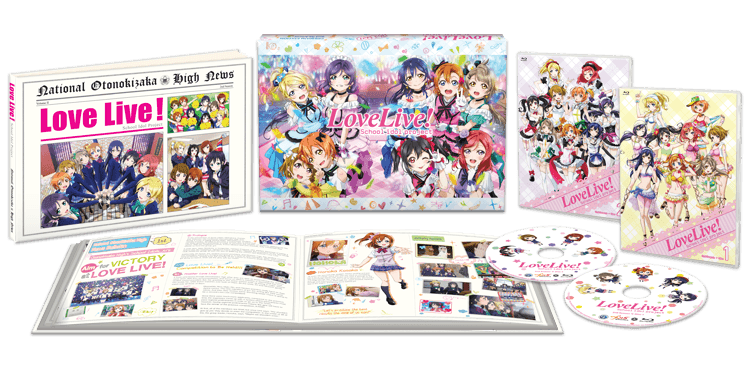 The premium edition comes with two slim-pak cases containing the two Blu-ray discs and these are accompanied by a well put together art book that is the same size as the art box and features episode summaries, character descriptions, special artwork of characters, and artwork that has previously only been seen through promotional posters, making it a real treat for fans.
Overall
The second season of Love Live! School Idol Project capitalizes on the extra time it has by already having a fairly established cast of characters by shining the spotlight on the few that needed extra attention and providing viewers with plenty of heartwarming and humorous moments with the group, allowing fans to see just how close he members of μ's are to one another. With lighter touches of drama, an exceptional amount of performances, and plenty of emotional impact, Love Live! School Idol Project 2nd Season will not disappoint fans by any means.
Capsule Computers review guidelines can be found here.