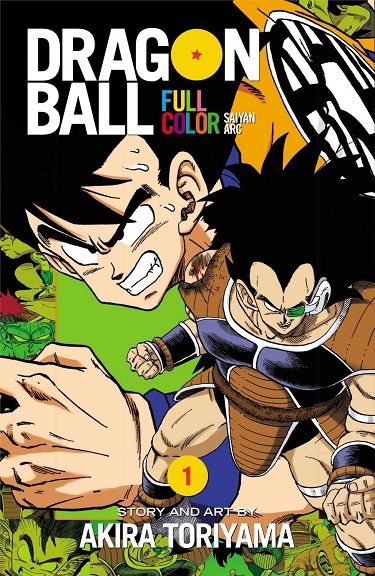 Dragon Ball: Full Color Volume 1
Author: Akira Toriyama
Illustrator: Akira Toriyama
Publisher: Viz Media
Release Date: February 4, 2014
Price: $19.99 – Available Here
Overview
It has been nearly thirty years since Dragon Ball first started to run in Weekly Shōnen Jump and while a lot of people may never have read the manga before, almost every anime fan has likely seen either the original Dragon Ball anime or its much more prominent sequel, Dragon Ball Z. Now fans of the series will have the chance to read this revolutionary shōnen manga like never before, as Viz Media has started to release the Dragon Ball Z color chapters in physical volumes. With Dragon Ball Full Color Volume 1 covering the start of the Saiyan Arc, is it worth picking up?
Story
As previously mentioned, most of the anime community has seen Dragon Ball Z at some point in time and it is there that the color version of the Dragon Ball manga starts from. Five years have passed since Son Goku defeated the demon king Piccolo and peace has returned to the world, allowing the hero to marry and have a son. However the world is about to experience a danger unlike anything it has experienced before as the strongest warrior anyone has ever seen has crash landed on the planet in an alien space ship.
This alien reveals himself to be Raditz, a Saiyan warrior who is looking for his brother Kakarrot who was sent to the planet as a child to obliterate the human race. While Goku is reuniting with some of his old friends and introducing them to his son, Gohan, Raditz appears in front of the group and reveals that Goku is Kakarrott, a member of the Saiyan warrior race, that was meant to destroy the planet and since he is his brother, Raditz will give him one more chance, or else his son Gohan will be killed.
With Goku heavily outmatched and Gohan's life on the line, he must team up with Piccolo to defeat this new foe even if it means giving his life to save his son's. Even then, with the arrival of this new foe there are always more on the way and after nearly losing this time, the greatest warriors on the planet must train to become even stronger or else they will fall to the approaching threat.
This is far from the first time that many of us have experienced Dragon Ball Z but there are still a few interesting tidbits to be found in the original manga version, mostly focused on the supporting characters getting a little extra screen time. That and of course there are no bothersome filler issues, allowing for the story to progress at a brisk pace that sees readers making their way nearly up until the arrival of their new foes.
That being said, since this is the manga and it is being handled by Viz rather than the anime which many people have grown familiar with, there are a number of translation differences. Throughout the manga various characters' names have been presented in their original Japanese spelling, such as Kuririn instead of Krillin and a noticeable different is found in one of Piccolo's moves. While some of these differences are simple differences in translation, it is worth noting that when Piccolo first speaks, his speech is incredibly awkward to read but this issue is rectified when he next appears in the manga.
Visuals
The main reason that many fans of Dragon Ball will be picking up this release is the fact that every single panel of this volume is fully colored. This is the first time that this has happened and it is actually impressively handled. The characters look exactly as one would remember them and thanks to the coloration of everything from the characters to the backgrounds are nicely detailed. This makes the fight sequences, especially the full page action shots, especially impressive.
It is worth noting that the release is completely uncensored as there are guns, some extra blood and a few additional tidbits that likely were censored in the original release. It also helps that this release is a lot larger than your standard manga as far as dimensions go. The height and width of the release are roughly the same as a standard comic book but 248 pages in length. It is also worth noting that to avoid damaging the artwork; Viz has not translated the Japanese sound effects and has left them intact.
Extra Content
Outside of the fact that everything in the release has been fully colored, Dragon Ball Full Color Volume 1 has little extra content. There are a few translation notes scattered across a few pages as the editors explain certain untranslated terms and since Viz did not translate the Japanese sound effects in an effort to save the artwork, the final few pages of the release contain the translations of each sound effect in order.
Overall
Dragon Ball: Full Color Volume 1 gives fans of the series a chance to view the original source material in probably the best possible way. While there are some initial editing issues and a few of the translations may be unfamiliar to readers, this first volume kicks off the Dragon Ball Z anime that everyone is so familiar with by giving them a slightly different look at the series through its original material.


Capsule Computers review guidelines can be found here.