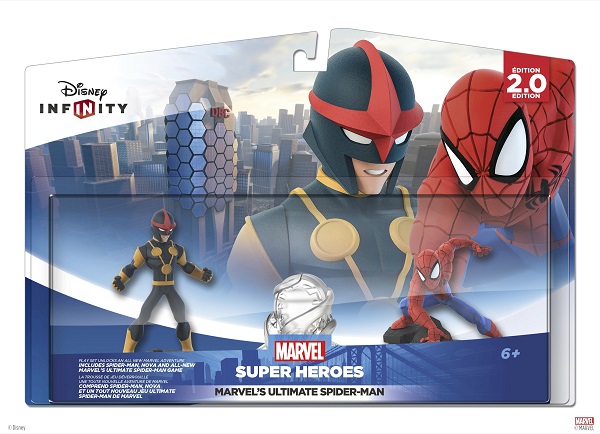 Disney Infinity 2.0: Marvel Super Heroes
Developer: Avalanche Software
Publisher: Disney
Platforms: Xbox 360, Xbox One (Reviewed), PS3, PS4, Wii U
Release Date: Out Now
Price: US$39.99 – Available Here AU$39.95  – Available Here
Overview
Spider-Man is probably.. nay he definitely is the biggest hero in the Disney Infinity 2.0: Marvel Super Heroes line up, and for good reason. People all over the world can sympathise and empathise with the young man who is just trying to help. The Spider-Man Play Set, inspired by the current Ultimate Spider-Man animated series brings Spidey, Nova, Iron Fist, Venom and Nick Fury to the forefront and lets players traverse the busy streets of New York with some of the best web-swinging action in years. Though is shines in some aspects, this Play Set does always prove that great power doesn't always equal great responsibility.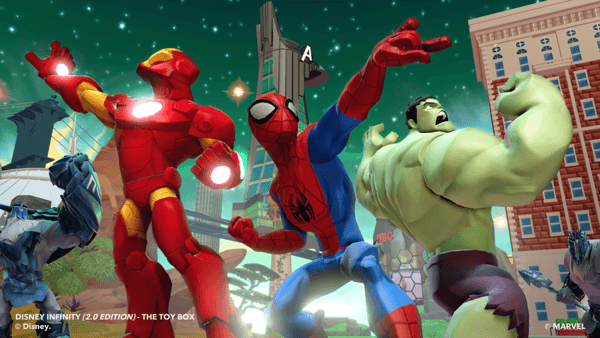 Story
The Spider-Man Play Set has one of the greatest tutorial levels I have ever played in a game. Spidey encounters Green Goblin and Mysterio after they have cloned the Venom Symbiote in an attempt to take over New York. Mysterio manages to catch our favourite wall-crawler and the tutorial mission is Spidey trying to make his way through one of the master illusionist's traps. Collapsing floors, moving walls and a whole range of visual tricks litter the way through this tutorial, and that is only the beginning. As you make your way through the campaign, you will come up against famous Spider-Man villains, leading to the eventual showdown with none other than the Green Goblin himself.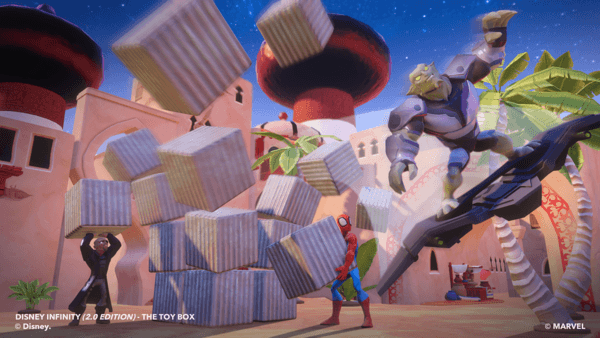 Gameplay
Ok, lets discuss the one thing you really want to know about: web swinging. Every single Spider-Man game is made or broken by its web-swinging. Well, I can happily say that the web-swinging in Disney Infinity is simply amazing (I think I will be getting fired for making such a bad pun). Now this isn't AS good as the web-swinging from the bygone Spider-Man 2 game, however it is about as close as I have ever played. Spidey will twist and flip through the air with all the agility of a spider. As you continue to swing higher and faster, you will almost feel the wind on your face.
Anyway! Enough about the web-slinging and onto the actual gameplay. The Spider-Man Play Set plays very, very similar to the Avengers one where you travel around New York (albeit a different area of New York) defeating the Symbiote clones that Green Goblin has created to raise havoc. The missions are broken into two main categories: combat and defense. Combat missions have you traveling to a particular area of the map and fighting waves of Symbiotes, while the defense missions have you doing almost the same thing but while protecting an item or person from harm. Due to this, many of the missions to feel really similar to one another and they lack any real depth or excitement.
There is about four hours of content in the Spider-Man Play Set and while it is pretty repetitive, it is still an enjoyable experience. After collecting the Crossover Coins, you can play as The Incredible Hulk and Iron Man, each with their own missions that help advance the story. I am a fan of most of the crossover characters, but Hulk and Iron Man both feel out of place here in a Play Set that already has Venom and Nova.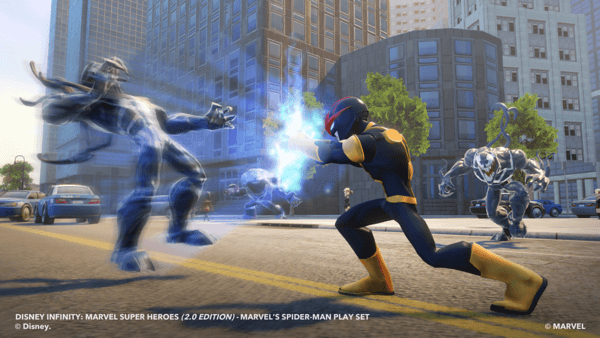 Visuals & Audio
Spider-Man is a character that just feels made for Disney Infinity. The colourful costume, the chipper demeanor and the special abilities all make him feel right at home. Nova, who also comes included in the pack fits in just as well, and together they might be the two best looking and feeling characters in the game. Their costumes are very true to not only the comic books but also their animated series.
Ultimate Spider-Man is one of the most well-known super hero cartoons currently on tv, and the entire cast reprise their roles for Disney Infinity. Hearing Drake Bell's quips and banter as Spidey feels natural, colourful and right at home. He is joined by Logan Miller as Nova, Greg Cipes as Iron Fist, Caitlyn Taylor Love as White Tiger and Ogie Banks as Luke Cage. The cast of regulars is rounded off by Samuel L. Jackson's Nick Fury and J.K. Simmons, reprising the role of J. Jonah. Jameson (who has become synonymous with Simmons gravelly voice).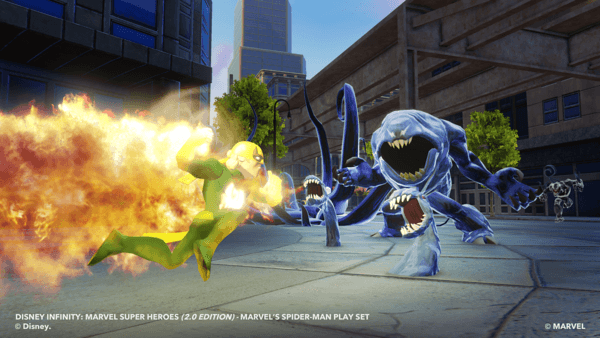 Extras
The Spider-Man Play Set comes included with a Spidey and a Nova figurine. Nova looks absolutely fantastic, his costume and helmet look absolutely phenomenal and he is easily one of the prides of my Disney Infinity collection. Spidey is almost as good, with his figure in an awesome crouched pose and his bright blue and red costume standing proud. However, Spidey suffers from the same problem that the Iron Man figure does; lack of detailing. The thing black web lines on Spidey's costume aren't painted on, which makes it look a lot flatter and less detailed overall. Even with this lack of detailing, Spidey probably has the most unique and stand-out figure of anyone in either Disney Infinity game.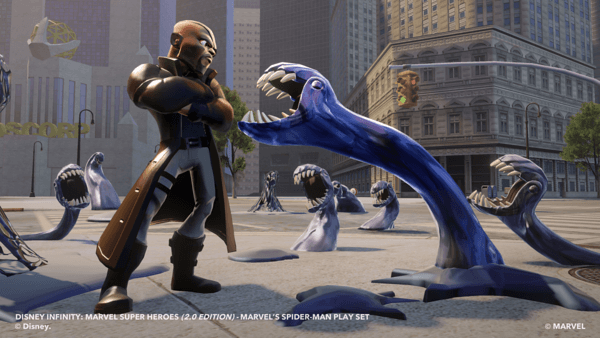 Overall
The Spider-Man Play Set has its ups and downs, but I for one can't get over the web-swinging. I have spent more than a short amount of time just gliding between buildings in New York, watching Peter Parker bend and twist as if he didn't have a care in the world. The Play Set has some of the best characters in the game, but could have done with a little more variety in the missions and a little more detail on Spidey's costume. Although when all is said and done, the great figures and awesome web-slinging don't make up for the repetitive, lackluster gameplay of the Play Set itself.

Capsule Computers review guidelines can be found here.