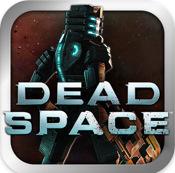 Dead Space
Platform(s): iPhone/iPod Touch/iPad (reviewed)
Publisher(s): Electronic Arts
Developer(s): Iron Monkey Studios
Genre(s): Action
Release Date: January 25, 2011
Price: $8.99 (iPhone/ iPod Touch), $12.99 (iPad)
A few people (myself included) were a bit 'iffy' about Dead Space for the iPhone, iPod Touch and iPad. Rumour had it that it was going to be an on-rails shooter similar to what iD did with RAGE for their iOS conversion. But thank god, my speculations turned out to be completely false. Iron Monkey Studios have done a fantastic job in bringing a complete and fully-fledged Dead Space package and overall gaming experience into the palms of player's hands.
Story
A good amount of detail has been given to this game's story. Set as a prequel to Dead Space 2, the story fits in nicely with the events of Dead Space 2. Without giving too much away, you are Codename: Vandal, who is sent on a secret mission into the mines of Titan, however the real truth of your mission becomes very apparent with deadly consequences with an outbreak of Necromorphs. Characters from Dead Space 2 reappear in this version and it's nice to see that there is a level of crossover between the two games, although both their stories are self-contained and you will not need to play either to fully understand them both, they work well by themselves.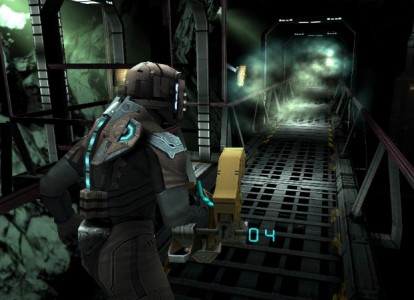 Gameplay
Perhaps the most striking thing about Dead Space on the iPhone, iPod Touch and iPad is that is looks and plays exactly like its console counterpart. Apart from the obvious changes eg touch based controls, gameplay and graphical tweaks, this game is a near identical Dead Space experience. Survival horror has probably never played this good on portable device. Players will need to conserve ammo by strategically dismembering Necromorph's limbs whilst keeping an eye out for useful power nodes, credits and of cause more ammo.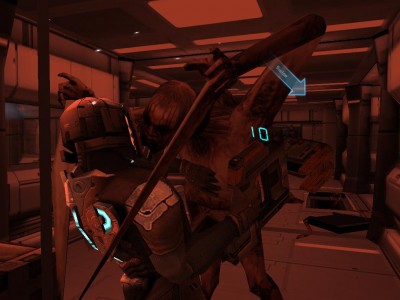 New exclusive weapons have been included in this game for example the Plasma Saw, a nifty melee weapon great for up close and personal kills and the Core Extractor, a 'BFG 9000' of a weapon (probably the biggest gun I've ever seen) extremely useful in taking out multiple enemies. Whilst the touch controls may take some time to get use to, the first 'tutorial' level work very well to sort out any issues no messing about here, but once you get the hang of them you'll appreciate the superb job Iron Monkey Studios have done with their tight streamlined controls. Manoeuvring, running, aiming and shooting are all just a tap away, not to mention other nice additions such as rotating your iOS device to change the Plasma Cutter firing mode. Try doing that when you're in a really frantic fight, it's fun!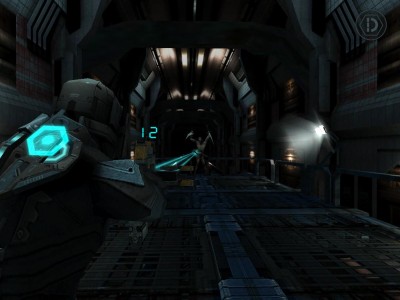 Graphics and Audio
I've probably said it before but I'll say it again, this game looks and plays exactly like its console version. Obviously, gamers on the iPad will have the better experience simply because of the larger screen but that's not to say that iPhone or iPod Touch players are getting a watered down copy either, the game looks great on whatever iOS device you decide to play it on. The graphics in this game look extremely clean and crisp especially in the animations, they look and run very smoothly with no frame rate issues or texture popping.
The game states that 'its best played with earphones' and I can't argue with that. Dead Space features full voice acting, immersive music and of cause high tension noises in the 'scary parts'. Oh and yes, there's a lot of them. Audio cues, music and voice acting are all top notch no corners have been cut here, again, it is on par with its console counterpart.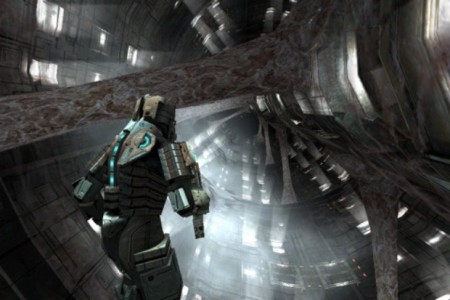 Overall
Dead Space for the iPhone, iPod Touch and iPad is definitely a great survival horror game, no denying that. The fact that the developers, Iron Monkey Studios, have literally recreated a fully featured Dead Space experience filled with its intense horror and action into your the palms of your hand is an achievement in itself, the game looks, plays and even sounds like it's console brother. Funnily enough, speaking of achievements the game also features 40+ achievements to unlock. Great for replayability and the completionists out there but that's not all, by registering the game with EA.com you'll also unlock exclusive content for Dead Space 2 and that's really a cherry on top for Dead Space fans.
I give Dead Space for the iPhone, iPod Touch and iPad: