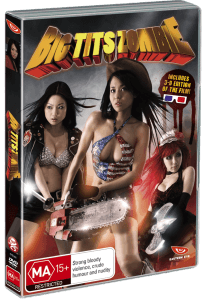 Genre: Horror, Action, Comedy
Produced by: Concept Films
Director: Takao Nakano
Starring: Sora Aoi, Io Aikawa, Tamayo, Risa Kasumi, Mari Sakurai
Tag Line: Strippers vs. the Undead!
Running time: 73 minutes
Language: Japanese with English subtitles
Available for purchase at: Madman Online Store ($29.95), Amazon US ($25.69), Amazon UK (£5.93)
Overview
Let's get things straight: the Japanese are in love with low-budget films, gore and sex. In fact, there should be a genre called "Japanese low-budget film" since there are so many of them in circulation these days. These "Japanese low-budget films" love overdramatized acting, simple plotlines, and lots of blood, guts, and women, and have become a popular trend with cult fans who want to get their kick of comedy, horror, and sexual arousal all in one.
I suppose, then, that it's fair to say if the Japanese low-budget film is a genre, Big Tits Zombie is its flagship movie. The film features anything and everything you'd expect: swords, guns, chainsaws, zombies, Gothic Lolita, and of course, breasts. If I look at it from a filmic perspective, the film is absolute rubbish. If I try and take anyone else's perspective, though, the film is absolutely genius.
Plot
With a name like "Big Tits Zombie", it's pretty obvious the writers and director Takao Nakano weren't going for an Oscar in scriptwriting. The film follows Lena Jodo (Sora Aoi) and her four colleagues as they work in the unpopular strip joint, Paradise Theatre. One day, after having no customers again, the girls uncover a secret doorway in their dressing room which leads down to the Well of Spirits. One of the strippers opens up a book they find entitled "The Book of the Dead" and opens a gateway for dead spirits (a.k.a. zombies) to escape into the world of the living. The film follows the strippers as they fight the zombies and attempt to stop them from killing everyone in their area. As usual, there are a few surprises in the storyline and plenty of funny moments to break up the chain of gore and breasts.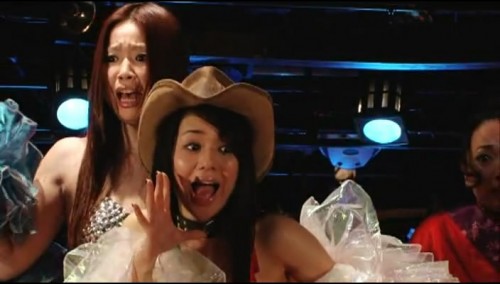 There is no real contextualizing of the story and no proper conclusion – with the film clocking in at 73 minutes, there was really only time for the storyline, a lot of fighting, and a poorly wrapped up conclusion which is partly funny but mostly just inconceivable. To say the least, the plotline is ridiculous and straightforward, but it's everything I would expect from this kind of movie. However, I can acknowledge that most audiences who watch films like this definitely aren't in it for the complex narrative with myriads of plot turns and secondary narratives. Instead, the storyline takes a back seat and is really just an excuse to throw together zombies, women, and action into the same story.
One part I say I have to appreciate was that director Takao Nakano and the scriptwriters at least were aware of how bad the film was. My favourite line from the entire film would have to be when the strippers are watching TV and confused about what the movie is, and Lena says "it must be a cheap movie, they're popular lately – like some girl fighting zombies with a cheap sword." That redeemed the film a little bit in my eyes, because it really was a clever line which sums up the entire culture of these films in Japan at the moment.
Characters
The main characters – or should I say, the main strippers – are Lena Jodo, the money-hungry Darna (Io Aikawa), Gothic Lolita girl Maria (Mari Sakurai), tough girl from the streets Ginko (Risa Kasumi), and their mentor Nene (Tamayo). I should mention something now that will probably help Big Tits Zombie sell more copies than I would like: Sora Aoi and Risa Kasumi are both notorious in Japan's adult video business, and they're the ones who end up taking their clothes off. Other than that, the characters are a mix of good and bad acting, and ironically it's the ones who take their clothes off that probably are the best actresses.
Lena, the unlikely heroine, is actually my favourite in this movie. Sora Aoi is charming and funny, and her background in adult video really helped her fully flourish in the role of Lena. She's the typical strong yet girly type, with a good sense of humor and a lot of feistiness under her belt. The best moments are when Lena cracks some sarcastic comment, or when she wakes up in the morning next to the ugliest man ever and makes a quick attempt to run out of his bed. Other than that, Ginko is probably another likeable one for me: she's the silent, brooding one who has a bit of a tainted past. She's probably the character with the most depth, and I have to say that her backstory is a little intriguing and was a good move by Nakano. The most irritating one by far was the Gothic Lolita girl, Maria. While I understand that the Lolita look is very popular in Japan, it didn't make up for her incessant need to constantly spit out quotes from Shakespeare and Freud. Nakano seemed to believe that adding these into the script would give her character that lyrical and mysterious quality, but it really just made her frustrating and confused the entire flow of the film.
I should probably also add that none of these girls seem to know how to strip. While they're great at catfighting, their stripping looked like a strange mix between a rodeo, a '90s porn film, and those dance moves you never want to see in a club. Apparently Tamayo choreographed the entire stripping sequence and the girls had to learn how to dance, but it's my thought that their dancing was akin to that of a 13 year old girl at a school disco.
Visual and Audio
If this is truly a Japanese low-budget film, then one of the conventions is horrible special effects. Of course, Nakano didn't have enough money to really create beautiful animations – instead, he settles for cheaply produced backdrops, bad makeup, and unsynced audio. However, I'm thinking probably makes up for it with his costume design – which is pretty much just underwear – and really hits the spot for his demographic on that one.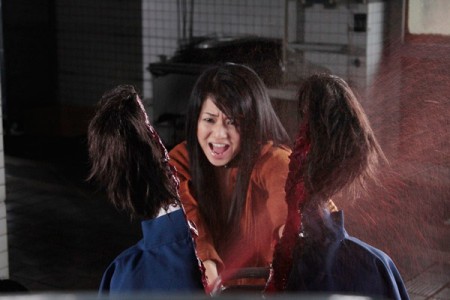 The backdrops and fake blood and gore were definitely the most obvious effects-on-a-budget. There are a few moments in the film where Lena and Ginko are in a setting where Mount Fuji is visible in the distance, and it's clearly just two actresses standing in front of a big screen with images of the mighty Japanese volcano. The blood and gore can be so bad it's funny; when Nene gets bitten by a zombie she goes into zombie-lesbian mode and flames and teeth emerge in a place where no man would ever hope to see teeth. Also, the makeup on the zombies is just green face paint and a few pieces of browned bandages across their faces. However, I do have to give props to Nakano for the chainsaw Lena uses throughout the film: it was made out of rubber, but I really couldn't tell the difference.
The sound effects were poorly done, but the audio was decent. While sword and chainsaw noises were barely synced up with the correct movements, the choice of including some female J-rock was a good one. The female J-rock gave the film an action feel that still correlated with the storyline and suited the spunky heroine's attitude…and of course, it ended up getting stuck in my head.
DVD Extras
The DVD comes with a Making of Big Tits Zombie special feature, which was really interesting to watch because the actresses introduce themselves to the camera and say a bit about what they thought of the film and their characters. The director also talked a lot about the effects behind the film and the adaptation from the manga Kyonyu Dragon, and there were plenty of shots showing how the scenes were filmed. Of course, the theatrical trailer and Madman Eastern Eye trailers are also in the extras.
I should also add that the film does have a 3D option, and the DVD comes with two pairs of 3D glasses for anyone who would like to see breasts and blood in the third dimension. It's not exactly well-made though (why didn't Nakano spend the money on making the film slightly better?) and in all honesty it'll probably just hurt your eyes more than it'll entertain you.
Final Comments
I'm not going to lie…I really didn't enjoy this film, but there were some redeeming qualities which made it slightly less painful to watch. The sense of humor can be a bit strange in some places and hilarious in others, but overall the film can be great for a night where you just want to watch something trashy. I'm going to say that ladies should watch this at a sleepover with a massive pitcher of some sort of alcohol, and anyone else should watch this if they like Asian girls, breasts, or gore.
I give Big Tits Zombie