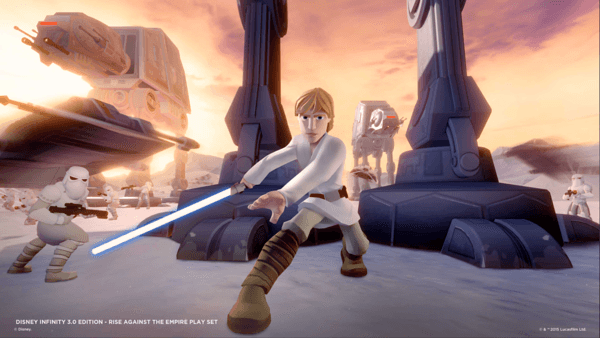 In this industry, we occasionally have the opportunity to sit down and chat with game developers and producers all while trying out their new game. Normally after an hour with the game and a char with the developers, you know just about everything there is to know about the game. Well recently I managed to sit down with Mat Solie, producer of the Disney Infinity franchise and have him show me some of the exciting parts of Disney Infinity 3.0: Star Wars. Well, after almost an hour and a half with the game I barely feel like I've scratched the surface of what the latest installment in Disney's toys to life franchise has to offer.
---
Since there is so much to talk about when it comes to a Disney Infinity game, I figured it would be best if I just broke it all down into my first impressions on the Play Sets and then a few new bits I learned about the 3.0 version of the Toy Box. So that being said, kick back and enjoy my preview thoughts on Disney Infinity 3.0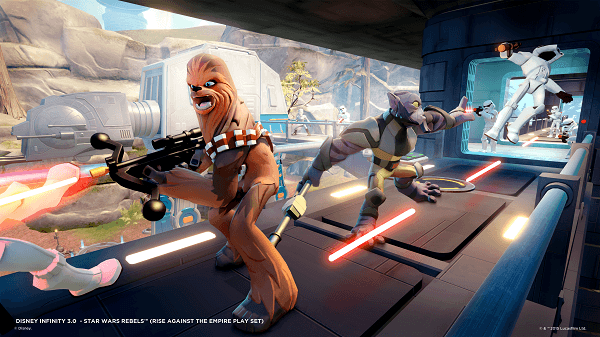 Play Set: Star Wars: Twilight of the Republic
From the moment I started playing Twilight of the Republic I felt like I was engaging In The Star Wars Universe. As a big fan of the Clone Wars animated series, seeing all of my favourite characters fleshed out once again on the screen and off on one last adventure was just an incredible time.
This Play Set is a more action/adventure based one where you take on the role of the Jedi as they try to stop a reopened robot production facility on Genoshia. One thing that stuck out at me was just how fluid the combat was. The entire combat mechanics have been overhauled this time around, with premiere action developers Ninja Theory lending a hand. Now instead of the sometimes clunky, often repetitive combat styling of the previous 2 games, the action is a lot more fast paced, intense and fluid. The best way to describe my experience co boing off against battle droids and juggling the. In the air is to say that it is like DmC-light, and it is so much fun.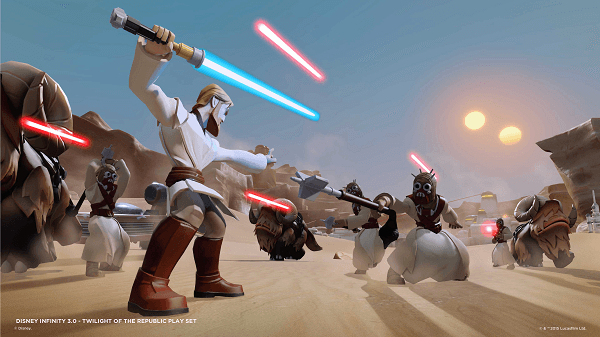 Play Set: Star Wars: Rise Against the Empire
Ok, so I want to ease some concerns many of you out there might have; The developers went to painstaking lengths to make the Rise Against the Empire Play Set be as close to the storyline and set pieces of the original trilogy as they can!
In terms of gameplay, this play set feels like it has a stronger focus on vehicle combat than Twilight of the Empire. Now you can do the Death Star trench run as Luke in his X-Wing, or hook a tow cable around the leg of an AT-AT walker on the icy plains of Hoth (as a kid who grew up playing Shadows of the Empire, I felt like I was reliving my childhood all over again with this part) and while the flight controls took some getting used to (I kept trying to fly with inverted controls and ended up crashing off course more than a couple of times) the whole experience felt very tight. Now while I didn't get to really dig into any of the non-vehicle chapters in the game, I was assured that they are aplenty, just that the focus is more on the vehicles to. It only help it stand apart from the other Star Wars Play Sets but also to stick true to the films which themselves had a tonne of vehicle based combat.
Play Set: Inside Out
One gripe I, and many others had with Disney Infinity 2.0 was that aside from a few minor differences, the three Play Sets were almost identical in how they played. Thanfully, Avalanche have heeded the words of the fans and given us a set of Play Sets that all work in hugely different ways from one another. Instead of a compelte 3d Open-world experience, the Inside Out Play Set plays more like a traditional Side-Scrolling platformer which immediately sets it apart from anything else in any of the three Disney Infinity games. In Inside Out you need to collect "Core Memories" in order to help out Riley, and to do so you will need to navigate your way through some serious platforming.
There are areas in the game that send you upside-down and have you walking on the roof; combining momentum, gravity and reflexes into some seriously fun platforming. There is also a cool little thing where if you have two players, player 1 can be on the ground while the other on the ceiling and work together in order to solve the puzzles. I only got to sample one level of this Play Set, but I am interested to see how much they have done with these mechanics and how fun the Play Set can be in the long run.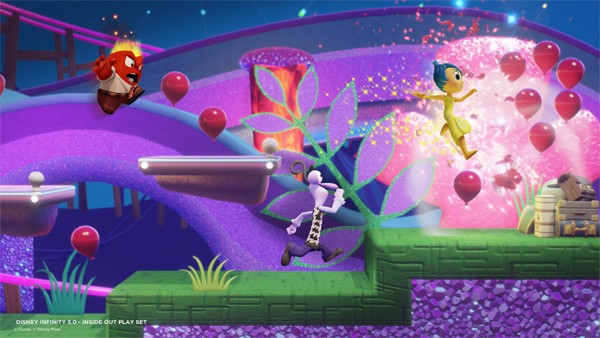 Toy Box
I didn't get to spend too much time with the Toy Box, but I was able to lean about a lot of new feature present in the game. The first thing that I learned what that the developers have implemented "Splines" into the Toy Box creation tools. Now with the splines tool, you can set objects to move in a set path with just a few button presses. This was shown off to me through the creation of a few theme park rides (namely a ferris wheel and a roller coaster). From what I could tell, once set on its path, the objects moved easily, simply and didn't actually seem to require that much processing power from the game itself. I can already tell you that this tool has massive implications for the Toy Box builders out there and I am sure that we will see them used a lot in the future.
In addition to the new splines, I also got to briefly see the new sidekick mechanics in the game. Now, those of you who played through the Toy Box Game Discs in Disney Infinity 2.0 will recognise side-kicks from the dungeon crawler games. Well, Disney have moved these sidekicks to the main Toy Box and given them a new overhaul. Not only can the sidekicks be geared up with a tonne of Disney, Marvel and Star Wars related gear but now you can level them up by feeding them food which you have farmed from your own Toy Box and level them up. As they get stronger, they gain additional attributes that will help you defeat enemies and complete other tasks within the Toy Box.  I didn't get to spend too much time with the new sidekicks so I can't say for sure if they are more likely to be a meaningful inclusion in the game or just another method to pass the time in the Toy Box, but I can't wait to get more time with the game to find out!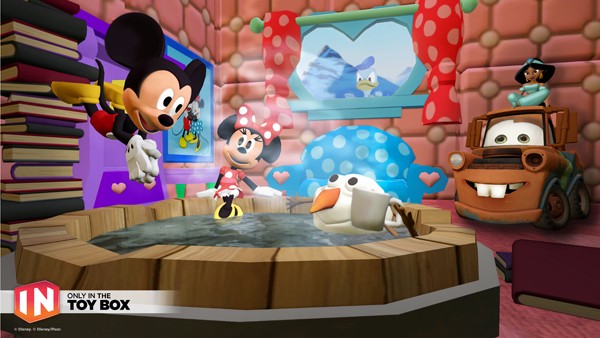 ---
When I reviewed Disney Infinity 2.0, I noted that it was leagues ahead of its predecessor in many ways but that it also suffered from some minor issues that held it back from greatness. At the same time, I have been worried that the franchise may be reaching a standstill in terms of what they can do. Well after my brief time with Disney Infinity 3.0, I am happy to report that thanks to the massive overhaul of the game's mechanics, I needn't be worried anymore! While there is still a lot more to discover when the game launches on September 3rd, if the rest of the game holds up to what I've seen, we will definitely have something special going on here.
One final thought; at the end of my time with the game, Mat told me that through his entire professional career, his dream was to make a Star Wars game. Well to Mat, the rest of the guys at Disney,  Avalanche, Ninja Theory, Sumo Digital and everybody else who worked on the game; You haven't just made "a" Star Wars game, but from what I've seen you guys may very well have made "THE" Star Wars game.