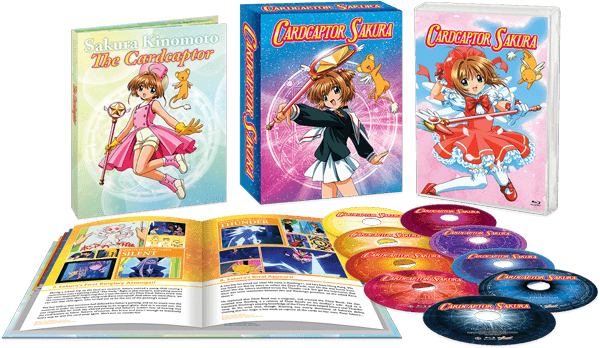 Cardcaptor Sakura Complete Series Premium Edition
Studio: Madhouse
Publisher: NIS America
Format: DVD, Blu-ray (Reviewed)
Release Date: August 5, 2014
Price: $249.99 – Available Here
Overview
Cardcaptor Sakura may look familiar to some people, and for good reason. It was originally shown in the United States as Cardcaptors but it also suffered a fate that many anime did in the late '90s. Severe editing. The original seventy episode series was trimmed down to a scant thirty nine episodes that not only butchered the storyline but tried to make it appeal more to boys.
As such despite being given an English dub at the time, the series left a sour note with viewers and ended up becoming a forgotten series that barely saw a home release at the time. Now NIS America has gathered the entire seventy episode batch and put together a Blu-ray release of the series that not only contains the original unedited storyline, but even an optional English dub. However with a higher price tag than most of their releases, is Cardcaptor Sakura worth revisiting?
Story
Sakura Kinomoto is a ten year old girl who is great at gymnastics and lives a happy life with her older brother and father. Her mother passed away while Sakura was at the tender age of three but she never let that fact stand in the way of enjoying herself. She is best friends with a very wealthy girl named Tomoyo and even has a crush on her older brother's best friend Yukito.
One day while home alone, Sakura heard strange noises coming from her father's study only to find an odd looking book glowing on a shelf. Upon investigating further, she finds that this book contains cards of some sort, and after reading the first card, Windy, she triggers a gust of wind that scatters the numerous cards within the book to the winds.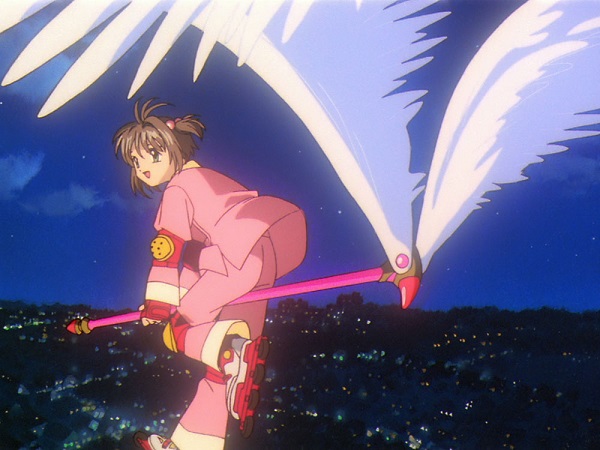 After being left with only the Windy card, a diminutive winged bear/cat crawls from the book to inform Sakura that he is called Cerberus and is the keeper of the Clow Cards, which happen to be the cards that Sakura just lost. If the Clow Cards are left to their own devices, they will injure and damage things in their path and in order to put a stop to this, Sakura is given the title of Cardcaptor. With this title and magical abilities that come from every card she manages to obtain, Sakura must track down every card that has been lost.
Many magical girl series have been produced since Cardcaptor Sakura was released, ranging from fan-service heavy series to dark deconstructions but what Cardcaptor Sakura has to offer is an innocent and fun story with long legs all centered on strongly developed characters with a decent amount of magical girl action and plenty of humor. You see, while the first half of Cardcaptor Sakura's seventy episodes may simply follow the standard of Sakura finding a Clow Card and capturing it, many of the smaller developments and the characters we see end up becoming important later on.
While the series tends to spend quite a bit of time focusing on Sakura and her friends at school, it is this slice of life aspect that helps make Cardcaptor Sakura such a great series since all of the time spent focusing on the characters allows the viewer to watch them grow. We see Sakura grow as a character from the very beginning and watch her deal with the numerous situations she is thrown into and handle the various relationships in her life as she begins to understand her own feelings.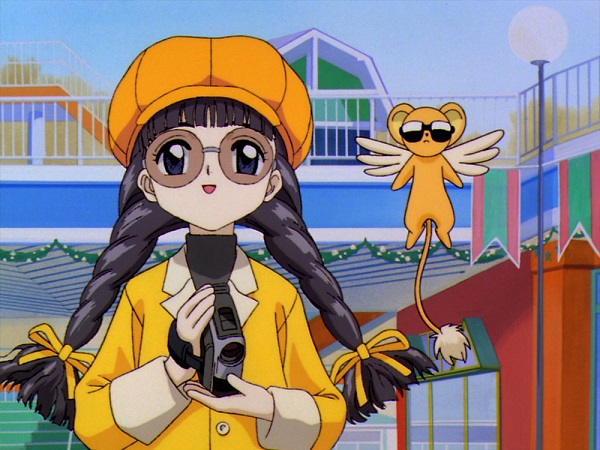 It also helps that although her mission is to initially capture the Clow Cards, throughout the course of the series her interactions with some of the cards begins to change as the plot shifts focus. With a great central character in Sakura, ever evolving side-characters and a plot that continues to progress through different stages with smaller plot points that begin to deliver in surprising ways later on, Cardcaptor Sakura may be an older series, but it is one that is certainly worth taking the time to enjoy.
Visuals
Although the screenshots in this review show otherwise, Cardcaptor Sakura is presented in a pillar box 4:3 style format, is the aspect ratio it was originally broadcast in back in 1998. The upgrade to Blu-ray has seen a significant improvement both in the crispness of the release as well as the vibrancy of the colors.
That being said, those who are familiar with anime from the late '90s should know what to expect when it comes to the animation style. The artwork is far from complex and although a few of the main characters have unique designs, many of the background characters are extremely detailed and even the backgrounds aren't quite as detailed as many would like.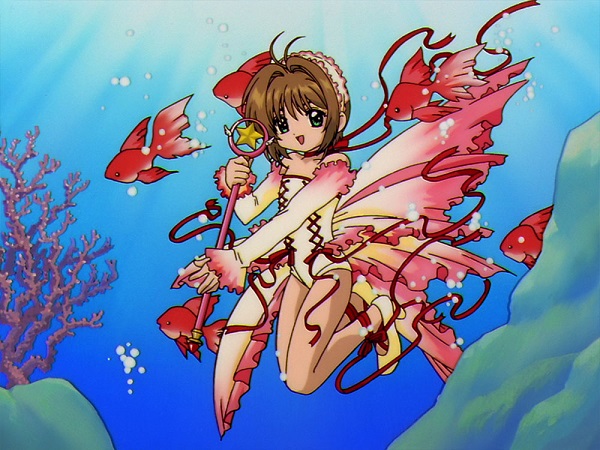 One thing that is a nice touch however is the way that the Clow Cards all have unique forms, many of which are humanoid, and the fact that Sakura rarely wears the same magical girl costume which gives the show plenty of visual variety.
Audio
It is interesting to note that although this release includes an English voice track, the feature is best seen as an extra and not actually something one should try out. You see the reason for this is because the English dub was recorded in mono by Animax for airing in Asia, mostly due to the fact that the one shown in the US was cut and butchered due to the aforementioned reasons.
This means that, it is far from perfect with many of the voice actors not fitting their roles and sounding terrible for the most part, including complete character name changes. It also doesn't help that there are also moments in the series that the English dub features no dialogue when characters are meant to be talking. As such, the best and perhaps only way one should watch Cardcaptor Sakura, outside of sampling it here and there, is with the original Japanese voice track.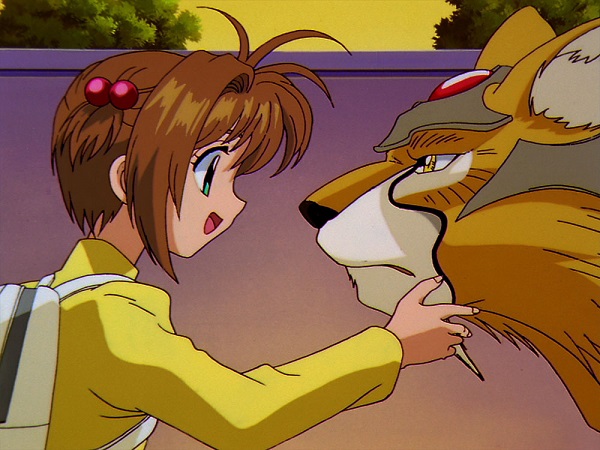 The Japanese voice actors fit their roles very well and bring life to the series. Once you hear Sakura Tange as Sakura or Aya Hisakawa as Kero it is hard to go back, especially since Sakura does such an amazing job with her character. The background music used throughout the series works quite well for the classic magical girl genre that Cardcaptor Sakura operates in and only one of the ending themes is a miss throughout the series while every other opening and ending works well.
Extras
Similar to their recent release of Toradora!'s premium edition, Cardcaptor Sakura's premium edition comes in a chipboard art box only slightly larger than a DVD case, making it smaller than their usual oversized releases. The art box features a school uniform wearing Sakura on the front while the back has artwork of Sakura in one of her more familiar looking pink and frilly costumes. Inside of the box we have a hardcover art book, a mini pamphlet advertising other NIS America anime, and the large nine Blu-ray disc holding case.
This is the first time I have ever seen a case like this, though it works well considering the number of discs it contains. It is a bit unfortunate though that, although the case is nice, buyers are given only one piece of artwork whereas multiple cases might have been a better option. As for the art book, despite being seventy-six pages long almost all of the pages feature episode summaries written by Tomoyo with images from each episode. Only four pages of artwork featuring Sakura are included which is a bit of a disappointment considering the art book is little more than an episode guide in the end.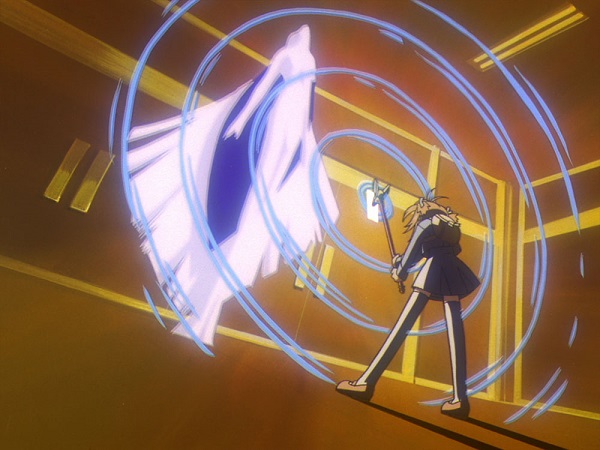 The on-disc bonus features come in the form of clean opening and ending themes for each of the three parts of the series included on the third, sixth, and ninth disc, as well as some trailers for other NIS America releases. As mentioned earlier, the English dub is also considered an extra feature due to the fact that it is not only incomplete but also very outdated.
Overall
By releasing the entirety of Cardcaptor Sakura on Blu-ray, NIS America has righted a wrong that happened so many years ago in the anime industry by providing fans of the series and of the magical girl genre the best possible way to watch the series. That being said, the $199 discounted price tag can be seen as a steep price, even with the release offering 1,750 minutes of anime, since the bonuses are very basic. Those that do dive into the series will find themselves a charming series with very few faults and a great cast of characters.


Capsule Computers review guidelines can be found here.