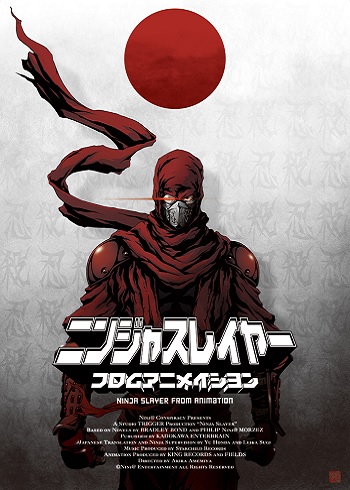 You may remember that Studio Trigger was planning on revealing more details about the Ninja Slayer, the anime adaptation of Bradley Bond and Philp Morzez's American graphic novel, during Anime Expo. Well now that time has come and gone and these details have been revealed.
The anime will be titled Ninja Slayer From Animation and it is set to be released sometime in 2015 and the director of Kill la Kill, Akira Amemiya, will be directing the series while the main theme will be handled by Boom Boom Satellites.
The company also revealed that the first teaser trailer for the Ninja Slayer anime will be available for everyone starting on July 6th at 8 AM PST here.
A summary of Ninja Slayer's story was also provided with this announcement and that summary can be found below:
Kenji Fujikido is a salaryman whose wife and child were killed in a ninja turf war. In a brush with his own death, Fujikido is possessed by an enigmatic ninja soul known as Naraku Ninja. Fujikido cheats death and becomes "Ninja Slayer" -a Grim Reaper destined to kill evil ninja, committed to a personal war of vengeance. Set in the dystopian underworld of Neo-Saitama, Ninja Slayer takes on Soukai Syndicate ninja in mortal combat.