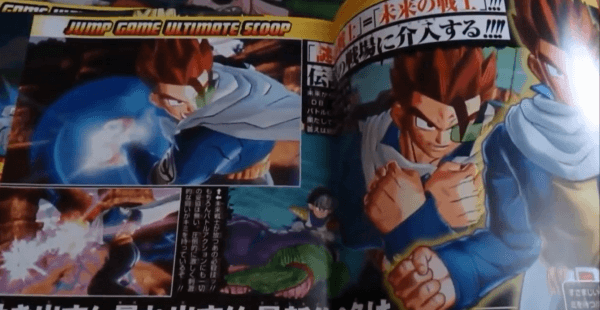 V-Jump Magazine always delivers the goods whenever a new Dragon Ball game is on the horizon and this time the magazine is giving us a front on look at the mystery fighter we saw in action in the game's first official trailer. The character's face may no longer be a mystery but his purpose and identity still is for the most part, only being referred to in the scans as 'Future Fighter' and being said to have come back in time to intervene in history's biggest battles. We can also see him firing off a signature Kamehameha and a Special Beam Cannon.
Perhaps the biggest reveal in this scan is that Trunks is present, but not wearing his usual Capsule Corp. attire and there is a reason for that. This appears to who is known as Time Patrol Trunks who was a main character in a Korean only release MMO titled Dragon Ball Online. In that game his mission was to send you back in time to pivotal moments in Dragon Ball history so you could relive them as your custom character and it looks like he might serve a similar role here as we can see both this new Trunks and the time travelling 'Future Fighter' conversing. Maybe Trunks might be trying to stop this mystery character from messing with the events of the past?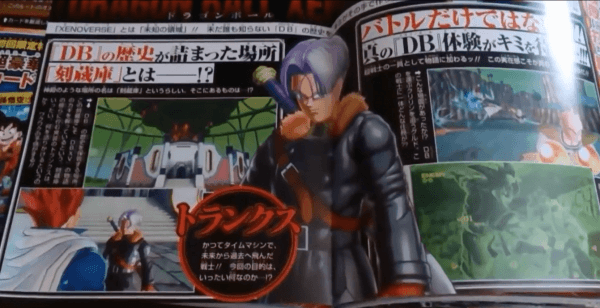 The temple like location teased in previous screenshots has been labelled as the Time Storage Vault and the scan says this vault is a key part to the story in Xenoverse. Another random screenshots shows Krilling running with two Namekian Dragon Balls tucked under his arms while Guldo and the Future Fighter seem to be fighting which pretty much confirms Guldo will be playable and possibly suggest fights may sometimes have more than two people on the battlefield. Another screen shows Goku fighting Dr. Gero with a scanner overylay and another shows Gohan over Piccolo while he lays injured on the ground after being hurt by Frieza.
Some other information on the game from Bandai Namco was also revealed. Dimps is aiming to make the game run at 60fps/1080P on both next gen consoles, but has said that this goal is closer to being reached on the PS4 at the moment. The previous gen versions were also confirmed to not be lesser in terms of content and the experience, with graphics being the major difference between the generations. Xenoverse is definitely shaping up to be the most interesting Dragon Ball game we have had in over 5 years. We will update this article with clearer images as they become available so check back with us as we bring you the latest on Dragon Ball: Xenoverse as it is revealed.