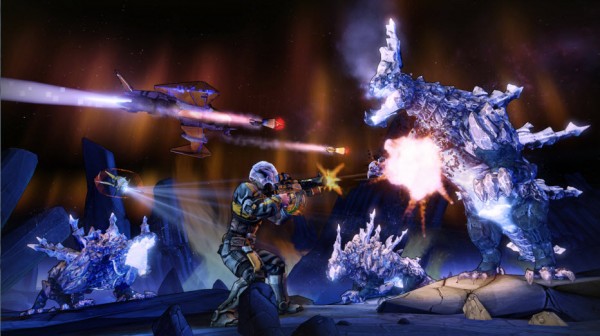 2K and Gearbox Software have announced the release date for Borderlands: The Pre-Sequel as October 14 in the States, and October 16 in Australia and New Zealand. Releasing for the Xbox 360, PS3 and PC, the standalone entry is set – as you may be able to tell by the title – between Borderlands and Borderlands 2.
Co-developed by Gearbox Software and 2K Australia, Borderlands: The Pre-Sequel brings the series' shoot 'n' loot gameplay to Pandora's moon, featuring new weapons, characters, vehicles and jetpacks! Gamers will contribute to the rise of Handsome Jack, experiencing his origin story and witnessing his transformation into the megalomaniacal tyrant they loved to hate in Borderlands 2. They'll also have four all-new character classes to play around with in local split-screen or online co-op, each with their own unique skill trees, as expected. Randy Pitchford, president of Gearbox Software, said about the title;
It's incredibly exciting that an all-new Borderlands experience is as close as this October. If you've played any of the Borderlands games or if you have a friend who hasn't yet, the opportunity to blast off as a new set of playable characters in a whole new campaign experience, including shooting and looting on the moon, is just around the corner.
Tony Lawrence, general manager of 2K Australia, added;
We are huge fans of the Borderlands franchise and are thrilled to have this opportunity to show what we can bring to the Borderlands universe. We can't wait for fans to play as Athena, Wilhelm, Nisha and Claptrap and experience the new low-gravity gunplay with awesome new guns to freeze and smash enemies, all in the name of Handsome Jack.
Alongside the release date announcement, pre-order bonuses have also been detailed. Those who pre-order the game (do so here) will receive access to the 'Shock Drop Slaughter Pit' content, in which one of Dahl's military recruiters, TR4-NU, hosts the pit inside an old Dahl facility, and gives valuable loot to those who prove themselves against the moon's toughest challenges.
So gear up for anti-gravity action this October. And in the meantime, check out the 'Moon Dance' trailer accompanying the announcement, embedded below.