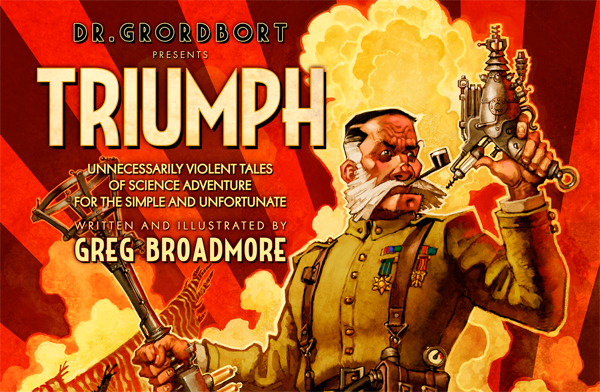 A few weeks ago, as part of their February solicitations, Titan Comics announced a new book from Greg Broadmore; Dr. Grordbort Presents: Triumph. Well now we have a closer look at the book, including the full synopsis, a sweet new trailer, and a look at a few pages. So sit down and check out your first look at Dr. Grordbort Presents: Triumph.
Since the first word was inscribed onto parchment, man has searched for tomes that lift the lid on the inner machinations of the human condition and reveal truths about humanity and its place in the universe – there are books that teach, books that inspire and books that offer a glimpse into our very souls. Triumph, on the other hand, is full of violence, bad language, interplanetary racism and a little sprinkling of smut… but you get what you pay for.
So although we have literally no information about the plot or characters of the book, we already know that it is filled with violent, swearing, racism and sex… What more could you ask for! For a closer look, check out the gallery of pages below and then jump down to check out the trailer. Dr. Grordbort Presents: Triumph will be available online and through your local comic book store April 15th, so be sure to check it out and be sure to stay tuned to Capsule Computers for all the Titan Comics news as it becomes available.