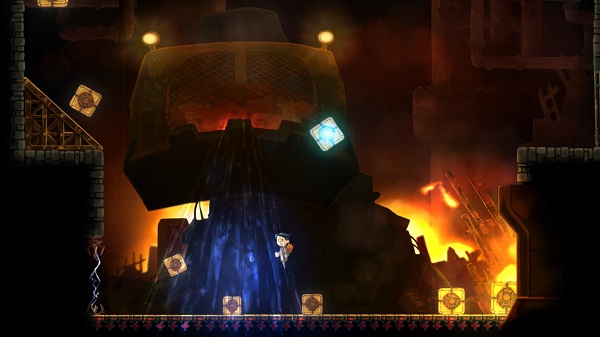 Teslagrad, an exciting 2D puzzle platformer with hints of action elements, has just been officially released on PC, Mac, and Linux. The Norwegian-based indie developer Rain Games presents this very unique platformer, where you play as a Teslamancer uncovering the secrets of the tyrannical king and a conspiracy that's been forgotten for years. By utilizing magnetism and other electro-magnetic powers and skills, you seek to discover the secrets within the Tesla Tower.
The developers announced that it will be released on the PC, Mac, Linux, PS3, and Wii U. The game has a long list of great features that is sure to entice platformer-enthusiasts.
Features
Plenty of complex puzzles have been created to keep players busy when playing Teslagrad. Players will have to wrack their brains in order to manipulate the environment by using their magnetic powers.
The 2D hand-drawn surroundings provide an endless landscape for players to immerse themselves in. Exploring the Tesla Tower will provide access to new items to improve your gameplay experience.
Visual storytelling is a major focal point in Teslagrad. Instead of throwing walls of text or having a narrator speak incessantly during cut scenes, Teslagrad boasts a visual narrative style, allowing players the chance to see the full story instead of hearing it or reading it.
The game has no loading screens, cutscenes, or GUIs. Teslagrad focuses on the player and the gaming experience they have with it, which means it's you and the game the whole time, no disruptions.
The game was just released on Steam, Desura.com, and GOG.com. The PS3 and Wii U versions of Teslagrad will be released in 2014. Pick up this great game for $7.99 USD at one of the sites listed above, a 20% discount from its original price. This promotion will only last for a week so grab it while it's hot!